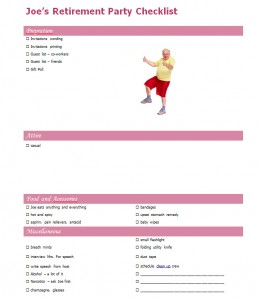 Organizing the retirement party program for your outgoing coworker requires your master administrations skills. You'll want to make sure that every aspect is included and set up perfectly.
Think about it, your colleague is retiring. And, it's a significant occasion. He has spent a long and successful career contributing to your workplace, and it's time for him to move on to the next phase of his life. Surely, there's no better way to celebrate this new beginning for your colleague than to throw him a retirement party.
Retirement Party Program Planning - Budgeting
If you're planning to celebrate your colleague with a retirement party, it's best to start preparing as early as possible. Give yourself enough time to plan for all the arrangements you'll have to make. To begin with you'll  have to work out the budget. Your company policy might dictate that it takes care of the costs for the event. And, they might have a set retirement party budget so you'll have to make the arrangements accordingly. Many companies also have a party planning committee. If they don't, work with the other co-workers in your company and see what they would like to contribute. If there has been a retirement party in the past, you could use the details as guidelines. They will show you how to organize a great event for your outgoing colleague.
Retirement Party Program Planning - Date and Venue
The next important step is to fix a date that is convenient to the retiree and other members on the list of invitees. Make sure you check with her and ask about the people she would like to invite. Also, take care that the date does not clash with an important company or national occasion. This can result in many guests not being able to attend the party. Choosing a weekend is always a safe bet. Work out the venue for the party depending on the budget you have. Also, make sure it is easily accessible. Once you make these decisions, designing the invite is the next step. Ask around and choose from handmade, corporate, prefabricated, electronic or any other form that fits into the cost limits you have.

Choosing the Theme
As part of the retirement party program planning, consider taking the time to choose a theme for your upcoming event. It may sound silly to have a theme party to celebrate a retirement, but it's actually a really great idea. Having a theme will help you to decide on everything from the decorations to the invitations – even the food! For example, if you've chosen a travel theme for your retirement party, you can include lots of 'island' type foods. For example, pineapples and coconuts, and maybe even a pig roast. You can also coordinate the decorations so that there are palm trees and exotic birds.
The interests and hobbies of your guest of honor, his plans for the future post-retirement, milestones of the company that your retiring coworker has seen, or just a typical formal event  – the possibilities for themes are endless!
Pre-organized Retirement Party Packages
You also have the option of visiting your local party goods store. They may have pre-made packages of retirement party goodies, including the decorations, invitations and other items you'll need. All of which can make your retirement party one to remember. Purchasing one of these packages will save you time and money when planning your retirement party.
Send Off Gifts
The retirement party is a great time for people to give the retirees cards or small tokens of appreciation. And, to thank them for all their hard work for the company. Thus, organizing the retirement gift is yet another aspect of the retirement party program that you'll have to plan. Check with your co-workers and see how they feel about getting their retiring colleague a group gift. A combined gift is always a better idea because it allows you to present one great gift instead of a collection of smaller, inexpensive gifts. Work with the company staff to set a contribution amount. Also, check with the company managers about the policy they have in place for presenting gifts. Factor in the kind of awards your company will give your colleagues on their way into retirement.
Awards Ceremony
Just remember, the retirement party is a time to reflect on your colleague's contributions to the workplace over the years. Therefore, if your company has any awards that it's planning on giving your colleague, you might want to present these awards as a part of the retirement party program. After all, the occasion is all about celebrating your colleague's achievements. And, what better way to do so than with an awards ceremony.
Retirement Speeches and Toasts
Finally, the retirement party is a chance for your coworkers to say a few parting words to your colleague. So, be sure to plan some time in the retirement party program for people to make speeches. Also, appoint someone to give the retirement toast. The sentiments expressed in the speeches and toasts are sure to leave the guest of honor smiling. He will be soon reminiscing about the times you've shared together.
As the party organizer, it could be up to you to introduce the retiree and say a few words about what she meant to the company. Remember to keep your speech short and focus completely on the retiree. Add interesting quotes and some light humor to lighten the mood. You could also talk about your interactions with her - as a peer, senior, boss, junior, or even a mentor.
Yes, your colleague is retiring and it's a bittersweet time for everyone involved. But instead of allowing the occasion to become too somber, you can celebrate your outgoing colleagues with a retirement party. You can thank them for all their hard work. And, wish them luck on their way into a new chapter in their lives.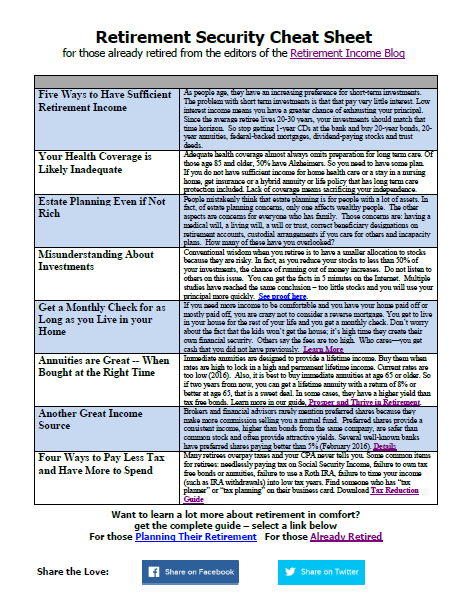 How to Prosper and Thrive In Retirement
For those already retired seeking to improve their finances
The 4 most important issues for any retiree and a quick plan to address each
The overlooked annuitization of assets to make your money go farther and reduce risk
An easy way to save money on health coverage
You don't need to be rich to plan your estate like this
A few simple lessons can reduce stress and bring more joy in your retirement year. Stop worrying and learn the simple
actions to take.