When looking for retirement party ideas, the best place to begin is to pick an interesting theme. Once you have that worked out, the rest of the party planning should proceed without any problems at all. It is understandable that planning a retirement party isn't a walk in the park, considering that there are tons of things you've got to get done. Even as you get started with figuring out the right theme, ask yourself these questions:
What about the decorations, supplies, and other goods?
Should you use company colors?
What are you planning for the invitations and announcements? Should you get a simple, plain invitation card? Or should you jazz them up a little bit?
What would be the best venue for the party? Should you have it at the office or an outdoor location? What about the day?
Are you working on a fixed budget? Where have you raised the amount you need? Does your company have a retirement party fund or are you planning on getting your co-workers to contribute?
How will you allocate the money you estimate you can raise? Do you think you want to throw in party favors?
Most important, you certainly can't get all this done on your own. So, who can you ask for help that is great with organizing parties? But, someone who's on the same page with you so working on the party preparations will be fun? If you have the budget, you could consider checking out GigSalad and hiring the services of professional party planners.
Once you have these details worked out, deciding on a theme and other retirement party ideas will become a more streamlined process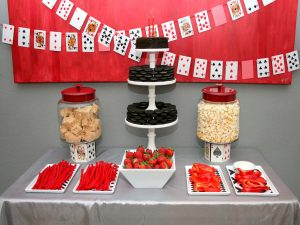 Planning a retirement party doesn't have to be a drag. It's time to celebrate! And, as the party planner, you're allowed to have fun with it – it's a Party! But, even if you're feeling lost, or don't consider yourself to be the 'party planning' type, you only need to look around. You'll find that there are plenty of fun themes for retirement parties that you can use for your event once you start searching. A good plan is to contact your retiring friend's spouse or other family members. Talk about her likes and dislikes and you're sure to come up with an awesome retirement party idea. Here's another positive to this plan. You'll avoid any possible faux pas.

Here is a gist of the ideas you're about to read ahead:
Focus on the Guest of Honor's Interests
Retro Themes
Post Retirement Plans Party Theme
Sports-based Retirement Party Decoration Ideas
Movie or Music Based Retirement Party Ideas
The Party Lover Theme for Retirement
General Retirement Party Ideas
Seasonal Retirement Party Ideas
National Events Retirement Party Idea
Fancy Dress Retirement Party Idea
Roast the Chief Guest Retirement Party
Family-based Retirement Party Idea
Commemorate the Guest's Career
Retirement Party Ideas - Focus on the Guest of Honor's Interests
A sure shot idea is to focus on your outgoing colleague. His hobbies and interests are a great place to start when you need a retirement party theme. If, for example, the retiree has an interest in golfing, you can very easily put together a golf-based retirement party. Look for green tablecloths and centerpieces made to look like the hole with a flag in it. Add the retiree's name on it. Match the gifts to the theme. Think a set of golf clubs. Or better, make it something unique.

Or, if the retiree happens to be interested in gardening, you can arrange for cornucopias, seed packets, and miniature terracotta pots. Use them for retirement party decoration ideas. You could even to use as place markers on the tables for the guests!  A garden retirement party would also pair well with tea sandwiches or other delicate canapés. They are sure to create a memorable retirement party experience for your coworker. Looking for more ideas? Try Pinterest.
Does your retiring colleague love animals? Does she have pets? Look for pet-based retirement party ideas and pair them with gifts for the pet. People love it when their pets receive pampering. Think watering bowls or even a pet spa gift certificate.
Retirement Party Ideas - Retro Themes
The 'retro' theme for retirement parties also work very well, and there are a few ways you can go about this. Some people will choose to go with a certain decade that they're commemorating with the retirement party. Like, for example, the sixties, seventies, or eighties. To make this even more special, do a retro theme and focus it on the particular decade in which the retiree began working for your company or organization! You could also try a combination and create a striking contrast between the time your retiring colleague entered the company and the time she is leaving it.
If you have often heard your colleague talking fondly about a particular era in his life, try to recreate those happy times in your retirement party ideas. For instance, if he talks a lot about his college years, put up posters with music or movie idols of that time. Play music that was trending in those times and you'll love to watch the delighted look of nostalgia on his face.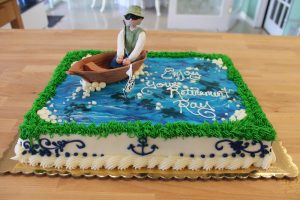 Post Retirement Plans Party Theme
Ask around and find out about what the retiree has planned post retirement. Is he planning to travel? If so, to which location in the world? You can talk to coworkers close to him or better yet to the retiree's spouse. For instance, if they are planning a vacation to the beach, you could pick up this retirement party idea. Design an event with beach style decorations that feature the sun, sand, sea and surf. Or, you could do a casino night themed retirement party to really spice things up!
Or, try these retirement party decorating ideas. Does your outgoing coworker enjoy fishing? Put up tackle boxes as centerpieces with the tables named after famous game fish like swordfish, marlins, yellowfin tuna, dorado, and so on. Is she planning on taking up art or painting? Consider gifting her the materials she will need. Or, here's another amazing idea. Get your colleagues to pool together for formal training classes for the art form she intends to pursue. That would make the perfect retirement party idea that also give your friend something exciting to look forward to after retiring from work. Think about presenting a mileage counter that has been set to 000 to remind the retiree that he has many miles to go and retirement is just the beginning.
Retirement Party Genres
Sports-based Retirement Party Decoration Ideas
Sports is one of the most successful retirement party ideas. That's because everyone enjoys some sport or the other. You'll have to do a bit of homework to find out which sport interests your retiring colleague the most and design the event around it. You could also lay focus on a specific sportsperson that the retiree is a fan of. It does not have to be a current player. To carry the retro theme further, you could select an idol from the college days of your outgoing friend.
Do some research about some sports trivia and plan posters and party games around them. Put up posters of the retiree's favorite sportsperson or the team he ardently supports. You could also search online stores like Etsy for some t-shirts, memorabilia, and a selection of other collectibles. See if you can use the ideas as gift tips.
Movie or Music Based Retirement Party Ideas
The entertainment industry is yet another source for great retirement party ideas for both men and women. Focus on a movie star or music star that your retiring colleague is especially fond of. You could also choose a yesteryear star. Find out about an all-time favorite movie or music album and create your party theme around it. Search out and print some fun scenes from the movie or print the lyrics of some of the songs. Playing the theme song from the movie at the party will also make your retirement party truly memorable.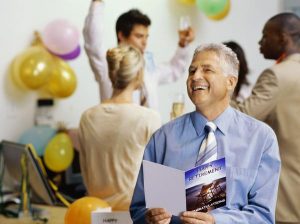 The Party Lover Theme for Retirement Parties
Try this idea if you know your guest of honor loves to party and is a fun-loving person - the Mardi Gras theme party. This could possibly be the easiest of parties to arrange because of the crazy array of decorating ideas for your retirement party. Think feathered masks, beaded jewelry, tall, shiny top hats, funky dress code, glittery invites, jester cutouts and all the zazzle you can find. Or, try this idea. Get the retiree's family to help you. Ask them about her concept of the perfect party. And, make that idea come alive.

Formal Retirement Party Ideas
And, of course, there are more general retirement party themes to consider. You could go with a formal, black tie occasion with elegant, buttoned up invites - you'll never go wrong with this one. Or, try the music based themes at which you will be playing oldies. Plan your event with the company as a theme, with the business logo printed in the invites. Add product caricatures and posters to the decorations. Make sure you invite top ranking officials and other board members to the party including the retiree's boss. If you can get some of them to give speeches, that would be great too.
Seasonal Retirement Party Idea
Choose a particular season to focus on. Does your retiring colleague love summers? Or, is she a fan of winter with its blanket of snow, warm blankets, and hot cocoa? Recreate the season with the appropriate party decorations, posters, food, and maybe, even gifts.
National Events Retirement Party Idea
You could also plan the party around an upcoming national celebration. For instance, if your retirement event is held around the Holidays, base your party on Christmas, the season full of joy. Or, if it is planned around Thanksgiving, organize a turkey dinner. The great thing about these general themes is that you'll be able to find 1000 decoration ideas. This will make things easier for you, the retirement party planner.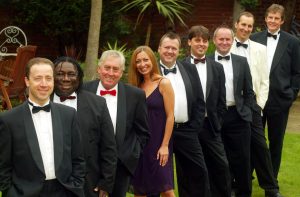 Fancy Dress Retirement Party Idea
Everyone like to dress up and have fun, irrespective of their age. You can either choose a particular theme for the fancy dress that invitees must don, or you can simply tell them to come in their preferred costume. Consider giving out 79c party cheap prizes for the best attire competition that the retiree will judge.
Roast the Chief Guest Retirement Party
If you know that your retiring friend has an excellent sense of humor, you could consider inviting a professional roast host. To be sure that your friend is game for it, you could ask for her consent before you begin. You could also have the attendees step up, in turn, to become roast targets and join in the fun. Make sure the gibes are friendly and good-natured and not mean, disrespectful, or hurtful. Here's an interesting idea. Let everyone put together a list of things the retiree is not going to be doing moving forward.
Family-based Retirement Party Idea
Very often, people tend to keep their professional and personal lives far apart. Aside from a few family photographs on the office desk or a rare "Bring your child to work day" most families have no idea about the office environment, work friends and colleagues, and perhaps, even the full scope of the job their parent did. The retirement party is a nice occasion where the family members have an opportunity to peek into this aspect of the retiree's life. Invite all his family members such as the spouse, kids, and possibly, even grandkids. Allow them to mingle with the office colleagues so that they can also meet the personal aspect of their friend's life.
Commemorate the Guest's Career
To retrace the milestones in the retiree's career is another great retirement party idea. Since you're going to be inviting all the people your office baby boomer has worked with in the past, you could have a large book or catalog with lots of empty pages. Request all your guests to write a few words about their interactions with the retiring coworker and their memories of the time they spent together as a special favor. If you think people may not be too keen on writing, create videos. Give every guest a few minutes to introduce himself or herself and say a few words. These videos will also serve as a wonderful goodbye gift that your retiring colleague will cherish and save.
Once you start to explore all the possibilities, you'll see that choosing a fun theme idea for your retirement is a great first step. And, it takes care of al the questions for the retirement party planning process. Decorations, invitations, and sometimes even food can be focused around the theme. And, you'll have a fantastic – and memorable – retirement party your coworkers will be talking about for years to come! You might also find yourself chosen as the party organizer each time one of your colleagues is due to retire.
Shop for Inexpensive Retirement Gifts
Now that you have your retirement party ideas picked out and the other details in place, the only remaining aspect is the giving of gifts. To be meaningful and thoughtful, gifts need not be very expensive. Sometimes, even a small token can touch a cord in the recipient's heart. Check out this video for ideas on how to pick the perfect gift to go with your perfect retirement party.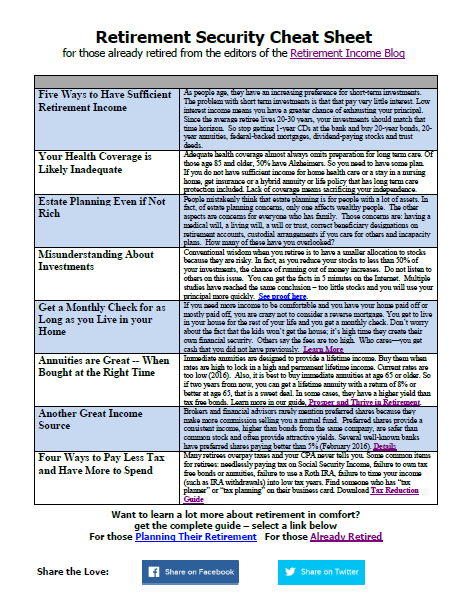 How to Prosper and Thrive In Retirement
For those already retired seeking to improve their finances
The 4 most important issues for any retiree and a quick plan to address each
The overlooked annuitization of assets to make your money go farther and reduce risk
An easy way to save money on health coverage
You don't need to be rich to plan your estate like this
A few simple lessons can reduce stress and bring more joy in your retirement year. Stop worrying and learn the simple
actions to take.