Planning company parties can be a costly endeavor, although you want to be able to go all out for a retirement party. After all, retirement is a major milestone in a person's life, and you want to celebrate it in an appropriate manner. However, the biggest problem most retirement party planners have is, of course, the money, as there never seems to be enough of it to go around. Fortunately,there are many ways to save money and plan a fantastic retirement party on a budget.
First, keep in mind that you absolutely must have a retirement party budget. If your company is hosting the event, the budget may already be set for you by a slush fund or other means of fundraising that sets aside money for parties such as this.
But if you're planning a retirement party that's just for family and friends, you'll have to do a little more legwork to figure out how much money you have to spend. For this reason, it's essential to get together with other family members in order to see who can contribute, and in what amount.
The next step in the retirement party planning process is to set your guest list. Again, if you're planning a party at work, assume that it will be an open invitation for all of your coworkers, unless otherwise stated. If you're planning a more personal retirement party, you'll need to determine the number of people you'd like to have at the party. Limiting the number of guests who will be attending to family and close friends only is one way to minimize costs.

Once you've figured out the guest list, choosing a venue will be next on your list. If it's a company retirement party, you may have access to a list of venues where you'll receive discounts or even a large enough space within your company's facilities to host the party. For a family retirement party, you may want to utilize someone's home rather than renting a venue to save money.
And, of course, there's the question of food. Selecting the best food for your retirement party can be difficult, because some people may expect a meal, while others will simply expect some finger foods and cake. But even if people are expecting a full meal, keep in mind that you do have options when it comes to selecting retirement party foods.
For example, if you can plan the retirement party between common eating times (such as an early afternoon retirement party), guests will be less likely to expect a full meal.  Or, if you must hold your retirement party at a meal time, consider preparing some of the food yourself or asking guests to bring dishes to pass as part of a potluck.
Planning a retirement party on a budget can feel overwhelming, especially given the number of restraints you're under. But if you stick to your budget like glue, you'll be able to pull off a fantastic retirement party that won't break the bank.
See other posts that can help you through a great retirement party.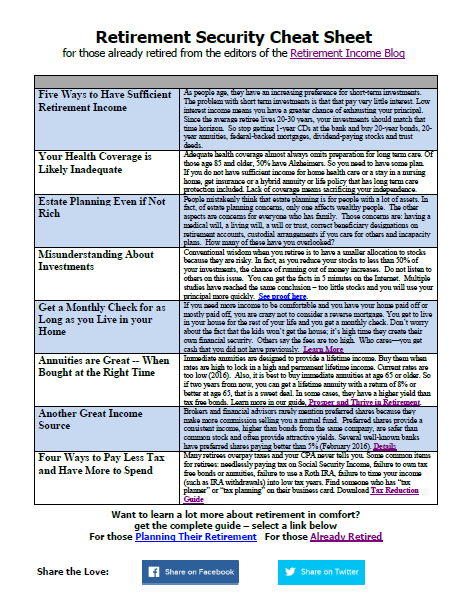 How to Prosper and Thrive In Retirement
For those already retired seeking to improve their finances
The 4 most important issues for any retiree and a quick plan to address each
The overlooked annuitization of assets to make your money go farther and reduce risk
An easy way to save money on health coverage
You don't need to be rich to plan your estate like this
A few simple lessons can reduce stress and bring more joy in your retirement year. Stop worrying and learn the simple
actions to take.