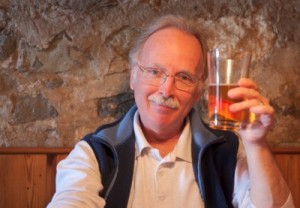 A retirement toast for the person in your company, school, or any other institution is a prestigious moment. If you have been chosen to felicitate the guest of honor at a retirement dinner, you'll want your talk to be cherished and remembered by him/her and by all the people present in your audience. Your talk can be humorous or it can have emotional undertones. But, whatever tone you choose, there are certain rules you must keep in mind when crafting the perfect retirement toast. Check out these tips that will help you present a great tribute.
Writing the Retirement Toast
It is always preferable to prepare a sample retirement speech and rehearse it well. You could also prepare cue cards to help you remember it. You might think that you can just speak on the spur of the moment. But, this day and the toast you will be giving holds special significance to a lot of people that you don't want to let down. Be clear with your speech, pronunciation, and diction and form a connection with your audience. Be charming and enjoy giving your talk, but remember to focus on the guest of honor. Most important, don't ramble and keep the retirement toast short. And, end it with good wishes for the honoree's life ahead.
If you haven't had the time to prepare a talk, introduce the retiree with a few short typical statements and a good retirement wishes. For example, "Mr/Ms. XXX has been an esteemed member of our team/company for many years and now that it's time for him/her to bid us Goodbye, I wish him/her lots of great new beginnings." Toast!
Beginning the Retirement Toast
You can begin by standing up at your table or if there is a dais with a lectern, stand at it with a full glass in hand. Make sure you have your audience's attention and their glasses are full. Begin your retirement toast with a short introduction to the retiree and the time when he/she first joined the organization. You could also begin with a quote or a funny incident that happened in your interaction with him/her. Talk about how you know him/her and the kind of person he/she is. Make sure to mention his/her name. If the honoree is your senior, you'll need to be formal and use [Mr./Ms. Last Name]. Never use a first name or a nickname unless the retiree is a peer or someone you know closely.

Contributions and Work
Your tribute must include a short reference to the contributions the honoree has made to the company or organization over a long career. It is up to you to represent the company and show appreciation and recognition for the hard work and dedication he/she has put in. Reminiscence about an important company milestone or project that the retiree was a part of and how he/she helped make it successful. You could also talk about certain character aspects that made him/her a valuable part of the company.
For example, "In the time I have been associated with Mr/Ms. XXX, I have always known him/her to be extremely particular about respecting everyone's time. Whether it involved arriving at work on time, submitting reports within deadlines or organizing consignments. At the office, we always knew that we could rely on him/her to be ready with his/her share of the tasks. Thank you for being so dependable!" Toast!
Use Humor with Caution
Infusing humor in retirement dinner speeches always succeeds in lightening the ambience so it does not get overly emotional. But, you need to be very careful about how to use it. Joking about balding, bad knees, dental issues, and beer bellies are a strict no-no. Chances are, there are many people in your audience who are likely to be retiring themselves a couple of years down the road. Your jokes might not be appreciated by this age demographic. Instead, relate incidents that occurred with visitors or vague people at the workplace. Or, you could relate a funny situation in which you were involved along with the honoree.
For example, "Sir/Ma'am, do you remember the time I insisted that I had submitted the report to you? I kept on and on about how I had worked on it all night, and how unappreciated I felt because it was lost. I have never been more embarrassed as when I found it under a pile of papers on my desk. Thanks to your patience, I now make it a point to have a well-organized workstation." Toast!
Talk About Future Plans
If you know the retiree closely, you'll probably have an idea about the future plans he or she is making like perhaps, traveling, learning a new skill, taking up a hobby, or even working part time with some charitable institution. If you don't have any such information, you could simply go with warm wishes for future activities and plans.
For example, "Knowing [Mr/Ms. XXX] and how he/she loves to work and keep busy, I'm pretty sure he/she probably has some great new projects lines up to work on after leaving this organization. I wish you the very best, and I hope we will be able to see some of them. Good Luck!" Toast!
Conclusion
End your talk with a sincere and heartfelt "Thank you" to the honoree for the time and other contributions he/she has made to the company. You could also add a funny comment to help end your talk on an upbeat tone. Also, let your guest of know that he/she will be missed. Pick up some important role he/she used to play and use it.
For example, "George, I think you were one of the few people in the organization who was so dedicated to recycling efforts. We will miss your insisting that we remember to sort our waste and turn off lights when we didn't need them. We promise to work extra hard at everything you taught us." Toast!
Use these tips and you should be able to put together the perfect retirement toast.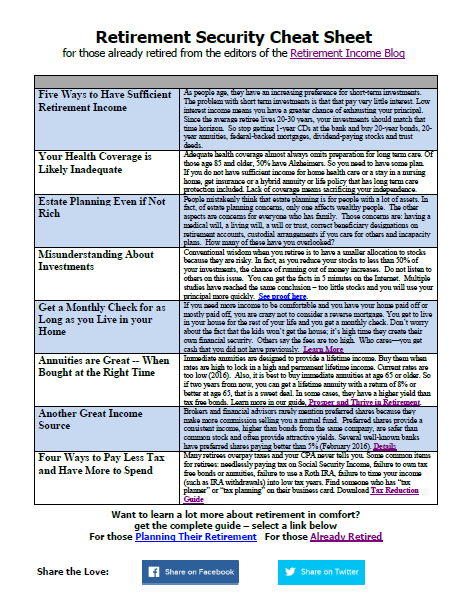 How to Prosper and Thrive In Retirement
For those already retired seeking to improve their finances
The 4 most important issues for any retiree and a quick plan to address each
The overlooked annuitization of assets to make your money go farther and reduce risk
An easy way to save money on health coverage
You don't need to be rich to plan your estate like this
A few simple lessons can reduce stress and bring more joy in your retirement year. Stop worrying and learn the simple
actions to take.