The Social Security Administration has eliminated the "file and suspend" benefit (also called the social security do-over) that we previously wrote about in March 2009.  The do-over benefit had allowed retirees to make money by retiring early, starting benefits at the earliest age, age 62.  Then, upon reaching full retirement age (around age 66, depending on birth date),  withdrawing from the social security system by repaying the benefits received without interest.  Then the retiree would re-file and receive the full social security benefit based on their current age (e.g. age 66). There was no reason for the Social Security Administration to ever allow this benefit amounting to an interest free loan and manipulation of the system.  The Social Security Administration finally figured this out.
Immediately, if a retiree applies to become a recipient of Social Security benefits, he has twelve months from the date of the first payment to withdraw the application and repay entitlements received.  This can be done one time, in other words,  to correct a mistake.
Very few retirees actually used this social security loophole ( I would guess that few knew about it or understood it or had the repayment funds to enjoy it). During 2009 only 1,015 of these 'withdrawal applications' were filed.  The number dropped in 2010 as by the end of June only 345 had applied to repay and withdraw.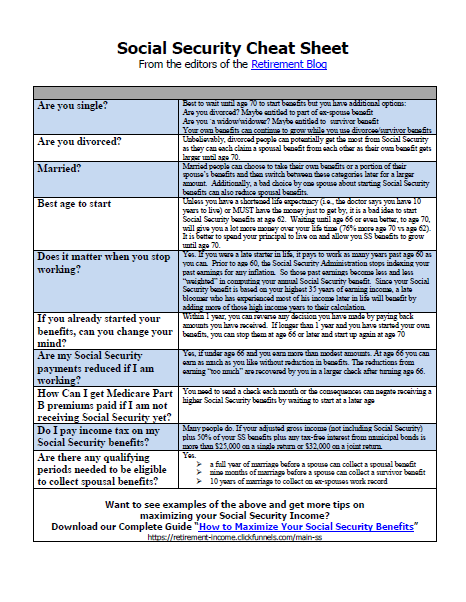 Maximize Your Social Security Income
Get the one-page social security Cheat Sheet
You may think that the folks at the Social Security office will tell you how to get the biggest monthly check. In fact, the federal rules PREVENT them from advising you. There are millions of people who have given up more than $50,000 just by making a simple yet incorrect method of taking their Social Security benefits. Don't let that be you! Get your free copy now.