Sure you can start your social security benefits at age 62, but is that wise? In most cases not. In most cases, given average life expectancy, you earn more by waiting until your full retirement age to start benefits. If you're married, you have even greater flexibility and opportunities to get higher social security benefits.
One set of researchers found that for married couple, having the lower-income spouse start benefits at age 62 and for the higher income spouse to defer benefits to age 70. The lower income spouse should start as early as possible because their 'penalty' for starting early disappears when the higher income spouse dies (the lower income earner can then collect the deceased's benefits).
Another little know tactic is the 'file and suspend' provision. This allows the higher income earning spouse to file for benefits at his full retirement age yet suspend the actual collection of benefits until later. The suspension of collecting benefits allows the benefit to grow through age 70. Yet, as soon as the higher income spouse files, the lower income spouse may start collecting benefits at 50% of the higher income earner's rate.
If your situation changes after you begin benefits, you can exercise the little know 'do-over' provision. In such a case, you pay back all of the social security benefits you have received (without interest!). You can then re-file when you want your benefits to start thereby allowing you or a spouse to collect more. If you have no problem sending the government a large check, you may want to start your benefits at age 62 knowing that you can always exercise the do-over provisi0on and reverse your earlier filing.
You can use this limited information above to tell if your retirement advisor is any good. Most financial advisors know little about social security because there's nothing for them to 'sell.' Knowledge of social security won't make then any commissions. However, more competent fee-based retirement planners will charge a fee for their time in analyzing your social security options and help you maximize the decisions and get thousands more in your pocket.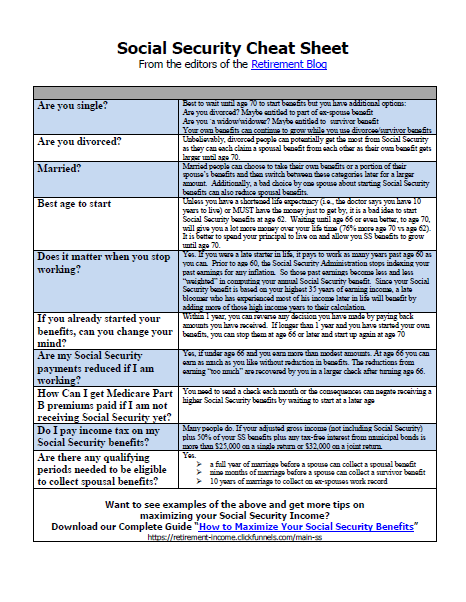 Maximize Your Social Security Income
Get the one-page social security Cheat Sheet
You may think that the folks at the Social Security office will tell you how to get the biggest monthly check. In fact, the federal rules PREVENT them from advising you. There are millions of people who have given up more than $50,000 just by making a simple yet incorrect method of taking their Social Security benefits. Don't let that be you! Get your free copy now.