Know Your Income Options in Retirement
Many retirees want a steady income relatively immune to market turn downs but also to not outlive their income. At age 65, you have some 17 years of life expectancy and with 50% living longer.  Inflation has historically averaged 3% which cuts the value of a dollar by a 25% in 10 years.
To address market, longevity and inflation concerns, take a conservative approach to retirement investing and withdraw retirement income only to the extent that your portfolio's real value keeps up with inflation. In other words, if your portfolio gains 8%, set aside 3% to cover inflation leaving you with 5% to withdraw to cover living expenses.
To strategize how you'll produce your retirement income, realize the array of income options you're presented with in retirement. Then choose which combination of income options suits you according to your aversion to risk and your remaining life expectancy. Refer to the table for your retirement options and our comments.
Retirement Income Options to Choose From

Retirement income Source
Option
Strategy to Enhance Income
Comment
Social security income:
Fixed
delay   for higher benefits
Indexed for inflation
Pension income:
Fixed
not much option here
Possibly Indexed
Your investment income:

Option A
Systematic withdrawal of equity/income portfolio
Withdraw to maintain real value, vulnerable to market downturn
Option B
Withdrawal of earnings of Income Portfolio
Withdraw earnings to maintain value, less vulnerable to market
Option C
Purchase Immediate Annuity
Fixed ( not inflation indexed)

Guaranteed for life

The later you begin, the more income it generates

Work full or part-time:
Your choice
Work for a while longer
Save more, or just let investments grow
Your Home/second home:
Back up

source

Take reverse mortgage of home; rent or sell second home for more income
Holding off to later give higher reverse mortgage income
Overall Strategy:
Do combination of above
Choose combo according to your aversion to risk
Social Security benefits and a company pension income are the two mainstays of retirement income for many people. If you have both then you assured of some income you can count on forever (we make this statement for those already retired as Social Security cannot last in its current form for those not yet retired).   Social Security has a cost-of-living-adjustment and some pensions do also.
For supplemental retirement income, you'll have to manage your invested retirement savings to generate it and possibly generate earnings. How you choose to invest this money and how much you withdraw for income will determine how long your money will last.
To maintain your portfolio's real value and an income for life, you must minimize your retirement withdrawals. Higher withdrawals generally require higher investment growth. And higher growth comes at higher risk – that's risk of market downturn.
The above table shows three main options for generating portfolio income. Option A refers to taking systematic withdrawals of a portfolio roughly split between equity (stock) and income (bond) based investments. The equity can help your portfolio growth rate to increase your withdrawal rate. But the equity portion can leave you vulnerable to a significant market downturn.
Option B uses a more conservative approach through an all-bond portfolio. Overall earnings may be less so your withdrawals must be less. And that should be less than interest earnings since you must reinvest some of the earnings to maintain the real value of your portfolio.
Option C used an immediate annuity to guarantee you an income for life. However, a fixed annuity won't adjust your income for inflation. So, you should use some other part of your portfolio for increasing value.
If your income is still too little, you can continue working – perhaps only part time. Saving more money can only help you out later. Delays in tapping retirement savings can increase what you can get because there's more of it, and you're life expectancy shortens with time.
Both Social Security benefits increase significantly for delaying to age 70 and that immediate annuity will give higher monthly payments for the same investment as you defer your annuity starting date.
Center for Disease Control at http://www.cdc.gov/nchs/data/hus/hus07.pdf#027 (note: life expectancy is age at which 50% have died, so 50% will live longer)
Average Annual Inflation by Decade Inflationdata.com at http://inflationdata.com/Inflation/images/charts/Articles/Decade_inflation_chart.htm (note: 3% inflation mathematically implies purchasing power decreases by 25% over 10 years, by 50% in 23 years, etc.)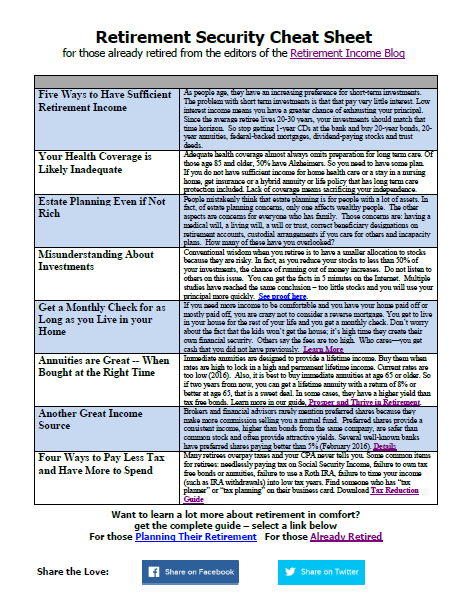 How to Prosper and Thrive In Retirement
For those already retired seeking to improve their finances
The 4 most important issues for any retiree and a quick plan to address each
The overlooked annuitization of assets to make your money go farther and reduce risk
An easy way to save money on health coverage
You don't need to be rich to plan your estate like this
A few simple lessons can reduce stress and bring more joy in your retirement year. Stop worrying and learn the simple
actions to take.