Investing in retirement and pre-retirement
You may have spent years investing for retirement, placing money into IRAs or been diligent with your 401k investing. Now it's time to harvest your nest egg and you want to do it the best way. It's not the time to stash it all into safe investments like money market funds because the earnings will never keep up with your needs. But there is a productive way to chart a conservative course for your retirement investing.
On these pages you:
Learn to construct your portfolio in retirement for comfortable golden years.
Learn to allocate your resources between investment classes.
Learn to invest for retirement that's comfortable and comforting
Understand what to do differently with 401k investing, IRA investing and other retirement accounts once you retire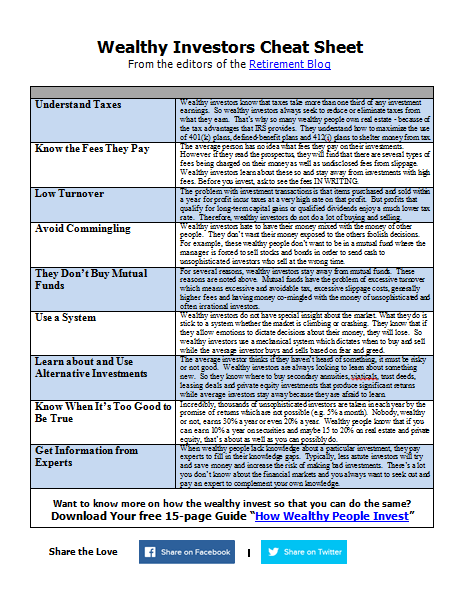 How Wealthy People Invest
To get wealthy, invest like the wealthy
Why the wealthy steer clear of mutual funds
How the rich systematically make money in the market
Key metrics that differentiate good and bad investments
A comparison of ETFs and separately managed accounts you have never seen
Stop making the same investing mistakes as everyone else who listens to CNBC and reads Money Magazine. Do what the rich do! Free guide explains how they think and make investment choices.