Retirement gifts can be purchased in a multitude of locations but buying online maybe the easiest and fastest venue.
When a coworker – or even a family member – is retiring, you'll immediately be seeking retirement gift suggestions. Retirement is a big milestone and it's usually commemorated with a party that sends the retiree off in a big way. Of course, when you're searching for retirement gift suggestions for these events, you may find yourself feeling more than a little restricted by the options available in brick and mortar stores. Don't worry – just know that your options will widen extensively when you look into buying retirement gifts online.
Retirement Gift Suggestions--start offline
When it comes to buying retirement gifts online and finding appropriate retirement gift suggestions, it might be best to get initial ideas offline, from real people. Then go online and know that you're getting the best of both worlds – the benefit of the widest selection possible, without the long lines or hassle of shopping for retirement gifts in the store.
Of course, there is such a wide selection of retirement gifts available online, that you may wind up finding yourself feeling just as overwhelmed as you felt restricted in a brick and mortar store. You'll find yourself texting each of your friends asking for their retirement gift suggestions. And that is a good place to start.

don't overlook these offline guides: ask the retiree's closest co-workers for their retirement gift suggestions before you start your search and don't forget the spouse or significant other.
Retirement Gift Suggestions--go online
If you're looking for specific retirement gift suggestions, like something tailored to the retiree's particular hobbies or interests, start your search on websites that cater to those particular interests. Sporting goods websites are great places for someone who's a bit more of an outdoorsman, while you can find a wide selection of spa gifts for those retirees who plan on a little pampering once they're finally able to take the time to spoil themselves a bit.
Other great resources for buying retirement gifts online are the variety of food and wine clubs that will allow you to give the gift of a monthly membership. For example, if your outgoing coworker is a bit of a wine snob, you can enroll him or her in a club that sends a new vintage of wine every month. These memberships are great for coworkers that you don't know very well, or for the outgoing 'foodie' at your company.  Of course, ask the retiree's closest co-workers for their retirement gift suggestions before you start your search.
Buying your retirement gifts online can also help to streamline the purchasing process, as you or a group of friends or coworkers can all work together to get a variety of gifts from the same source. As an example, if you are purchasing items for a spa gift basket, each person can visit the website you've chosen and select an individual item to go into the basket.
Because you want to find retirement gifts that are personal, do a search for sites that offer "personalized gifts" or "engraved gifts" to get some superior retirement gift suggestions.  It's one thing to give the proverbial gold watch but when it's engraved, it's the personalization that creates all of the value.  So many things can be engraved such as a desk clock, a fancy pen, anything made of metal or plexiglass.  You'd be surprised that people will never order an item personalized for fear of looking too ostentatious but a man who receives a monogramed short may soon become enamored with such a retirement gift.
Easy Retirement Gift Suggestions - hobbies and Interests
Taking that concept one step further, rather than look specifically for retirement gifts, look for gifts of a particular genre. Just as we discussed looking for gifts that can be personalized, do a search on gifts for the sportsman or gifts of readers or gifts for birdwatchers, etc. Once you find such a site, you will likely find an array of retirement gift suggestions and possibilities.
Finally, don't forget to look through the websites that specifically cater to retirement gifts as well. There, you will find a wealth of retirement gift suggestions – from sentimental mementos to gag retirement gifts – that will be sure to leave your retiring friend or coworker smiling. Just keep in mind that when buying retirement gifts online, it is always a good idea to shop well ahead of time, as you'll want to allow for time for shipping and extra time to come up with a backup plan in case something goes wrong with your order.
More posts to help you find the retirement gift suggestions:
Affordable Retirement Gifts for Any Budget
Where to Find and Appropriate Retirement Gift
Personalized Retirement Gift - A Cherished Momento
Funny Retirement Gifts to leave Them Laughing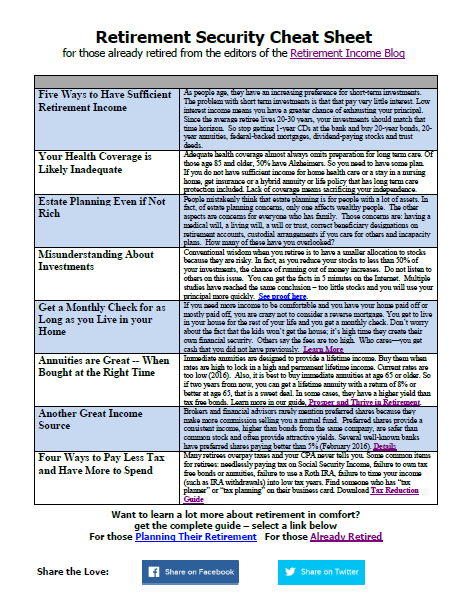 How to Prosper and Thrive In Retirement
For those already retired seeking to improve their finances
The 4 most important issues for any retiree and a quick plan to address each
The overlooked annuitization of assets to make your money go farther and reduce risk
An easy way to save money on health coverage
You don't need to be rich to plan your estate like this
A few simple lessons can reduce stress and bring more joy in your retirement year. Stop worrying and learn the simple
actions to take.