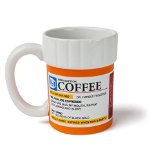 Buying funny retirement gifts for your outgoing coworker reminds everyone at the party that a retirement celebration doesn't always have to be a somber occasion. In fact, it is a great time to celebrate her career in the company and give her a fantastic sendoff. Many people like to take some time during these celebrations to poke fun at their retiring coworker as well; after all, the retiree is the one who is going off to live a life of ease in retirement!
So what should you do if you'd like to get your departing co-worker retirement gag gifts for the party? The following are some unique suggestions – and guidelines – for funny retirement gifts that will leave everyone laughing!
Caveat of Funny Retirement Gifts
Humor is personal.  One person's hearty guffaw is another person's hurt feelings.  Therefore, if you think you maybe close to the edge of what's appropriate, back off.  With humor, always err on the side of conservatism.  You could get very embarrassed when inappropriate humor backfires and even ruins the entire retirement event.  Look for funny gifts that are universal and do not target any particular community or race or even sex. And, steer clear of politics. That can be a touchy subject and you don't want a gag gift turning into an excuse for an argument.
Funny Retirement Gift Suggestions
For starters, there are 1000s of funny retirement gifts based on the fact that your outgoing coworker is going to have a lot more free time now that he has retired from work and is independent of the shackles of the office cabin. Some gift ideas include:

'While You Were Napping' memo pad so that the retiree doesn't have to be disturbed from his naps for those all important phone calls.

Joke books that have a collection of the funniest quips on retirement

'Retirement pills' to helps the retiree relax into retirement – they're really just mints or candies!

Sashes for the retiree to wear at their party that read 'Finally Retired!'
'Crying towels' to catch all those tears of joy!
New 'office hours' signs complete with notices of 'going fishing' or traveling are also great gag retirement gifts that your coworker can hang up in his home – just to let everyone know where he might be.
A clock with the numbers scattered at the bottom of the face with a logo that says, "Who Cares?"
Remember the goal of giving humorous retirement gifts – leave them laughing!
Funny Retirement Gift Ideas on the Internet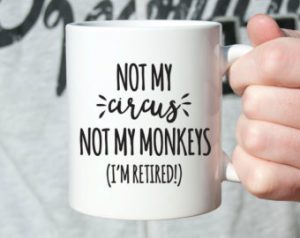 Sometimes coffee cups and mugs, pillow covers, set of trophies, golf balls, large posters, drinking glasses, stickers, tie, flasks, figurines, or any other such item with a funny logo or slogan printed on it can be a great add-on gift to the main retirement gift you have chosen. It is a small, inexpensive something, but it adds a personalized touch to the occasion. And then, this is one thing your colleague is going to be using for a while. Search the internet and you can find thousands of such slogans that you can have printed and custom ordered. You could also choose designs that are specifically focused on men or women.
For example, "No more alarms, No more deadlines, No more reports...I am retired!!" Or, try this one, "My Schedule for the Day! - 8:00am Breakfast, 9:00am Nap, 12:00pm Lunch, 1:00pm Nap, 4:00pm Coffee, 4:30pm Nap, 6:00pm Dinner, 7:00pm Dinner, 8:00pm Nap, 10:00pm Bedtime! YOOO HOOO!! I'M RETIRED!!"
Themed Funny Retirement Gifts
Funny Gifts to Match the Recipient's Personality
Choose a humorous retirement gift only if you know the retiree and her personality so you know what she might or might not find funny. For example, retirement shot glasses are also great funny retirement gifts that can be used over and over again – although be sure to skip this option if your outgoing coworker is a teetotaler. And, be sure to use your discretion because the goal is to leave guests laughing, not embarrassed or upset! For example, inflatable walkers, hearing cones and other 'old age helpers' like gag fast hair regrowth kits are some of the gifts that are available in the funny retirement gifts category.
Some poke fun at age, while others are a bit more risqué in nature. Choose with care and it's best to consider your coworker's sense of humor. Will she find these retirement gag gifts funny? Or will she feel uncomfortable receiving such an item? For instance, if your retiring friend is battling hair loss issues, you might not want to gift her hair loss kits or wigs. That might be in bad taste.
Useful But Funny Retirement Gifts
If you're looking for gifts that your retiring coworker might actually use (in addition to finding them funny), you might consider starting a 'retirement survival kit' – many of which include things like fishing flies and packing checklists for traveling! If you know your colleague loves to cook, consider getting a kitchen apron with a fun slogan. Or, if he is a puzzle buff, look for a book of crossword puzzles or word mazes with retirement themed funny slogans that the retiree has to solve.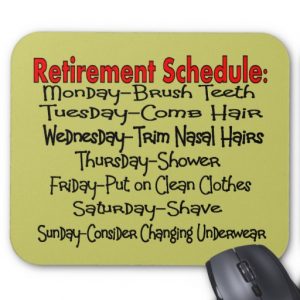 Here's another idea. Look for a scheduler with the days of the week listed. Each day must have a funny heading with space below for additional notes.
Monday - Read the Newspaper All Day
Tuesday - Nap All Day
Wednesday - Hog the Remote and Watch Sports
Thursday - Time for Some Weekly Exercise - Walk Around the Living Room
Friday - Play Golf with the Buddies
Saturday - It's the Weekend! Nap All Day!
Sunday - Tomorrow's the Start of Another Busy Week! Nap All Day in Preparation!
Because retirement gag gifts are usually not high priced, you can send several as a "gag gift basket."
Sports or Hobby Themed Humorous Retirement Gift
If you know about a specific sport you outgoing colleague has a keen interest in, you could plan funny retirement gifts accordingly. For instance, if she has a keen interest in golf, you could get a walking cane with the bottom shaped like a putter. Or, get a few golf balls, out them in a jar that looks like a prescription bottle and write on it, "Dosage - 2 pills taken twice a day."
Here's another. If the retiree enjoys angling, you could buy a fishing pole that also looks like a walking cane. Or, look for an oversized pair of dices and inscribe retirement activities on their sides, for example, watching TV, reading, napping, shopping, angling, going for a walk, coffee with friends, traveling, picnicking with the kids, and so on. Your co-worker can toss the dice to plan his activities for the day.
If your retiring friend enjoys working on her computer or any other electronic device, you could consider getting accessories that go with her gadgets. Have the accessories like mouse pads, tablet covers, or other such items inscribed with funny retirement quips.
Funny Retirement Gift - Recall Humorous Experiences
Remember, retirements are a time to celebrate – celebrate a career full of achievements, and the start of a time to relax and enjoy some peace in life! If possible, consider asking all your office workers to relate a funny story involving the retiree or their interactions with her. Only make sure the jokes are in good taste and don't hurt anyone's feelings. This could also be a fond, yet humorous retirement gift that your outgoing colleague will remember for a long while. You could also create a catalogue with cards of the anecdotes and create a valuable keepsake.
You could take this idea a step further and turn it into a funny retirement gift that your friend can save. Make a video recording of the guests telling their stories and gift it to the retiree. Playing back the recording sometime in the future will be an enjoyable thing to do. Your colleague can look back with nostalgia and fondness to the happy times he spent at work. 
Badges and Tees With Retirement Quotes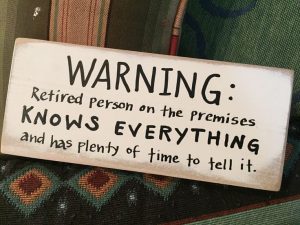 Funny retirement gifts don't need to be expensive nor do they need a bunch of designers working on them. You only need to put a little thought into them. Get some badges that the invitees at the retirement party can pin on the guest of honor's coat. Or, you could order t-shirts with writing and let everyone present them to the retiree. Choose quips like these:
Pleased to be Retired, Spending my Kids' Inheritance
I'm retired! You're not! I'm napping! You're working! Nah Nah Nah Nah Nah
I'm not retired! Napping is a full-time exercise.
Retired! But working full-time at being annoying.
Retired! But working full-time at spoiling my grandkids rotten
Retired Citizen! Unsolicited Advice at No Charge!
I'm working at retirement. I don't make much but the hours are good.
Retired! And, loving it!
Phew! A life of retirement is tough! With all the napping you gotta do.
I know everything about everything. And, I have the time to tell you about it!
Yes, I know it's the year 2040. And, yes, I slept through the apocalypse. What a nap!
If you think your retiring friend could be overwhelmed with way too many t-shirts, you could settle for a combination of different items like shirts, baseball caps, flip-flops, beach totes, shopping bags, satchels, kitchen aprons, and jackets. The possibilities are endless. Shop for the items you want and place orders on Zazzle, eBay, or any of the online stores.
Small Objects that Poke Fun at Senior Citizen Moments
You could put together a small basket of little objects and attach notes to them that talk about the typical senior citizen moments we'll all have at some time down the line. Here are some fun ideas:
A bag of marbles with a note, "Lost your marbles? Here they were all along!"
Magnifying glass with a note, "Bet you didn't read the fine print on retirement!"
Paperclips with a note, "To help you hold your thoughts together"
Calendar with only Sundays on it with a note, "Yep! It's Sunday today!"
Step counter with the count of 16k on it with a note, "Yep! You ran the marathon today!"
Retirement Visiting Cards
Present a box of business cards to the retiree with his name on it. Add some fun retirement quips on it like:
Mr. John Doe
Goofing Off, Napping, Joking, and Newspaper Reading Services
Address: My Favorite Fishing Spot/ My Favorite Golfing Green, Haven't Decided Today, USA
Phone: I'm not answering so don't bother calling
Designation: CEO at Retirement
Email address: [email protected] 
Award Ribbons with Funny Retirement Titles
Yet another fun retirement gift idea is to put together a collection of award ribbons with humorous titles. Like for example, "Best Old Friend," "Most Tiresome Boss," "Mr. Always on Time," "Worst Example in the Workplace," and "Thank God He's Retiring!"
Choose funny retirement gifts that are best suited to your outgoing co-workers interests and leave them laughing all the way home! Such gifts also make for the most cherished mementos in the world. When your friend is all by himself, he might pull out all the cards and gifts and smile at them fondly. He will remember all the wonderful people he spent his working years with and the warm sentiments they showered on him at his send-off party. He may even enjoy showing them off to his family.
Not Sure Where to Start Looking? Check Out this Video
The thing about humorous gifts is that you can pick useful gifts and just team them with a humorous card or a quip and turn it into a funny retirement gift. Here's a nice example. In the video above, you'll find descriptions of a robo-vacuum cleaner. Combine it with a funny card that says, "I'm retired! I don't vacuum!" Or, here's another. Has your retiring colleague always loved chocolates but would avoid having them because she was watching her weight? Present her with a hamper of homemade chocolates and other goodies with a note that says, "You're retired! Indulge to your heart's content!" Check out the website for a wide selection of the most exciting and funny retirement gifts ever that are perfect for all parties.
The video will describe how to choose gifts depending on whether they are for men or women and the specific interests the recipient has. Rely on the website for hassle-free shipping and other very convenient customer services.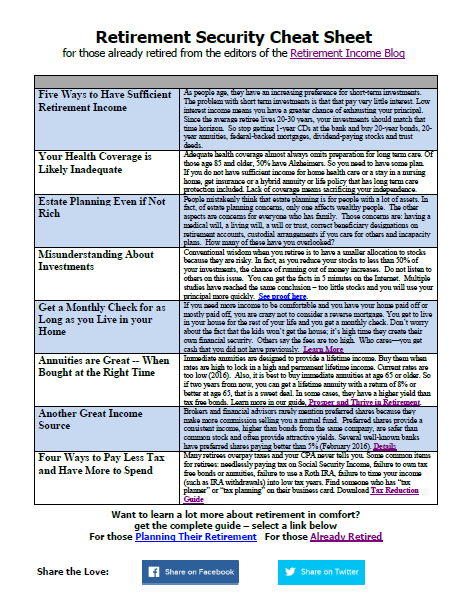 How to Prosper and Thrive In Retirement
For those already retired seeking to improve their finances
The 4 most important issues for any retiree and a quick plan to address each
The overlooked annuitization of assets to make your money go farther and reduce risk
An easy way to save money on health coverage
You don't need to be rich to plan your estate like this
A few simple lessons can reduce stress and bring more joy in your retirement year. Stop worrying and learn the simple
actions to take.