Retirement investing can look daunting when you read too much and listen to CNBC too often.
No matter what trouble we all have in life, it's because we went ahead with action and no plan.  Of the 50% of marriages that end in divorce, how many participants had a checklist, went out with at least 10 people, compared and contrasted the strengths and weaknesses of potential partners and had a definite plan on how to select a spouse?  No one!  Retirement investing is no different.  Expect a 50% chance of success (or worse) if you have no plan.  Here's how to construct a simple retirement investing plan.
1. How much do you feel comfortable with in stocks?  The more stock (or stock funds) you own, the better for the long haul (please look up the Trinity Study). But if the gyrations in the stock market make you crazy, what is the maximum amount that you can have in stocks and sleep well? Let's say it's 30%. Each year you will look over your entire portfolio and re-balance (if your stocks went up to 35% of your portfolio, you will sell some to proceed with 30% into the following year). I would highly recommend the Dow Dividend Strategy for a suitable retirement investing stock selection plan.  It's a low volatility option to participate in global business growth.  These stocks also pay handsome dividends, which when reinvested, really give stocks their best showing.
2. The amount you spend in a year will go into a money market account. Let's say that's 5% of what you have.
2. The remainder goes into fixed income selections, that's 65% of the portfolio.  Those fixed income selections could be any type of bond, preferred stock, note secured by real estate, or fixed annuity. Please do NOT invest in bond mutual funds and I will explain in a future post why they are a retirement investing sucker deal.  All fixed income investments that you select must have a maturity date and that will be explained in a future post.
Your target interest return needs to be reasonable given current interest rates and your comfort level with different retirement income options.  For example, one of my investments is a note on a home with a 15% loan to value (the person who lives in the house put 85% down upon purchase). I get 9% interest on my loan.  If the owner defaults, I get the property but I am okay with that, in fact, I would be delighted.  So your comfort comes from asking "what's the worst case with that investment and the probability of the worst case." If you feel comfortable with both metrics, then the investment sounds suitable.  Even in this low interest environment, a retiree should comfortably be able to construct an income portfolio yielding 6% or more.
Note that the above is a simple retirement investing plan.  It won't fit everybody and that's why these things get complex.  The moment one starts adding constraints and details of their personal situation, the plan gets more complex to fit the retirement investing circumstances. But at least this is a framework that gets you thinking about writing down and planning retirement.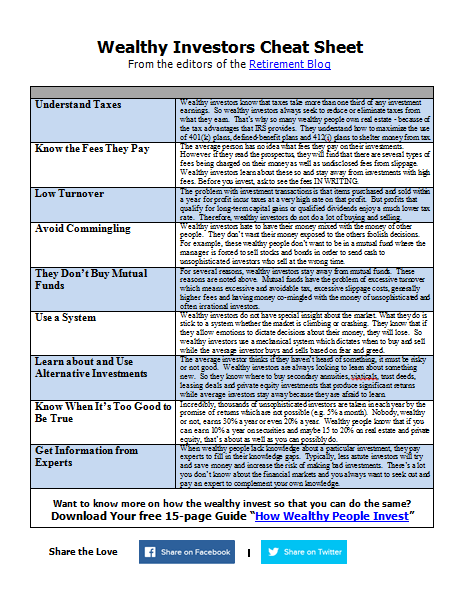 How Wealthy People Invest
To get wealthy, invest like the wealthy
Why the wealthy steer clear of mutual funds
How the rich systematically make money in the market
Key metrics that differentiate good and bad investments
A comparison of ETFs and separately managed accounts you have never seen
Stop making the same investing mistakes as everyone else who listens to CNBC and reads Money Magazine. Do what the rich do! Free guide explains how they think and make investment choices.