I have written several times on how to earn money without a job.
Stop Looking for a Job
Starting a Business After Retirement
Wrong Thinking about Getting a Job
My latest post was a guest post on 5 more reasons not to get a job.
Real Examples on How They Earn Income with No Job
Here are some outrageously good examples of people who have followed the only rule for creating income: deliver value to other people who will pay for it.
Here's a woman who gathers information on the cheapest grocery store prices in town and disseminates that information to her community and saves them millions of dollars annually. Note that no special education is required and all she needs to know is how to use a spreadsheet and post it on the web.
Here's another example of people who needed income to save their home from foreclosure. So without any special education (they were teachers) other than the ability to write English, they started writing steamy ebooks for sale on Amazon. The result: they are a solid success and wrote more than 20 ebooks that have been quite successful sellers.
Of particular interest to me is some of the comments I read about the above story from commentators stating how bad the books are and disbelief they would sell. Some commentators lambasted the couple for writing such dribble. It is this mentality that keeps so many people poor. It does not matter what you or I value.  When it comes to generating income, it matters what OTHERS value as they are the ones paying. Poor people never get this and see everything through their own set of values. A fundamental rule to creating income and wealth is to deliver what OTHERS value.
It is no wonder the 99% are in the 99%. They stick to their narrow set of beliefs and world view. Rather than see that there are rules for success, they will stick to their own rules and beliefs which don't work and then they complain.  Why are so many people so near-sighted? Is it that hard to see what works and what does not work? If you are poor, then is it not obvious that your thoughts, ideas, beliefs, self talk and all resulting actions are inappropriate and that a change is required?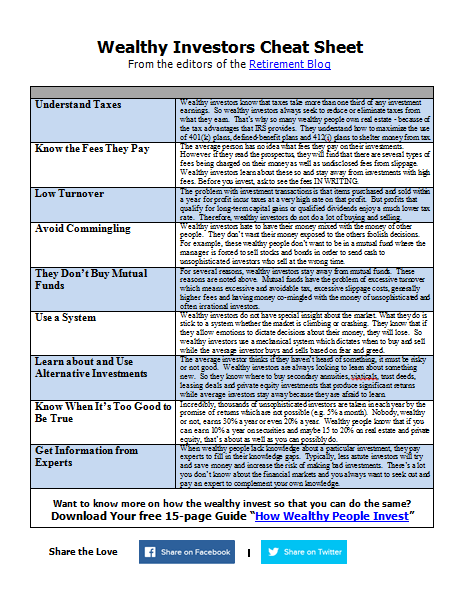 How Wealthy People Invest
To get wealthy, invest like the wealthy
Why the wealthy steer clear of mutual funds
How the rich systematically make money in the market
Key metrics that differentiate good and bad investments
A comparison of ETFs and separately managed accounts you have never seen
Stop making the same investing mistakes as everyone else who listens to CNBC and reads Money Magazine. Do what the rich do! Free guide explains how they think and make investment choices.