For many retirees, staying out of the working world just doesn't feel right, even if they have the money to do so. In the past 20 years, the number of retired individuals that become entrepreneurs has increased significantly. This increase indicates a growing trend; a trend that sees many Baby Boomers leaving their careers and moving into businesses of their own upon retirement (see more on types of businesses to start at the links at the end of the post).
Why do retirees start their own businesses?
So, why are so many retirees actually opening their own companies? Starting up a business after retirement may be out of necessity for some, but others may do it simply for the love of working and being productive. Perhaps one's past job was just for a paycheck, but starting one's own business affords the opportunity to pursue a true passion. Who wouldn't welcome the chance to do something interesting, exciting, and earn some money at the same time?
For others, starting a business is the remedy to inability to find a retirement job. It is very difficult for many people to find work in an economy which is rapidly shifting from labor based to knowledge-based. The skills or experience you have had value 10 years ago and my no longer have value for an employer.

Though opening the doors to a new business is time-consuming, it is well worth the challenge to be the one in charge and chart your own destiny. For retirees who have been working for so many decades, flexibility is essential. This new-found flexibility allows retirees to invest in their new business but also in themselves. Additionally, if the business enjoys any success, it will generate additional revenue to enjoy leisure time to the full.
What are the options?
When most people think of retirees starting their own businesses, they may think of Grandpa making a little money off of his favorite hobbies, but that just isn't the case. Today's retirees are often experienced employees that simply don't work for their previous employer anymore but still want to be productive in some way. One area in which many retirees excel is that of business consulting. Skills and marketability developed from years of experience can be a valuable asset and can be quite lucrative, especially when other companies would like to benefit from this valuable knowledge.
Some retirees don't want to get into business consulting because they've had enough of a particular industry or sector. Another option popular among retirees is to acquire a business. Building a business from the bottom up can take a lot of work, so why not buy one that is already there? Choosing a business one is already familiar with usually sees the most success. Similarly, buying a franchise is also a good option for someone who wants to do something a little different but doesn't want to go through the trials and tribulations of starting a brand new company. With a franchise, the product is already proven.
You are limited only by your own creativity to generate supplemental income. I recently met a guy who replied to my ad on Craigslist. I was closing an office for one of my business and offered equipment for sale. He came to take a look at what I had and then made me a low offer to take everything off my hands. He was able to return and clear out the office within 24 hours. I will be he sold the items he purchased for me for $900 on Ebay or elsewhere for $3,000 or more. In his case, he simply makes money because one man's trash is another man's treasure. This gentleman is the middle man between the two.
What's involved in getting started?
Funding a post-retirement endeavor isn't much different than funding any other start-up. Retired entrepreneurs must obtain the capital they need to get their business off the ground just like anyone else. Not all businesses need a lot of money to get started, so one should take that into consideration when planning. Of course, the best endeavors require little or no capital. If your idea does require capital, are you able to make a small investment first to test its success? For example, can you take out a small ad for a few hundred dollars and see what kind of response you get before investing thousands?
If buying an existing company or starting a franchise, it may be necessary to break into the retirement nest egg; however, if an individual is interested in consulting, he or she may be working from home and will require very little start-up capital. For larger endeavors, a small business loan may be in order.
Another aspect of getting started is to understand the tax implications and business structure such as sole proprietorship, LLC, LLP or corporation. Each has pros and cons you want to lean about or ask a CPA. While wanting to continue to work in the retirement years, you may not want to deal with the hassle of setting up a business, dealing with the taxes, and everything else that goes with it. Remember, business must be more than just a hobby to earn tax breaks. Using the services provided by an umbrella company can take the headache out of getting a retirement start-up off the ground. Such a company can deal not only with taxes but licensing, payroll, and other administrative issues.
When you are in retirement stage, you may think that you have nothing else to do but in reality, there is a lot of work still to be done. First, you can still earn more money during these sunlight years. Second, you can put up your own business to augment what is lacking in your retirement fees.
But according to Jim Then, an associate trainer and consultant for retirement planning and financial literacy at the Centre for Seniors, there is only one out of 20 seniors who are interested to start business after retirement. He says that seniors are aversive to taking risks especially when it involves their retirement pay but for those who would like to start business after retirement, here is his advice. "Decide on how much funds to set aside for your lifestyle needs. Whatever is excess is what you can afford to lose. The capital outlay should not eat into one's retirement nest egg," he says.
According to Helen Dennis, a specialist in employment and aging, there is indeed power in the midlife. "Entrepreneurship isn't just for brilliant kids eating pizza at 2 a.m.," she says. "There's just as much energy and creativity in midlife."
So when you decide to start business after retirement, here are just some of the things you need to do.
Have a change of lifestyle. Some stories in the internet have shown a couple of good middle-aged couple who have sold their business altogether and made thousands out of it. One of them is couple Jennifer Chung and Simon Yuen who sold their chocolate manufacturing business in which they could have retired comfortably. But they had other plans in mind. Instead they started their own taichi school, which is part of their lifestyle as both had been practicing the art of the sport for 12 years. At the start, they started with 300 plus students and then ballooned to around 1,000 students.
Look at other possibilities. When you want to start business after retirement, you might want to think about expanding and looking at other possibilities. Such person is Amy Chua who started her own Age Management and Enrichment College because she wanted to help improve the self-confidence and self-image of women after being part of a course on entrepreneurship. She was a retired college teacher and she spent all her savings into putting up her own school. The risk paid off, though, as her school is moving to a new space with students who want to drastically change their image and personality.
Give boredom a chance. If you are bored with retirement, playing only leisure activities and stuff, then you might want to get out of that and start your own IT company. That was what William Liu, a former CEO of an IT company, who got bored playing golf, traveling, reading books and meeting new people. To start business after retirement, he decided to put up another IT company and invested $100,000 of his savings. "Working keeps me mentally and physically fit, especially now that I enjoy what I am doing. It gives me satisfaction to be able to offer my experience," he says.
Do something meaningful. Sylvia Lee, Lee Pak Kheng and Woon Lai Har began their own NGO company called Lotus Culture which supports Cambodian NGOs in the areas of health, education, mental care and employment. One of their goals is to raise at least $260,000 to support projects for women who are suffering from distressing situations.
Have some spare cash. Of course when you decide to start your own business, you need to have some spare cash on hand. There are some banks, such as those in Singapore, that actually offer loans to seniors to start business after retirement provided that they can convince the banks that they have potential to grow and that their businesses have commercial stability.
Know what you are good at. Dennis Sargent, coauthor, with his wife, Martha, of Retire — and Start Your Own Business says, "A high percentage of retirement businesses take advantage of the knowledge and contacts retirees already have." His wife, on the other hand, says that in high tech especially, "contacts are good for about 18 to 24 months." So when you retire, think of turning your hobby into a profitable business.
Joy Mali is an active blogger who shares interesting financial management tips over the web that encourages people to check credit scores regularly for a happy financial life.
Related Posts:
Retirement Income- An Overlooked Source
Got a question? Ask the editors in the comment box below.
Related Posts:
Supplemental Retirement Income
Income form Retirement Hobbies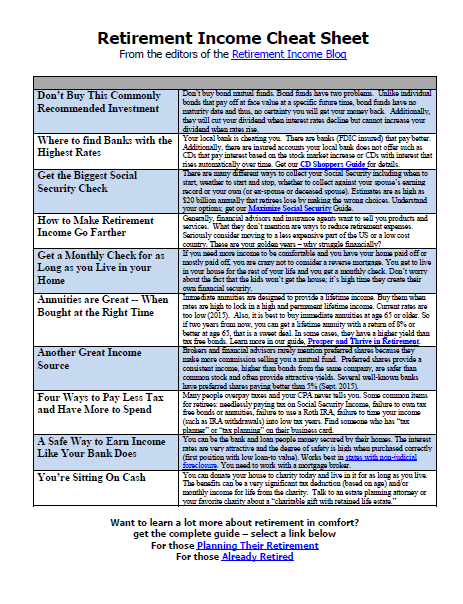 Retire Smart: a Simple Retirement Guide
How those of modest means can have an easy retirement
Three ways to get more retirement income that your financial advisor never mentions
Common mistakes to avoid that many retirees make
Four ways to protect assets that you cannot overlook
The 4-step method to planning a worry-free retirement
You now people of modest means that live a great retirement. You can too. Learn the simple lessons in our free guide.