If you look a the AARP forums on their web site, you will see that postings and comments of people looking for senior jobs are the most busy forums.  You are not alone in your search for a retirement job.  However, it's likely that you need to change the way you think about employment for seniors.
Forget about getting a retirement job.  There are lots of younger people looking very hard for work and the competition is just too fierce. So please change your mentality about finding a retirement job.  You can however earn money in retirement if you are willing to contribute what you know and think creatively.  I have already written two blog posts on this which are linked at the bottom of this article.  But in this article, let me address the way you need to think if you want success in your senior "job" search.
Ask yourself: How can you be of value?
Stop thinking in terms of a traditional job where you go from 9 to 5 or part time and someone hires you to fit into an already existing job description. Those jobs for seniors don't exist anymore. Those routine tasks have been automated by machines or computers. START thinking in terms of what you know or what you can do that would be of value.  Then match that value with people who need it.

Let me give some examples of earning retirement money to get your creative mental juices working.
Retirement Job Example #1
Let's say you like to fix stuff and you are good at it.  At the same time you notice that the wheels on the trash carts supplied by the garbage collection company are always coming off. Who fixes that?  Is the garbage company currently paying one or more full time salaries plus expensive benefits to get these fixed?  Would you be willing to fix these on a per cart basis (say $15 per cart)?
Then call up the garbage company and create a retirement job for yourself.  Simply call the human resources department and tell them you can help them fix the carts less expensively (if you cannot get the correct person on the phone, then go to their offices).  If they have too much work for you, you could even hire some unemployed youths (or other retirees looking for a job), pay them $10 per cart and earn a $5 override for each one they fix.   It makes no sense to try and find retirement jobs when they don't exist.  However, that DOES NOT mean there are not ample opportunities for working after retirement.
Retirement Job Example #2
If you are fortunate to have expertise in a profession, such as accounting, engineering, law etc., then your search for retirement money is a no-brainer.  These professions are cyclical in nature.  They always have parts of the year or projects that place them in a crunch when they need help--an opportunity for your retirement job. For example, accounting firms hire during tax season (you can take a course to learn to prepare tax returns), law firms get a big case that needs to go to trial and they suddenly have more work then they have staff to accommodate.  Same with engineering firms.  You can be the excess labor for any professional firm if you are already an accomplished professional and are serious about your senior job search.  Your past is your ticket to your new retirement job.  Best of all, you can take or turn down whichever projects meet your criteria for your senior job search.
How do you find these opportunities for retirement income?  You buy a list (or use the phone book) of every firm in your profession within 30 miles and send a letter offering your services when they need it.  You then follow up with a call to the person who handles hiring.  If you send 100 letters and make 100 calls, there is no way you wont come up with 2 to 3 firms that have an immediate need for your services and don't be surprised when you get a call 6 or 12 months later from other firms who kept your information.  Jobs for retired people are abundant if you position yourself where people need you.
Retirement Job Example #3
You eat at a new restaurant in town and it is fabulous. They need business and you need a post retirement job. You contact the owner and tell him that you will distribute his coupons at no charge to your friends and neighbors (you can put these on the windshields of cars in town and get some fresh air and exercise) in return for $10 to you for each coupon redeemed.  Obviously, there is some trust involved here needed to secure your retirement money.  If the owner is intelligent, he will realize that he WANTS to pay you because the more he pays you, the more you will promote his restaurant. This is a great deal for the owner because he will easily break even on this deal (i.e. he will make as much money on a dinner for 2 as needed to pay for the coupon plus your $10).  Next time the couple eats dinner at his restaurant and every subsequent time, he makes profit.  So his investment maybe $20 (for your $10 and the $10 coupon) to get a new customer that might spend $300 a year with him for years. You could have a very successful senior job search when you start doing this for several businesses.
Retirement Job Example #4
Do anything you like on a piece work or commission basis.  Almost every business will give you an opportunity for retirement money if you work for results.  What businesses hate to do is hire people for a fixed salary only to find out that the employee is unproductive. Businesses are happy to create employment for seniors when they only need to pay for results they get.  So if there is a product or service you really like, approach the business owner to sell it for commission only.  It may be something that gets sold over the phone, something that gets sold to small groups (e.g. the cooking demonstration/free sample table at Costco) or something that gets sold face to face (walking into businesses in a retail section of town or a business park). Or if the item needs to be made, offer to make them and get paid per item. Or if the item is a service, offer to be paid for each time you deliver the service.   Jobs for seniors are abundant when you know how to offer your services in a way that businesses want.
Read about more opportunities for retirement money here:
Supplemental Retirement Income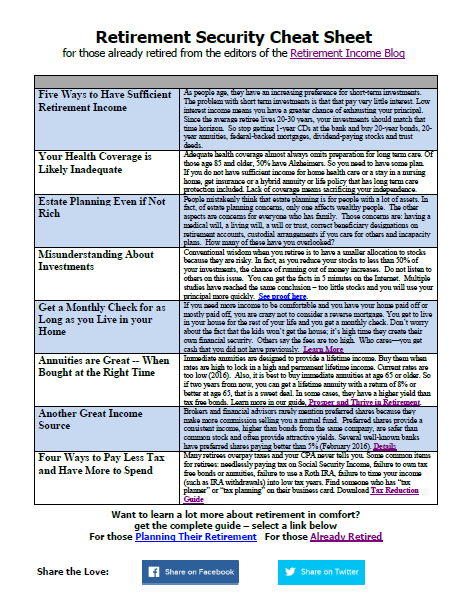 How to Prosper and Thrive In Retirement
For those already retired seeking to improve their finances
The 4 most important issues for any retiree and a quick plan to address each
The overlooked annuitization of assets to make your money go farther and reduce risk
An easy way to save money on health coverage
You don't need to be rich to plan your estate like this
A few simple lessons can reduce stress and bring more joy in your retirement year. Stop worrying and learn the simple
actions to take.