Retirement days do not have to mean watching movies all day long and be a couch potato.  Retirement days can still be very productive aside from being able to spend more time with loved ones.  You can still continue to earn some side money doing those things that you love to do during your spare time.  Now that you have plenty of "me" time, wouldn't it be nice to make money out of your hobby?  Check out the following ways that hobbies can make you earn money during your retirement years.
Floristry
It is not true that you can only make money out of selling fresh flowers.  Nowadays, selling artificial product has also been gaining more attention from people who would like to earn out of their creativity. You may start making connections with local retail outlets and convince them to order artificial flowers from you periodically. One big advantage of selling artificial produce is that you do not have to wait for the right "season" because what you are selling can be produced anytime unlike when you are producing fresh flowers.
Gardening
If gardening is your means of relaxation now that you have retired you can use this hobby to make money.  Research a bit about your neighborhood and know which of them spends most of their time at work and find out who among them abhors gardening tasks.  These are the kinds of people who will serve as your target market for your gardening services. With this kind of hobby, you will no longer have an excuse not to exercise.  Gardening allows you to exercise and be relieved from anxiety at the same time.
Selling
Gone are those days when you used to be so stressed out from work.  Now, you can just spend more time in the bedroom but definitely not because you are going to sleep most of the time.  But, because you will start to be busy sorting all your clothes that you no longer use, shoes that you will never be able to wear again and books that you have already read. Then, find a way to sell these items on eBay so you could have an income while staying at home and surfing the net.
Tutoring
Being retired does not have to mean that one should stop learning.  This is the best time to learn and share your knowledge to those who need it.  Grab your laptop and advertise your services online as a tutor or teacher of a specific subject such as Math and English. If you know how to speak a foreign language you can also offer your services as a foreign language tutor.
Writing
If you have the passion for writing but just do not have all the time in the world for it while you still had a different job, now is the time to bring your muse back all over again.  Start searching the net for some ideas that will tell you where to look for clients that need freelance writers.
Inez Vaughn is from the website How Much Here, you can find more than 3,000+ guides that help you find the price of things. Whether you want to know what a certain dog breed costs or a professional service, it's going to be here!
Related posts:
Supplemental Retirement Income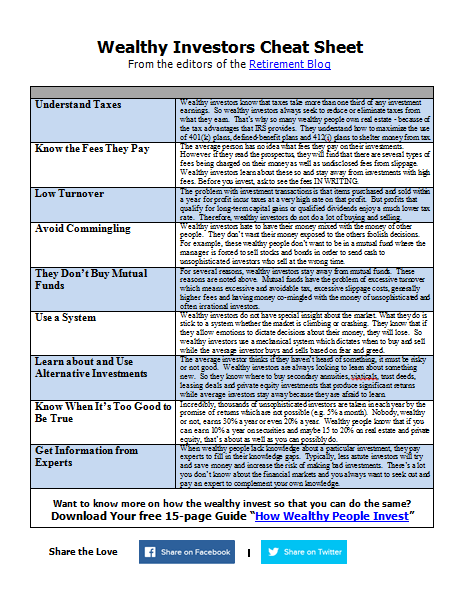 How Wealthy People Invest
To get wealthy, invest like the wealthy
Why the wealthy steer clear of mutual funds
How the rich systematically make money in the market
Key metrics that differentiate good and bad investments
A comparison of ETFs and separately managed accounts you have never seen
Stop making the same investing mistakes as everyone else who listens to CNBC and reads Money Magazine. Do what the rich do! Free guide explains how they think and make investment choices.