Traditionally, about 50% of people eligible to collect Social Security at 62 do so. But if you do, you'll receive about 25% less income (i.e. Social Security benefits) than waiting until your full retirement age – between 65 and 67 depending on your birthday. What implication does your early retirement have on your spouse?
Everyone whose work earnings make him or her eligible for Social Security benefits (i.e. income) receives his full Social Security benefit when he reaches his full retirement age (FRA). You can retire as early as 62 but your benefits will be permanently reduced by about 25% from the full benefits you'd get at your FRA. Waiting longer than your FRA to begin receiving Social Security benefits increases your benefits. Waiting to age 70, will increase them by about 32%.
A spouse (i.e. a married person) always has the option of taking the larger of her own working benefit or a 'marriage entitlement' benefit that's based on the benefit her husband collects (assuming the husband was the higher earner in this example).
A spouse's benefits while husband is alive
Since men generally have worked and earned more, it's their wives that are in the position of collecting the larger of their own working Social Security benefits or their social security spouse's benefit.
Before You Continue...
Do you know that some married couple have increased their Social Security income with "loopholes" that will close in a few weeks? Get your free coy of the Social Security Cheat-Sheet and learn 4 ways to get a bigger monthly check.
A wife's spousal benefit can be as high as 50% of her husband's full retirement benefit. To receive this, she must wait for her own FRA and he must do the same.
If he retires early( say age 62), but she waits for her FRA, she still get 50% of her husband's benefit – but his is less because his benefit is reduced due to his early retirement. If he retired at 62, his benefit would be reduced by about 25% from his FRA benefit.
If she retires early at 62, and he waits for his FRA, her spousal benefit will be a reduced about 30% below whatever her 50% spousal benefit would have been. To know more about several ways to increase income in retirement, get the Retirement Guide.
A surviving spouse's benefit
A surviving spouse is entitled to the greater of 100% of the deceased spouse's social security benefits or his/her own working benefit. As stated above, this option is more typical for a surviving wife to make.
Here, the wife's 100% of her husband's benefit is affected by what he actually received. So if he retired early, then her 100% benefit will be smaller to the same extent that his benefit was reduced for early retirement. Her 100% benefit would increase if he delays his retirement to age 70.
So a married man's decision when to collect Social Security has direct implications not only on how much he'll receive in Social Security benefits, but how much his wife and survivor will receive. But remember, there's more to life than financial gain, men don't live as long as women; they deserve some decent retirement time too.
Unless there is some illness that could decrease longevity, it is mathematically advantageous to wait as long as possible to start social security benefits.  The various factors that could affect this choice are analyzed in this post.  Of course, not everyone has this luxury but if one spouse can wait (the higher earner), both can enjoy more over a lifetime.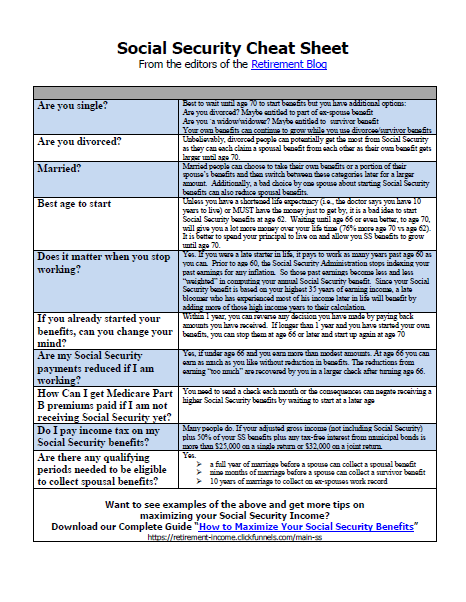 Maximize Your Social Security Income
Get the one-page social security Cheat Sheet
You may think that the folks at the Social Security office will tell you how to get the biggest monthly check. In fact, the federal rules PREVENT them from advising you. There are millions of people who have given up more than $50,000 just by making a simple yet incorrect method of taking their Social Security benefits. Don't let that be you! Get your free copy now.