This post is about social security tax -- the taxes that retirees pay on their social security income and how to reduce it.
Prior to 1984, all social security income was tax free.   Ah, the good old days.
Who Pays Social Security Tax?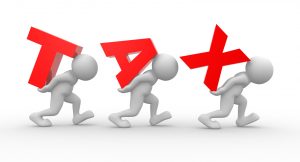 The government decided it needed revenue and assessed a tax on social security benefits starting in 1984. Fortunately, the social security applied to less than 10% of social security beneficiaries. Most retirees did not have sufficient earnings to be taxed.  But more and more retirees pay the social security tax each year.  Why?  Because the levels at which the IRS assesses the tax has not changed since enacted!  So as incomes rise, simple inflation exposes more and more people each year to tax on social security income.
As of 2015, it's estimated 52% of households receiving social security benefits pay tax on those benefits.  And the federal government collected over $50 billion. Let's look at actions you can take to reduce or eliminate social security tax.
You can reduce the social security tax on your social security benefits and this article explains how. The basic rule is that social security benefits are taxable if your modified adjusted gross income (your adjusted gross income plus tax exempt interest plus 50% of social security income plus exclusions per IRS publication 915) exceed the following limits (not changed since 1984):
Percentage of social security income taxed
Single, head of household, qualifying widow(er), or married filing separately and you lived apart from your spouse for all of the year
Married people
0%
Less than $25,000
Less than $34,000
Up to 50%
$25,001-$34,000
$34,001 to $44,000
Up to 85%
More than $34,000
More than $44,000
Therefore, if you can engineer your included income below these limits, you may be able to reduce or eliminate taxes on social security income.   This may be possible using Roth IRAs or and/or annuities. While this is not a recommendation to buy annuities just because they can help reduce the tax on your social security income, the table below illustrates how it is possible to reduce social security taxes in some circumstances.
Simple explanation Video
Ways to Reduce or Eliminate Social Security Tax
First, let's address the Roth IRA.   Withdrawals from a traditional IRA are included in income and fully taxable. Therefore, these withdrawals which increase your income may increase your social security taxes. Once you pass age 70 ½, your withdrawals are mandatory and thus, you may be forced to pay social security taxes where you may not have paid them previously.   However, if you convert your traditional IRA to a Roth IRA, there are no mandatory withdrawals. Of course, there are always trade-offs so take this post to your accountant before making a Roth IRA conversion (note that the same benefit would be achieved by converting any traditional retirement account to a Roth IRA).
Therefore, it pays to plan ahead even starting at age 60 if you want to avoid social security tax. By taking distributions from your IRA, even before you must, you may be able to smooth out your taxable income from year to year and avoid a big jump at age 70 1/2.  Let's take a look.
Social Security Tax - How Planning Ahead Can Reduce or Eliminate
Bill and Linda are both retired, have large IRAs, and are age 60.  Their taxable income will be $30,000 this year.
The tax law extends the 15% tax bracket to $75,300 for couples filing jointly.  Thus, Bill and Linda could convert $45,300 worth of their IRAs to Roth IRAs this year and fully use up their 15% tax bracket.
2016 Federal Tax Rates
Married Filing Jointly or Qualifying Widow(er)
| | |
| --- | --- |
| Taxable Income | Tax Rate |
| $0—$18,550 | 10% |
| $18,551—$75,300 | $1,855 plus 15% of the amount over $18,550 |
| $75,301—$151,900 | $10,367.50 plus 25% of the amount over $75,300 |
| $151,901—$231,450 | $29,517.50 plus 28% of the amount over $151,900 |
| $231,451—$413,350 | $51,791.50 plus 33% of the amount over $231,450 |
| $413,351—$466,950 | $111,818.50 plus 35% of the amount over $413,350 |
| $466,951 or more | $130,578.50 plus 39.6% of the amount over $466,950 |
And after Bill and Linda hold the Roth IRAs for five years, they can withdraw the money tax-free. Those withdrawals will not force their social security benefits to become taxable.  Each year they will repeat the process and continually shift a large portion of their IRA to a Roth.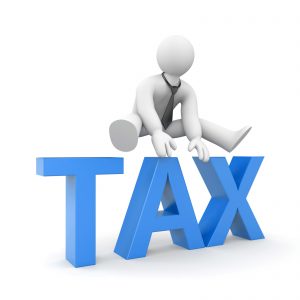 By taking IRA distributions early, they gain two advantages:
they make full use of the low 15% tax bracket available to them now
they reduce their IRA balance so that in later years, when they receive social security income, their mandatory distributions will be lower and cause less social security income to be taxable
If Bill and Linda wait until they are 70 ½ and subject to required minimum distributions on their IRAs, the withdrawals likely push them into a higher marginal tax bracket and also create a heavy or maximum tax burden on social security income.
Tax Free Bonds Do Not Help Reduce or Eliminate Tax on Social Security Income
Note that it does not help to buy tax free bonds to reduce your social security tax.   Although the income is of course tax free (for federal purposes and possibly for state purposes), the tax free income IS included when "testing" to determine if you pay social security taxes.   Interest earned on annuities however, is not included in your income so long as it is reinvested.   Also, the excluded portion of income from immediate annuities is also not included. For this reason, converting investments to annuities can reduce, and in some cases, eliminate social security tax.
Again, everything you do with your financial assets has multiple effects so before you go making this change, please see your financial advisor to review what other impacts this would have for you.
Using Fixed Annuities to Reduce Tax on Social Security Benefits
Hypothetical Illustration-Not Indicative of any specific Product
Scenario #1
Scenario #2
Scenario #3
Interest from CDs
Interest from Tax Free Bonds
Fixed Annuity Interest (Not Distributed)
Interest
$10,000
$10,000
$10,000
Pension
$25,000
$25,000
$25,000
Social Security Income
$20,000
$20,000
$20,000
Total Income
$55,000
$55,000
$45,000
Social Security subject to tax
$6,850
$6,850
$1,500
Adjusted Gross Income
$41,850
$31,850
$26,500
Total Federal Tax
$2,691
$1,298
$763
You can see from the above table (not current year tax rates) that if our hypothetical couple move money from CDs to municipal bonds to fixed annuities, the amount of their social security income subject to tax changes, as does their total federal tax. Their lowest tax situation is with the deferred annuity. If they need to withdraw the interest from the annuity, this solution won't help them and they gain only if they allow the interest to reinvest.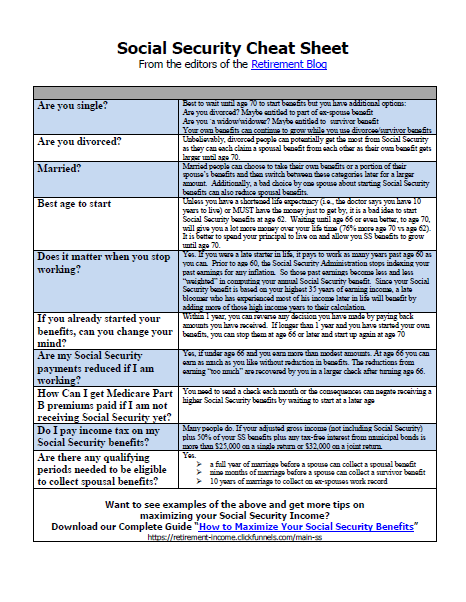 Maximize Your Social Security Income
Get the one-page social security Cheat Sheet
You may think that the folks at the Social Security office will tell you how to get the biggest monthly check. In fact, the federal rules PREVENT them from advising you. There are millions of people who have given up more than $50,000 just by making a simple yet incorrect method of taking their Social Security benefits. Don't let that be you! Get your free copy now.