Deferred annuities are designed for building a tax-deferred retirement nest egg by people age 20 to 60.  During volatile times, this may be one of the better retirement options for conservative investors.  You can have your funds guaranteed by the insurance company and receive their modest annual declared interest rate or you can opt for a variable annuity where you, the investor, select from a menu of investment accounts in hope of gaining a return better than the fixed annuity rates provided by the insurance company.  In both cases, your money accumulates tax deferred.  IRS wants these vehicles to be used for retirement savings so there is a 10% penalty for withdrawals prior to age 59 1/2.
Deferred Annuity Accumulation Phase
During the accumulation phase is when the money goes in.  You can make a single payment, additions over time or systematic monthly payments from your checking account. During this time period, the funds grow tax deferred.  In a deferred variable annuity, you have the flexibility to switch your funds between the various investment options offered.  During the accumulation phase surrender charges apply.  Think of these as early withdrawal fees.  If the annuity has a 7 year term (which you can renew at the end of each term if you choose), any withdrawals during the term may trigger a surrender charge.  Most every insurance company allows you to withdraw 10% of your account value each year before the surrender charge is assessed.  Additionally, many allow larger withdrawals, exempt for surrender charges, for emergencies so as confinement in a nursing home.
Deferred Annuuity Distribution Phase
After age 59 1/2, you may want to take distributions for your retirement years.  You can choose several ways to distribute your money
1. in a lump sum.  This is not a good idea as you would need to pay the deferred income tax all at once.
2. in payment over a term of years (e.g. 10 years) or lifetime payments.  In the case of lifetime payments, the insurance company guarantees a regular payment for as long as you live.  if you live to 105, you win.  If you die tomorrow, they keep your money and they win.  The lifer arrangement can also be arranged over two live, e.g. you and your spouse.
3. interest withdrawals
In the case of the life annuity, it is best to start that flow later in life.  The monthly guaranteed payments to you are higher the later you start. In the case of a variable annuity, your payments will normally vary based on the performance of your investment choices by most insurance companies will offer conversion to a fixed payment stream for retirement.  It's possible that between a social security check and a lifetime fixed payment from your annuity, you may have all the income you need.  Consult the retirement calculators.  (Note that if you like the idea of a fixed payment for life and have not saved through a deferred annuity, you can still purchase a retirement annuity or immediate annuity now).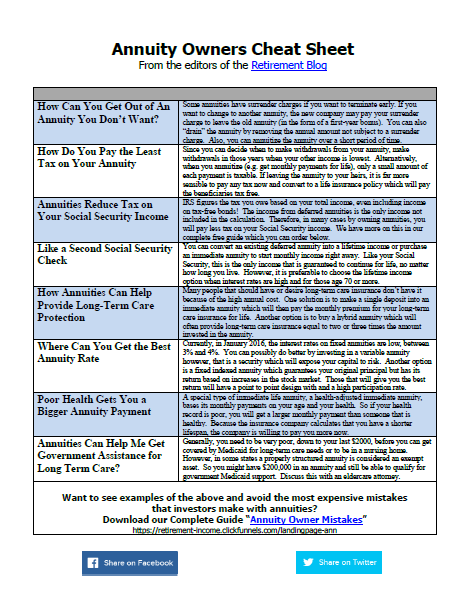 Most Annuity Owners Make This Mistake
To get wealthy, invest like the wealthy
Why the wealthy steer clear of mutual funds
How the rich systematically make money in the market
Key metrics that differentiate good and bad investments
A comparison of ETFs and separately managed accounts you have never seen
Stop making the same investing mistakes as everyone else who listens to CNBC and reads Money Magazine. Do what the rich do! Free guide explains how they think and make investment choices.