All of the information in this article is based on the data at the government's social security web site www.ssa.gov effective for 2007. But rather than repeat the rules, we show you how to USE the rules in plain English to maximize your social security benefits coming to you. Any figures change annually so consult the government's web site for 2008 and later. We answer 5 questions for you:
Can you do anything to potentially increase your social security check before you retire?
At what age is it best to start social security?
How can married couples help maximize the joint benefits?
What methods are available to reduce or avoid tax on your social security benefits?
How can you earn money and still collect social security benefits?
Coming Up on Retirement
You may have a simple question like, "What can I do now to get the biggest social security benefit?" The answer is not much. Your social security benefit is based on your 35 highest years of income. So even if you have a couple of "break-the-bank" years of earnings just before you retire, it won't have much impact on your social security check for two reasons:
Each of the 35 years gets an equal weighting so 2 years out of 35 (2/35) could only impact what would be for example, a $1300 monthly check by $74.
High earning years have a minimal impact because of the 420 months in the calculation (12 months x 35 years), the first $656 you earned in a month count six times as much as the monthly earnings over $3955 (these are 2007 inflation adjusted figures). And annual earnings over $97,500 won't help you at all.
To increase the size of your social security benefit, the only option is to delay your starting date as explained in the next article:
Social Security Income - When to Start Your Benefits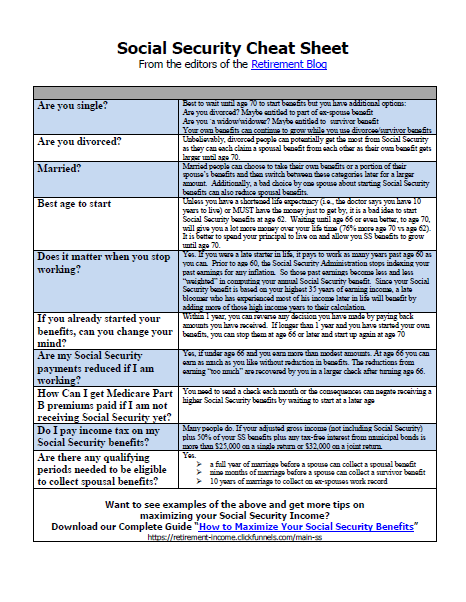 Maximize Your Social Security Income
Get the one-page social security Cheat Sheet
You may think that the folks at the Social Security office will tell you how to get the biggest monthly check. In fact, the federal rules PREVENT them from advising you. There are millions of people who have given up more than $50,000 just by making a simple yet incorrect method of taking their Social Security benefits. Don't let that be you! Get your free copy now.