As one spouse of a married couple, you must choose when you will start collecting Social Security benefits. And when you do--whether you will receive Social Security benefits based on your own earnings or as a spouse's entitlement based on his or her social security benefits. The 'entitled spousal' amount maximizes out at 50% of the other spouse's benefits. You will naturally receive the higher of these two options.
But if your spouse is receiving social security benefits when he or she dies, you are entitled  --as the surviving spouse--to 100% of his or her Social Security payment rather than the maximum 50%. In this case, you will choose the larger of that benefit or the Social Security benefit based on your own earnings. Let's consider an example.
John and Jane are married and both are collecting social security. John receives a monthly benefit of $1,200. Jane collects another $600 of monthly benefit as the 'spouse's entitlement'. This is larger than the $500 per month she would collect based on her own earnings history. If Jane survives John, she would naturally file for 100% of John's benefit--$1,200 per month.
Alternatively, if Jane's monthly benefits were $1,000 based on her own earnings history, she would not have collected the lower 'spouse's entitlement' of $600 per month while John was living. But at John's death she will file for his $1,200 monthly benefit as a spouse's entitlement, since it is greater than her own benefit.
Incidentally, your deceased spouse is not entitled to a Social Security benefit for the month he or she dies. So when the payment is made on the third of the next month, you should return it to the SSA. But as surviving spouse, you will receive a $255 death benefit.
As surviving spouse, you can begin receiving benefits as early as 60 years of age. See the Table for a summary of circumstances. Benefits are naturally reduced for beginning 'survivor benefits' before 65. See the table below for a summary.

| | |
| --- | --- |
| Widows/Widowers Eligible For SS Benefits | At age 60, married at least 9 months, and not remarried before age 60. |
| The Social Security Benefits | 100% covered worker's basic benefit for beginning at 65, ~83% at 62, and ~72% at 60. |
| Other Provisions | Surviving spouses, earning more than the limit SS allows, are eligible for benefits although deductions are imposed. |
What about remarriage?
If you are getting survivor benefits, you will not lose them if you remarry after you are 60 years old. However, a person applying as a widow/widower cannot receive benefits if they remarry before the age of 60 unless the latter marriage ends, whether by death, divorce, or annulment.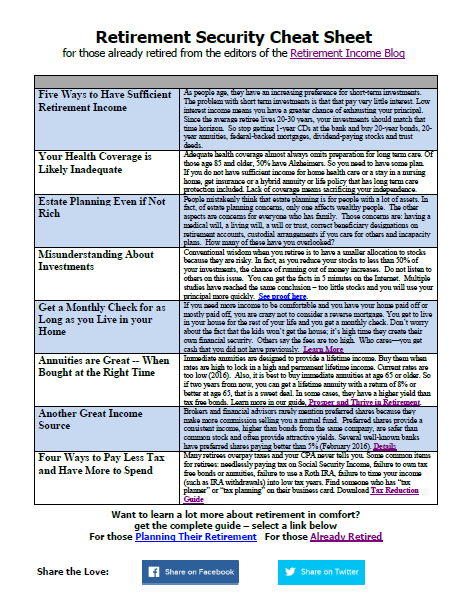 How to Prosper and Thrive In Retirement
For those already retired seeking to improve their finances
The 4 most important issues for any retiree and a quick plan to address each
The overlooked annuitization of assets to make your money go farther and reduce risk
An easy way to save money on health coverage
You don't need to be rich to plan your estate like this
A few simple lessons can reduce stress and bring more joy in your retirement year. Stop worrying and learn the simple
actions to take.