At a time when nearly 8,000 Baby Boomers are turning retirement age each day, it does not appear that most Baby Boomers (Born between 1946-1964) are ready to retire. Fidelity's research reports the following retirement savings statistics:
Boomers have $35,000 in median total household personal retirement savings.
Boomers typically save $2,750 annually for retirement.
Boomers are on track to replace 59% of their pre-retirement income.
Boomers who save in a 401(k) have an average 401(k) account balance of $80,000.
57% of Boomers expect to receive a pension (either own or spouse).
22% of Boomers will rely on the sale of their primary home for income in retirement (that was in 2006—these plans are no longer realistic in 2008).
69% of Boomers will rely on working at least part-time for income in retirement
Of the 69% of Boomers expecting to work in retirement:
--  68% will do so to cover basic expenses.
--  52% will do so to receive employer health benefits.
--  23% will do so because they want to stay busy

Based on these retirement savings statistics, the bottom line is this: boomers financial planning for retirement has been inadequate.  It's clear that most will need to work during their 'retirement years', will need to annuitize their assets (consume their nest egg for income—see the annuity calculator) and live more conservatively (perhaps in lower costs areas or with more stringent lifestyles) than desired.
Why has this happened and is there a way out?  Boomers simply like to spend on goods that make them happy today rather than for their elder years as this retirement savings statistic indicates:
Retirement Savings vs Purchases of New BMWs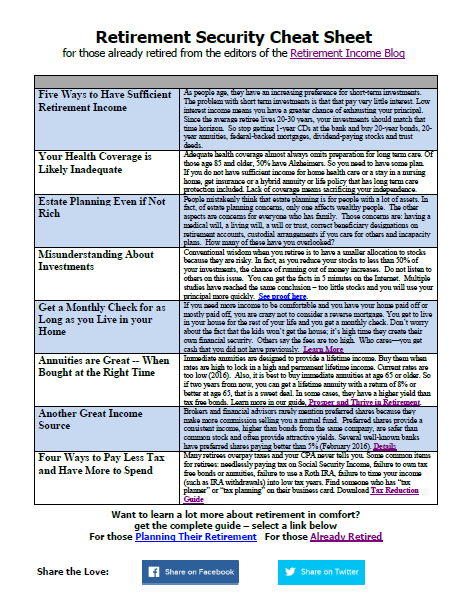 How to Prosper and Thrive In Retirement
For those already retired seeking to improve their finances
The 4 most important issues for any retiree and a quick plan to address each
The overlooked annuitization of assets to make your money go farther and reduce risk
An easy way to save money on health coverage
You don't need to be rich to plan your estate like this
A few simple lessons can reduce stress and bring more joy in your retirement year. Stop worrying and learn the simple
actions to take.