Immediate Annuity Calculator
An immediate annuity is a product sold by insurance companies that is designed to provide you with an income stream for life. The income, by definition, is designed to start immediately, although some
immediate annuities
allow you to defer payments for up to one year. It is very important to remember that once you set up an immediate annuity, you no longer control the money you put in it. Likewise, while the income stream is guaranteed for your lifetime, an untimely death will not result in any money being returned to your estate. This calculator is designed to help you estimate your monthly payments from an immediate annuity.
---
www.retirementincome.net
25A Crescent Drive #508
Pleasant Hill, CA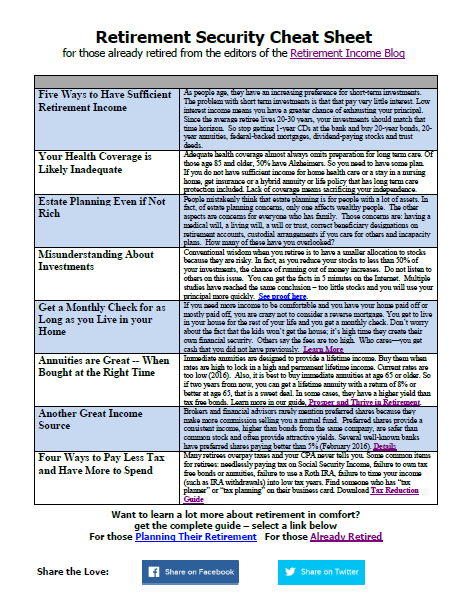 How to Prosper and Thrive In Retirement
For those already retired seeking to improve their finances
The 4 most important issues for any retiree and a quick plan to address each
The overlooked annuitization of assets to make your money go farther and reduce risk
An easy way to save money on health coverage
You don't need to be rich to plan your estate like this
A few simple lessons can reduce stress and bring more joy in your retirement year. Stop worrying and learn the simple
actions to take.