The pursuit of retirement planning tends to make you feel confident and assured and offers a guide for a brand new stage of life. Here's an early retirement checklist of concerns to get you into the swing of things. Searching out effective solutions for the scenario will put you in control and give you confidence that you can retire successfully.
The questions are grouped in accordance to seven fundamental retirement planning elements:
• Your company retirement programs
• Retirement income
• Health care
• Long-term care
• Your needs at incapacity and death
• Gifting and inheritance plans
Refer to the table below for the specific concerns under every area. Your answers should address the early retirement planning items of consideration also listed for each part.
You then have to allocate your retirement investment portfolio to generate that needed withdrawal income. If this withdrawal revenue will deplete your investments before you pass away, then you will need to modify the withdrawal to a 'non-depleting' level. This may force you to adjust your discretionary expenses downward accordingly. Vital for those forecasts is to use several various life expectancies in retirement if you are thinking about early retirement. For example, at retirement age sixty seven, you've an average remaining life expectancy of 19 years but a 15% possibility you'll live to age 93!

Understand what retirement revenue you will receive under a defined benefit plan, if you have one. If you have a retirement option to take a lump sum instead of lifetime payments, you may use it to locate a commercial annuity that might give more than the employer-offered pension. Also find out if  you must you leave your employment to access money in the defined-benefit plan or are you able to do so before early retirement?
After that, acquire your retirement benefits statement from the Social Security Administration. If you've made a forecast of your living expenses in retirement, then you have a handle on what retirement benefits you'll require. That estimate less your pension and Social Security benefits decides how much you will have to withdraw from your retirement investments yearly.
Be sure to sign-up for Medicare just before you turn the customary retirement age of sixty five and decide on what added health care insurance plans are most appropriate (e.g. a senior HMO or the more expensive but more flexible Miedi-gap policy)
In the event you have not yet looked into how you will deal with long term care (LTC), you should get it done now. That is to ensure that in the event you go for buying LTC insurance, you'll wish to do it as early as possible to reduce premiums that increase considerably after your early retirement.
Additionally, organize how your affairs should be treated if you come to be disabled - even temporarily -- using power of attorney designations and relevant health care directives .
Finally arrange for how best to leave your assets to your choice of beneficiaries. Taxes and long term care may take a large bite out of your estate but odds are you will have assets left to distribute.
Checklist for Early Retirement Planning
Issue Area
Associated Questions
Considerations
Company Retirement Plans

What are your payout options for defined benefit plan?
How will you take your defined contribution plans?

Annuity
Lump sum
Rollover

Retirement Income

Did you contact Social Security for your benefit statement?
What's your Company Pension income?
What withdrawal rate should preserve your income for 30 years?

Your income needs estimated
Approximate Required Minimum Distributions
Company Pension indexed to inflation?
Ideas to minimize expenses

Investments

How will you allocate your investments for retirement
What specific investments will you choose

Allocation strategy
Investment choices and risk

Health Care

When should you sign up?
What are your health insurance options?
What's the best plan for your situation?

Medicare,
other Medigap-type supplemental plans
Employer-sponsored health insurance

Long Term Care (LTC)

Have you considered purchasing LTC insurance?
Have you worked out the possibility of paying LTC costs directly?

LTC insurance rates
Plan for Medicaid assistance
Direct Payments of LTC

Your Wishes at Incapacity and Death

Have you arranged for someone to take over when you are incapacitated?
How will someone know your wishes when you're incapacitated or die

Health care proxy
Durable Power of attorney
Will
Trusts

Gifting and Legacy Plans

Have you chosen and updated your beneficiaries on all insurance, qualified plans, will and trusts?
Have you considered the most tax-efficient way to gift your money or leave it as a legacy?

Annual gift tax exclusions
By-pass trusts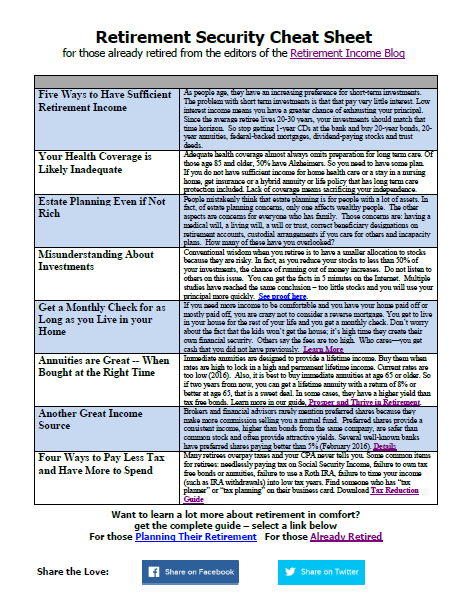 How to Prosper and Thrive In Retirement
For those already retired seeking to improve their finances
The 4 most important issues for any retiree and a quick plan to address each
The overlooked annuitization of assets to make your money go farther and reduce risk
An easy way to save money on health coverage
You don't need to be rich to plan your estate like this
A few simple lessons can reduce stress and bring more joy in your retirement year. Stop worrying and learn the simple
actions to take.