Municipal bonds can be a great source of retirement income and this post will keep you from getting ripped off.  The interest is high and tax free but the way municipal bonds are sold lacks regulation and disclosure and you're about to learn what your broker will never tell you.
Municipal  bonds are not for everyone and are best suited to those who can get maximum benefit from the tax free savings.  The maximum beneficiaries are those in the 25% or higher federal income tax bracket  ( for 2010, single people with taxable income of $34,000 or more and , marrieds with taxable income of $68,000 and more).  If your taxable income is less than these amounts municipal bonds investing MAY not be advantageous because you could make more by investing in taxable bonds and paying the tax. In other words, taxable bonds typically pay more interest so someone in a lower tax bracket will be better off getting the higher interest, paying the tax and still come out ahead.
BIG EXCEPTION:  Because municipal bond yields DO NOT have a constant relationship with others types of retirement income options,  one must analyze at the time of investment which type of bond would bring you put ahead.  The next paragraph illustrates.
Getting 5% from a tax free bond in the 25% federal tax bracket is an effective yield of 6.66%.  Where else can you get anything close to 6.66% rated AAA?  Currently (9/16/10), municipal bind interest rates are out of whack and tax free bonds pay WAY MORE than they should relative to treasury bonds or high grade corporate bonds.  That MAY be because the smart money expects the issuers of municipal bonds to default (i.e. go bankrupt) and not be able to pay off their bonds. Or, it may be due to very significant purchases by foreigners of US Treasury Securities which have pushed their yields down to uncharacteristically low levels.

You can buy bonds issued by your state or any state (or any municipality).  While many suggest buying bonds just from your state because the interest will also be free from your state income tax, it is better to have diversification.  I live in California and don't want my entire bond portfolio concentrated here given the State's chronic inability to balance its budget.  So I buy tax free bonds issued by others states and I will pay state income tax on this (about 6% of the income I receive) but no federal tax.
Unlike stocks, the prices of tax free bonds don't get published in the newspaper.  There are just too many issues to list in the paper and that's what makes municipal bind investing less than transparent.  Add to this that there is no government requirement that forces your broker to show how much commission you pay to buy a bond.  The broker simply adds their markup to the price so your transaction cost is hidden.  However, you can avoid getting ripped off.  The Municipal Sales Rule Making Board tracks prices paid for municipal bonds in recent purchases.  By consulting their web site you can check the actual recent price paid by investors and dealers. That way,  you'll know if your broker is giving you a fair price (1% to 2% commission is fair to pay).  Or, you can use the prices that have transpired to give your broker a limit price.  Just visit http://emma.msrb.org/ and enter the cusip number (the identifying number) of the bond you desire to research.
If you are buying $25,000 of an issue, it's not unreasonable for a full service broker to mark up the bond 2%.  However, the markup will usually be 1% or maybe .5% from a discount broker.  You can do a search for bonds trading on the market at http://www.rbcbondsearch.com and www.bondsonline.com.  You need to know enough to set your criteria when searching for bonds you might want to own: term, type of bond, rating, etc.  The web site will produce a list of bonds meeting your criteria and show you the cusip numbers so you can look up recent prices.  To learn more  about any issue, you take its cusip number (its identifying number) and look it up at the EMMA web site http://emma.msrb.org, which not only has prices but also the offering memorandum for the bond, describing all aspects of the issue and annul statements since issuance and recent trading/price history.
Now you have basic tools for becoming a sophisticated municipal bond buyer and not getting ripped off on price.  In a separate post, I review the dangers of municipal bond funds.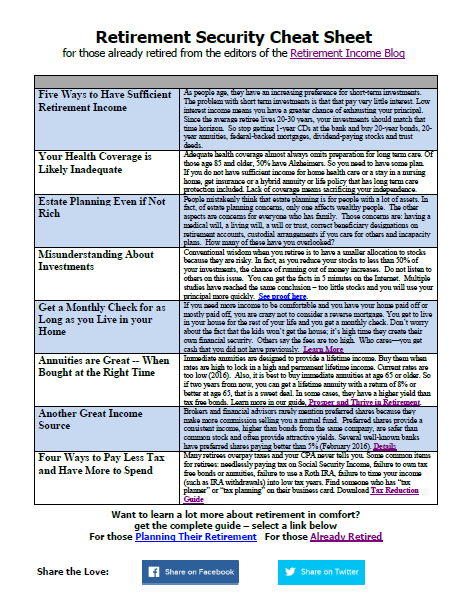 How to Prosper and Thrive In Retirement
For those already retired seeking to improve their finances
The 4 most important issues for any retiree and a quick plan to address each
The overlooked annuitization of assets to make your money go farther and reduce risk
An easy way to save money on health coverage
You don't need to be rich to plan your estate like this
A few simple lessons can reduce stress and bring more joy in your retirement year. Stop worrying and learn the simple
actions to take.