If a recession becomes severe, dollars may suffer from deflation rather than inflation. This would change the rules you have for retirement investing over the past 30 years. What should retirees consider doing if deflation sets in?
We're familiar with the effects of inflation. Our dollars just don't buy as much as they used to. Too much 'easy money' from too much credit puts more dollars into everyone's hands so each dollar is worth less than before. So too many dollars are chasing too few goods and the prices of goods are bid up. In this typical inflationary environment, retirement investing rules are to get rid of cash and hold hard assets like real estate.
But when recession occurs, everyone becomes afraid of consuming. Businesses feel the pinch and people lose jobs. Government may try to 'prime the pump' by offering and instigating low interest rates. That reduces the cost of credit and hopefully to get people to begin borrowing and 'consuming more'.
But if the turn down is too severe, very few people will be enticed to spend money. The money supply actually contracts. The results in a low demand to buy most things and can force prices down. And deflation is the general decrease in the prices of goods. Your dollars are worth more!  Rather than get rid of dollars, you want to own them and convert them selectively to assets that have fallen in value (real estate, stocks, etc).
Most retirees have no job to lose. They're living off Social Security, pensions and their investment earnings. Most of this  retirement income may be fixed income.  Those in such a circumstance can actually benefit from deflation – mostly from the benefit of lower prices for things.
But under deflation, dollars become more valuable and debt – i.e. owing a fixed amount of dollars – becomes more of a burden. So retirees should reduce the cost of their debt by reducing payments or restructuring.
As deflation sets in you're paying off debt in more expensive dollars. So any way to reduce the dollars you must commit to debt payments is beneficial.  Note that it IS NOT a good idea to pay down debt during deflation, --it is a good idea to restructure debt to lower the payments.

Restructure your debt payments. With recessions comes falling interest rates. Take advantage of lower interest rates to restructure debt payments you can't pay off quickly.
Refinance your home. If you have a mortgage, refinance at lower interest rate to cut your monthly costs – or to pay it off over a reduced time period.  Or even better, borrow against it with a reverse mortgage.

Since the value of cash is increasing, holding it will increase your wealth – but only during deflation. Aside from preserving your emergency funds, you'll want to hold dollars for retirement investment opportunities at low prices.
If you do have extra cash, stay aware of overly depressed investment prices and commodity prices (oil and gold) that will recover after the recession ends and present low risk retirement investing opportunities. Real estate investments – especially condos – are a typical case. It may even be worth a small remortgage of your paid off house for some investments (this strategy is not suitable for everyone as any borrowing will incur a fixed payment commitment while the return on investments is not assured).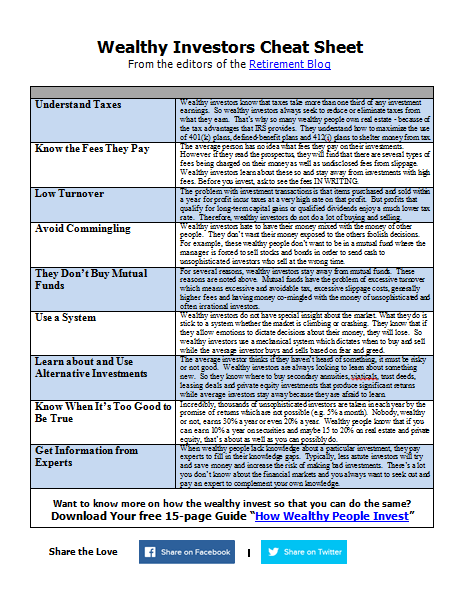 How Wealthy People Invest
To get wealthy, invest like the wealthy
Why the wealthy steer clear of mutual funds
How the rich systematically make money in the market
Key metrics that differentiate good and bad investments
A comparison of ETFs and separately managed accounts you have never seen
Stop making the same investing mistakes as everyone else who listens to CNBC and reads Money Magazine. Do what the rich do! Free guide explains how they think and make investment choices.