Retirement Investing Myth 1-
Get out of equities and put your money in the bank
Unless you're rich, this retirement investing strategy won't work.  It's the rich guy that can afford to be super-conservative.  With $5 million, he can put his cash in the bank and earn two percent and have $100,000 yearly income.  But if you have $1 million, you cannot live on 2% interest, or $20,000 annually. You have no choice but to take more risk to earn more.  If you don't invest for higher retirement returns, your funds will surely run out before you do.  If you invest for higher returns, even though you take on more risk, you at least give yourself a fighting chance of having your money last as long as you do.  So the paradox is that rich people can invest for retirement more conservatively while those with fewer financial resources MUST invest more aggressively if they have any hope of having their retirement savings last.  To see the proof of this, please look up the Trinity Study.
Retirement Investing Myth 2-
Sell the house, trade down and invest the excess
While this is not a bad idea, don't feel that your retirement investing strategy needs to run your lifestyle.  You might like where you live and not want to move.  So keep the house and get a reverse mortgage.  This type of loan allows you to tap the equity in your home and live on it or add it to your retirement investing portfolio to generate income.  It's almost a certainty there won't be any home equity left for your kids (the loan gets repaid out of the home equity), but would you rather them inherit a bunch of money while you spend your last decade dining on dog food?  Who comes first?  YOU DO!  So stay in the big house if you like, enjoy the equity and live better.  Note that because the reverse mortgage balance never needs to be repaid as long as you remain in the home, the balance could well exceed the equity in your home, but you won't care!  That's the lender's problem for which you are never liable.
Retirement Investing Myth 3-
Pay off Your Mortgage
This retirement investing move makes sense if your mortgage payment exceeds your opportunities for retirement investment income with the same amount of principal.  As I write this, I am refinancing my house for 10 years at 3.875%.  If I can invest my money for more than this rate, I am better off leaving the mortgage in place and making investments.   Of course, the investments must have a fairly high safety profile as these investments are being supported by debt you cannot escape (actually, in some states you can walk away from purchase money mortgages which are non-recourse).
Retirement Investing Myth 4-
Leaving Money in Your Ex-employer's Retirement Plan
Most plans are segregated from your employer's assets so there is no risk to your money.  The problem is that your employer is likely being ripped off in terms of the fees and expenses YOU pay on the plan investments. Your employer may not have looked very closely a the internal expenses on the investments and there's a good chance that the person who selected the provider had no financial background, never read the prospectuses and selected the plan provider who bought them the nicest lunch. So before you leave the funds in the employer's 401k or other qualified plan,  either take a hard look at the expenses or just rollover the balance to your own IRA.
Retirement Investing Myth 5-
Not understanding the Game
How much chance would you have of winning a football game if you did not know the rules?  Better than 90% of investors play the 'investment game' and they don't know the rules.  When you deal with a securities brokerage firm, their goal is to earn commission.  They are not your friends.  They are not looking out for your best interests.  I am not saying these people are bad but don't ever get lulled into some stupor that the nice broker is taking care of you. That is not his firm's position.  In fact, any brokerage firm that offers fee based accounts (they all do) must prominently disclose the following:
'Your account is a brokerage account and not an advisory
account. Our interests may not always be the same as yours.
Please ask us questions to make sure you understand your
rights and our obligations to you, including the extent of our
obligations to disclose conflicts of interest and to act in your
best interest. We are paid both by you and, sometimes, by
people who compensate us based on what you buy. Therefore,
our profits and our salespersons' compensation may vary by
product and over time.'
Of course, most people don't read the papers they get but be clear—the securities firm's interests are not necessarily aligned with your interests.  They have an incentive to introduce and peddle 'packed products' (mutual funds, ETFs, close end funds) rather than individual stocks and bonds because the fees in these packaged products are higher and obfuscated so you don't know what you're paying.
Retirement investing has never been so exciting!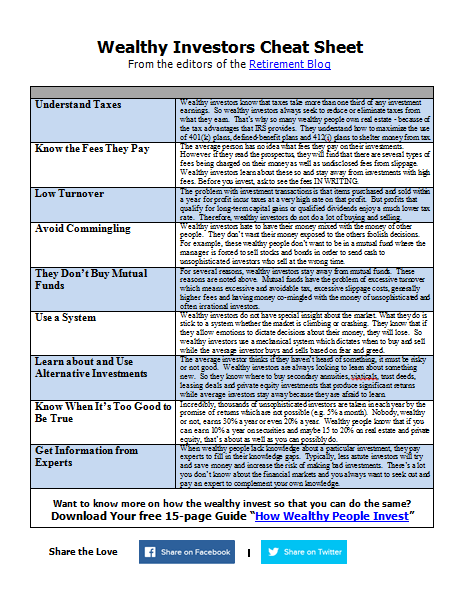 How Wealthy People Invest
To get wealthy, invest like the wealthy
Why the wealthy steer clear of mutual funds
How the rich systematically make money in the market
Key metrics that differentiate good and bad investments
A comparison of ETFs and separately managed accounts you have never seen
Stop making the same investing mistakes as everyone else who listens to CNBC and reads Money Magazine. Do what the rich do! Free guide explains how they think and make investment choices.