There's a terrible problem in retirement investing that concerns how much risk you should take with your retirement funds. It's a seemingly unsolvable financial conundrum of investing in retirement. Let's take a closer look.
On the one hand, you'd like to put all your retirement funds in the bank and keep it safe and secure in FDIC insured accounts. The issue is you will only earn earn 2% on your retirement funds. Let's say you have $500,000 of retirement investment capital. At 2%, the $500,000 would yield you $10,000 annually, not nearly enough for your living expenses. You do some calculations and find out that you would need to also use principal and at the rate you would need to do so, you would exhaust your retirement savings and die broke. On the other hand, you learn about investments that pay 8%. At 8%, the $40,000 a year generated interest income would allow you to not touch your principal. However, the 8% investments carry some risk to your principal. So here's your retirement investing decision: do you keep your money safe in bank accounts with the absolute certainty that you will run out of money and die destitute or do you take the chance of investing for higher returns knowing that it's possible your retirement money might get impaired. When phrased this way, the retirement investing decisions seems to clear up because the former choice is a foregone conclusion of failure while investing for the higher returns may in fact turn out well.  The latter choice gives you some probability of retirement investing success.
This is an insidious retirement investing problem because the correct solution is counter-intuitive. Let's pretend you are rich and you have $6 million of retirement funds. With $6 million, you can invest your cash in the bank and earn 2% and have $120,000 of yearly income -- more than you need.  But as we see in the real situation above, you have $500,000 and  cannot live on 2% interest, or $10,000 annually. You have no choice but to take more risk to earn more.  If you don't invest for higher returns, your funds will run out before you do.  If you invest for higher returns, even though you take on more risk, you at least give yourself a fighting chance of having your money last through your retirement years.  So the paradox is that rich people can invest more conservatively.
We often think of rich people as being able to take more risk.  In fact, rich people don't need to take more risk as they can tolerate low returns on large amounts of retirement savings.  It is those with less robust financial resources who have no choice but to invest more aggressively if they have any hope of having their retirement savings last.
To see the proof of this, please look up the Trinity Study.  Without boring you of the technical details, I will supply a summary.
That study by university professors looked at retirement investment portfolios over long periods of time. The most conservative investors who kept 100% of their money in government bonds and withdrew 4% of the principal annually, exhausted their principal in 100% of the cases over all 30-year periods measured (let's assume that 30 years is the potential time that one spends in retirement). However, those that invested 100% in stocks and made the same 4% annual withdrawals, exhausted their principal in only 2% of the cases and met with success (they died with money to spare) in 98% of the cases.  So those that accepted more risk with their retirement investment selections (stocks over bonds) fared far better.
The lesson: if you are of modest means with a modest portfolio, erring on the side of caution is your major retirement investing mistake.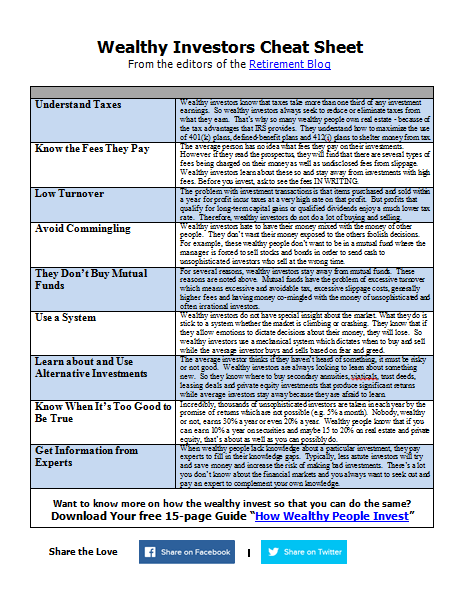 How Wealthy People Invest
To get wealthy, invest like the wealthy
Why the wealthy steer clear of mutual funds
How the rich systematically make money in the market
Key metrics that differentiate good and bad investments
A comparison of ETFs and separately managed accounts you have never seen
Stop making the same investing mistakes as everyone else who listens to CNBC and reads Money Magazine. Do what the rich do! Free guide explains how they think and make investment choices.