You mess up your own retirement investing
While it seems that the economy, interest rates or the stock market has much to do with your retirement financial success, your own actions may account for more of your success or lack thereof, then you care to admit.  Morningstar, the well known mutual fund research firm, estimates that investors sacrifice a lot of return by buying and selling at the wrong time.
To estimate the impact of poor timing, Morningstar calculates a figure that it calls investor returns. This represents how much the average dollar in a fund actually returns. If investors buy at the peak and sell at the trough, the investor return will be low. In contrast, total returns indicate how much you would have gotten if you invested at the beginning of a period and stayed put. To appreciate the importance of investor returns, consider that CGM Mutual returned 4.1 percent annually during the decade ending in May. But individual investors, because they bought at peaks and sold at troughs, the investor return for the fund was only 2.6 percent.
So in the above example of CGM mutual, investors would have had 57% more return had they not traded and just held the fund.  People trade too often and make these timing mistakes for two reasons:
1. Investors (you) get too much useless information--you listen to CNBC, read the Wall Street Journal, listen to your friends opinions and act on all of this information while it should all be ignored.  Not only is ignorance bliss, it can make you money.  Realize that all of this input is OPINION, not fact, and there are no "experts" in the financial arena (okay, maybe we can call warren Buffet an expert) .  While these people who position themselves as experts may have years of experience or degrees from great schools, they cannot forecast the future any better then you.
2. Investors (you) react emotionally.  Even if investors attended only to the facts such as unemployment data, trade flows, currency exchange rates and other hard data, they don't have any system or model for their decisions and will buy or sell based on how they feel.  Using emotions to make investment decisions will make you poor
If you would like a comfortable retirement, reduce or eliminate your exposure to financial opinions. Additionally, if you receive any factual economic information, wait 48 hours before you make any financial decision. Last, never look at the direction of the market to influence your decisions.
Get Bob Richards Retirement Financial Guide to keep you on course
(click on the graphic below)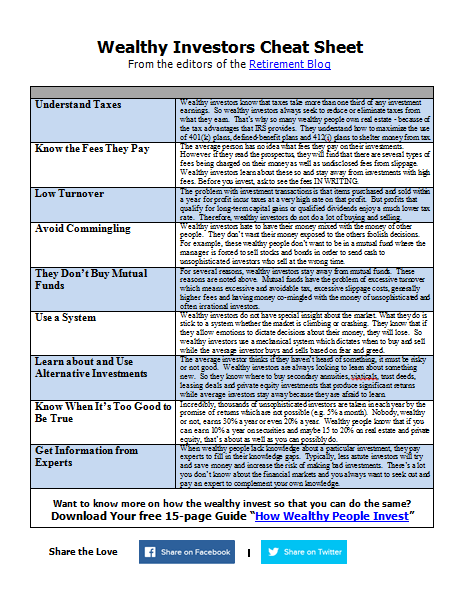 How Wealthy People Invest
To get wealthy, invest like the wealthy
Why the wealthy steer clear of mutual funds
How the rich systematically make money in the market
Key metrics that differentiate good and bad investments
A comparison of ETFs and separately managed accounts you have never seen
Stop making the same investing mistakes as everyone else who listens to CNBC and reads Money Magazine. Do what the rich do! Free guide explains how they think and make investment choices.