HEALTH CARE CHALLENGES FOR RETIREES
Everyday for the next 19 to 20 years, roughly 10,000 individuals will turn 65 and become eligible for Medicare when they retire. The biggest wake up call for those who do retire is that they will become fully responsible for their own and most cases their spouse's health care.  Longer lifespans make these senior health care challenges enormous.
As employees of a company we had the benefit of being part of a large group who insurers looked at as one; so no matter what our age or health conditions we had the opportunity to receive senior health insurance. The other benefit of being employed is that on average most companies picked up the lion's share of the premium cost; on average an employer covers roughly 50% to 75% of the total premiums. Unfortunately in retirement this is not the case.
Yes in retirement we can register for Medicare and at times we are guaranteed coverage but the costs of health insurance and what is covered is completely different from our own working years.
Medicare Does Not Eliminate Senior Health Care Challenges
Medicare is defined as a federal health insurance program that pays for hospital and medical care for elderly and certain disabled Americans. In order to receive Medicare, you must be a U.S. resident, have at least ten years of work history (paid into Social Security), and at least 65 years old or permanently disabled, as stated above.
This program consists of two main parts for hospital (Part A) and medical insurance (Part B). Two additional parts provide flexibility to fill the gaps (Part C) and cover prescription drugs (Part D).
Medicare enrollment has many different rules and enrollment regulations. If you are already receiving benefits before the age of 65, you are automatically enrolled into Parts A and B (since Part B has a premium, there is an option to refuse it).
For the rest of us who are not receiving Medicare or Social Security before the age of 65 there is an Initial Enrollment Period (IEP) for benefits. The IEP is a seven-month period that consists of the 1st three months prior to your 65th birthday, the month of your 65th birthday, and the next three months after that and by the way there are penalties and restrictions under certain circumstances if you don't sign up during the IEP.
Also, during the IEP on your 65th birthday the window for Supplemental Coverage becomes open and will run for the next 6 months. During this time you are guaranteed to be eligible for MediGap Coverage no matter what your health condition, after this 6 month window you are now subject to the terms & conditions of the Private Insurer who is issuing the Plan.
A MediGap plan is a form of supplemental coverage for Medicare because having Medicare coverage does not eliminate senior health care challenges. Health care not covered by Medicare is only partial. MediGap plans are offered by private insurance companies that cover the 'gaps' of original Medicare. Some examples of gaps are:
Medicare covers the first 3 pints of blood in hospitalizations but if there is a serious injury, 3 pints usually is not enough
Medicare covers the first 60 days of hospital stays after a deductible of $1,1oo, days 61-90 require a co-pay of $275 per day, days 91-150 require a copay of $550 per day, and all costs for each day beyond the 150 are covered by the beneficiary.
Medicare does not cover foreign travel
As of now there are 10 MediGap Plans, which vary from including additional hospital days covered to covering everything in Plan A with no deductibles or excess charges. The costs of these plans vary by state and what plan to enroll in.
The other form of Supplemental Coverage is a Medicare Advantage Plan. These plans tend to have more coverage than the regular Medicare and are distributed by Medicare approved private insurance companies. Medicare pays a set amount of money each month to the private companies to offer the plans. These plans are required to provide all of Part A, B, and they may offer extra coverage such as vision, hearing, dental, and/or health and wellness programs. Many people are surprised that those are not covered, which are some of the factors that eat away at your savings. Most also include Part D coverage but the coverage is determined by the provider. Each plan can charge different out-of-pocket costs and have different rules on how you get services. Some major downfalls with Medicare Advantage is care can cost more than traditional Medicare and coverage may suddenly stop so you are forced to pay the entire bill out of your own pocket leaving you with an impossible senior health care challenge.
MEDICARE COSTS
Part A
Part A has a $1,100 Deductible
Part B & Part D
Part B and Part D premiums are based on your Modified Adjusted Gross Income (MAGI), which is defined as the total of your adjusted gross income and tax-exempt interest income you may have.
Modified Adjusted Gross Income (MAGI)

Part B Monthly Premium amount

Part D Monthly Premium

Individuals with a MAGI of $85,000 or less

Married couples with a MAGI of $170,000 or less

2011 standard premium= $115.40

Your plan premium

Individuals with a MAGI of $85,001 to $107,000

Married couples with a MAGI of $170,001 to $214,000

Standard premium + $46.10

Your plan premium + $12.00

Individuals with a MAGI of $107,001 to $160,000

Married couples with a MAGI of $214,001 to $320,000

Standard premium + $115.30

Your plan premium + $31.10

Individuals with a MAGI of $160,001 to $214,000

Married couples with a MAGI of $320,001 to $428,000

Standard premium + $184.50

Your plan premium + $50.10

Individuals with a MAGI above $214,001

Married couples with a MAGI above $428,001

Standard premium + $253.70

Your plan premium + $69.10
MediGap and Medicare Advantage Plans
The prices are dependent on the Private Insurance Companies and if you do not enroll in either, you can expect to pay for dental, optical, podiatry, hearing, and vision among several other things out of your own pocket.
Use the Health Care Calculator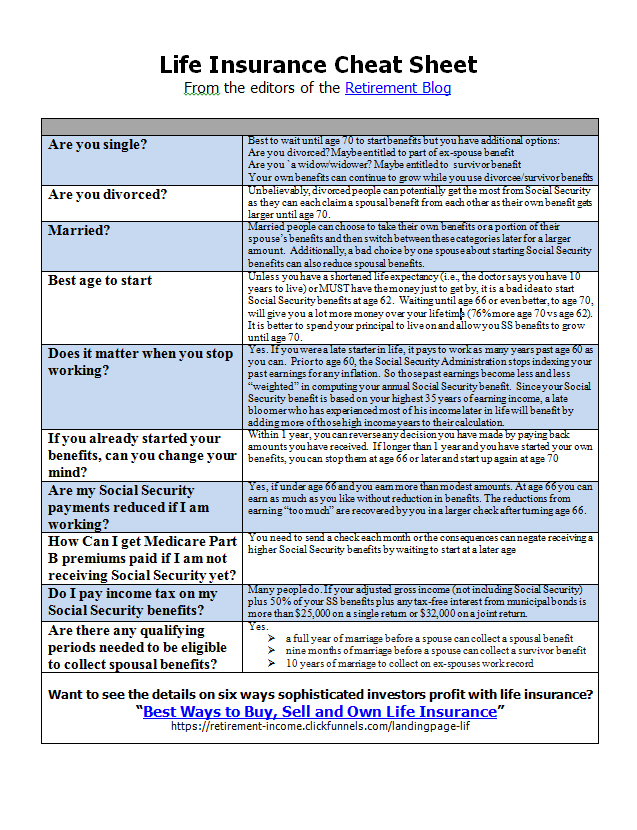 Everything You Don't Know About How to Use Life Insurance to Make Money
Five ways that wealthy people use life insurance to retain and create wealth
How to convert an existing life insurance policy into more money than the insurance company valuation
Why you never want to be the owner of a policy that insures you
A huge and common mistake when selecting a life insurance beneficiary
They don't talk about these "insider" strategies on CNBC or in Money magazine. Get the free guide to open up a new horizon of financial awareness.