An Essential Overview of Senior Health Insurance Options for Retirees at 65
Most retirees have two main health care options - Medicare and managed care. Medicaid is a program that pays for medical assistance only for those with low incomes or disabilities.
As long as you've contributed enough through FICA taxes, you'll be eligible - retired or not - for Medicare when you turn 65. Apply for Medicare coverage three months before your 65th birthday as its an essential part of your senior health insurance program.
Medicare is divided into components:
Part A –  hospital insurance
Part B -  medical insurance (Optional)
Part C – additional insurance coverage
Part D - offers voluntary prescription drug coverage offered via private vendors
Part A is called hospital insurance. It covers most costs of your stay in the hospital as well as some follow-up costs after being in the hospital. It also pays some outpatient medical services, including medically necessary equipment and supplies, home health care, and physical therapy. Under most circumstances, you don't have to pay a premium for Part A.
Part B is medical insurance. It's optional. If you elect it, the monthly premium is deducted from your Social Security check. It provides for certain out-of-hospital treatments and is intended to help pay doctor's bills for treatment in or out of the hospital. It also covers many other medical expenses you incur when you're not in the hospital, such as the costs of necessary medical equipment and tests.
Medicare Part B has spawned additional insurance coverages.
Its Original Medicare Plan and Medigap insurance (the private portion of your senior health insurance program)
Medicare Part C coverage: Medicare Managed Care Plan (like an HMO), and Medicare Private Fee-for-Service Plan
With the Original Medicare Plan, you pay your Part B monthly premium and then pay for additional services as you use them. With this plan you might also choose to buy Medicare Supplement Insurance, or "Medigap" insurance. The term Medigap implies that these insurance policies will cover the gaps in Medicare payments. Medigap doesn't fill all the gaps, but it helps.
Part C: Medicare Managed Care and Private Fee-for-Service plans are offered by private insurance companies. Managed care plans generally fall into two main varieties: health maintenance organizations (HMOs) and preferred provider organizations (PPOs). HMOs are generally less expensive than PPOs but usually more restrictive in their services and choice of doctors.
With these latter two plans in Part C, you must continue to pay your Part B premiums, and you may also have to pay an additional premium to the insurance company as well as any related deductible or co-insurance payments. However, the services you receive may be more comprehensive than those offered through the Original Medicare Plan.
Seniors should compare the costs and local availability of Medigap with the Medicare Managed Care and private fee-for-service programs. Be prepared for heath problems in retirement. They're part of aging. Don't wait until they happen to cover the costs.
Senior Health Costs Can Take a Significant Fraction of Retirement Income
Those approaching or beginning retirement are sometimes told that they'll need only about 75% of their pre-retirement income to handle their retirement expenses. But undermining this projection is the growing cost of health care – a situation you must prepare to handle.
Two recent studies shows that retiree health poses a serious threat to their financial security - and that includes today's seniors and Baby Boomers. The studies show that health care expenses will consume huge portions of retirement resources in the years ahead.
The CRR at Boston College says that skyrocketing health care costs mean that 44 percent of Americans won't be able to maintain their standard of living in retirement and projects that the average American couple retiring in 2010 at age 65 will need nearly $206,000 to cover health care over the rest of their lifetimes. A separate study projected similar results.
These cost estimates don't even include benefits from supplemental employer insurance, nor spending on over-the-counter medicines or long-term care.

Average Out-of Pocket Medicare Expenses for Retired Individuals,2007



Medicare component


Amount


Part B: Premium

$1,122

Copayments

$969

Part D: Premium

$264

Copayments

$1,142

HI Cost Sharing

$287


Total Medicare Cost:


$3,783

The key expense components driving CRR's projections include mostly costs for senior health insurance premiums:
Medicare Part B premiums for physician and outpatient hospital services
Medicare Part D premiums for drug-related expenses
Co-payments for Medicare-related services
Health care services not covered by Medicare
CRR conservatively projects annual inflation in these costs at 5.9 percent for the next 20 years driven by
higher utilization rates for health care services,
higher cost of new technologies, and
an increase in certain chronic conditions such as diabetes.
Most American households don't have a clue what's about to hit them. The system is out of control. CRR calculates that the average household approaches retirement with just $60,000 in retirement savings. That means income from Social Security will be used to bear the brunt of health care costs. And that's money most of us hope will be available for other expenses.
What can you do?
Prepare for increased health costs by
Increasing your savings – ideally through tax –sheltered plans such as IRAs,
Delay taking Social Security beyond your Full Retirement Age (65 or 66 for most) for the increased benefits for delaying – as much as 32% more if you wait until age 70.
Stay healthy- through correct exercise and good dieting.
Be sure to consider long term health care insurance too. Even if you manage to handle other health care expenses, long term care cost can deplete much of your savings.
Don't Wait to Sign-Up for Medicare's Part D Prescription Drug Coverage
If you don't sign up for Medicare's Part D: Drug Coverage when you first become eligible for Medicare, you may pay a late-enrollment penalty to sign-up later. Everyone who qualifies for Medicare is eligible for Part D. With it you can protect against future drug costs and give yourself access to drugs that help you stay physically and mentally healthy. Part D is an essential part of your senior health insurance plan.
As you may know, Medicare is divided into components:
Part A –   hospital insurance
Part B -   medical insurance (Optional)
Part C – additional insurance coverage
Part D - offers voluntary prescription drug coverage offered via private vendors
To avail yourself of Part D, you must join a Medicare Drug Plan. These plans are run by insurance companies and other private companies approved by Medicare. But each plan can vary in cost and the drugs covered.
To participate

in Medicare Part D, you need to join a Medical Drug Plan (MDP) in either of two categories of such plans:
You can join one of the Medicare Prescription Drug Plans (called PDPs). These plans add drug coverage to either of your Original Medicare Plan, some Medicare Cost Plans, some Medicare Private Fee-for-Service (PFFS) plans, and Medicare Medical Savings Account (MSA) plans. Or
Join a Medical Advantage Plan - like a Health Maintenance Organization (HMO) or a Preferred Provider Organization (PPO) or some other Medical health plan that includes prescription drug coverage. Through these plans, you get all your Medicare coverage of Part A and Part B including prescription drugs (Part D). These Plans are called 'MA-PDs'
In either category you'll usually pay a separate monthly senior health insurance premium for the drug coverage in addition to your Part B premium.
After joining a specific MDP, the plan mails you membership materials including a card to use when you get your prescriptions filled. When you use the card, you may have to pay a copayment, coinsurance, or a deductible amount depending on your plan.
What to consider when comparing which MDP to choose:
Look for Coverage, Cost and Convenience provided by each plan. These will be different.
Coverage - check if the type of prescription you want comes under that plan.
Cost – see what costs and payment schedule that plan offers you.
Convenience - make sure the plan's pharmacies include the ones you want to use.
You're not permanently locked into the plan you choose. You can switch your plan from November 15 to December 31 of each year.
If you're on Medicaid, they'll automatically enroll you in a MDP if you don't join yourself. Under Medicaid, in most cases, you'll pay from nothing to about $5.60 out-of-pocket for each covered drug.
Missing Medicare Deadlines Could Cost You
If you ignore that Medicare handbook you received in the mail right before your 65th birthday, you could miss some crucial deadlines—andend up without health insurance (in the short-term) and paying more for your health insurance than necessary (in the long-term).
The Medicareenrollment process is fairly straightforward: If you're collecting Social Security income, you'll receive a Medicare card in the mail three months before your 65th birthday. If you're not collecting Social Security income, you must take the initiative and contact the  Social Security Administration. When this happens, two things will occur.
First, you'll automatically be registered for Medicare Part A (which provides hospital insurance). That's automatic, so no worries there.
Second, the open enrollment period for Medicare Part B (which covers other services, such as doctors' visits and physical therapy) will begin.
This lasts three months.
Once you sign up for Medicare Part B, your open enrollment for supplemental coverage—such as prescription drug coverage or a Medicare Advantage Plan—begins.
This lasts six months.
Don't ignore these deadlines. If you do, three things could happen:
1) You could go months without health insurance.
If you don'tenroll in Medicare Plan B during your initialenrollment period, you'll have to wait until the followingenrollment period—January 1 through March 31 of the following year—to sign up. And, coverage wouldn't begin until the following July.
2) You'll pay more once you do enroll.
If you miss the enrollment deadline for Medicare Plan B, the government will penalize you an additional 10% on top of your policy for every year you're eligible for Part B Medicare that you don't sign up.
3) You could lose the opportunity to obtain any supplemental coverage.
Insurance companies that sell supplemental insurance aren't obligated to sell you a plan with prescription-drug benefits once you miss your initial open enrollment period. That means you could be subject to medical tests to see if you're healthy enough to qualify for their plans—and if you aren't, too bad for you.
The only time someone age 65 or older can postpone enrollment in Medicare Part B penalty-free is when that person, or their spouse, is working full-time and is receiving health insurance from his or her employer.even then, once you or your spouse officially retires, you must notify the Social Security Administration and begin your open enrollment period.
Reduce Out-of-Pocket Health Care Costs in Retirement
Since Medicare doesn't cover
all
of your medical expenses in retirement, you likely want to keep costs as low as you can. Here are some helpful hints.
Stay in network
You likely know that choosing providers that participate in your insurance company's network can save you money—but also be sure that all of their colleagues, such as surgeons you're referred to and labs that do blood work, are also part of the network, too. It could save you thousands of dollars in any given year, depending on how much you go out of network.
Negotiate
If you have to go out of network, when you get your bill, call your insurance company and ask how much the company will cover for the type of service you received. Then provide that information to your doctor and ask if he or she will accept the reduced rate. Your insurer may even help you shop around. Cigna, for example, offers a
medical service and prescription drug cost-comparison tool on its web site. 1
Take charge of your prescriptions
Keep a copy of your insurance plan's list of preferred drugs, and take it to all medical appointments for reference. If your doctor writes a prescription, ask for the generic equivalent, or, if one isn't available, a comparable medication on the preferred drugs list (if available). And remember, when getting prescriptions filled, all pharmacies aren't the same; you may want to call around for the best deal.
Take advantage of tax breaks
The government allows taxpayers to write off any medical bills that exceed 7.5 percent of their adjust ed gross income (AGI). That may seem like a lot, but the EBRI estimates that a 65-year-old couple who retire without employer-sponsor ed health insurance will require $216,000 to cover out-of-pocket medical costs if they live to age 80. 2 That's $14,400 per couple per year. If you and your spouse have an AGI of $75,000 per year in retirement, 7.5 percent of your AGI is $5,625. You'd still be able to deduct $8,775.
Reduced Costs May Make Private Fee-for-Service Medicare Advantage Plans a Good Alternative to PPOs and HMOs
The law that created the new Medicare prescription-drug benefit also raised the amount the government will reimburse companies offering Medicare Advantage plans to about $10,000 perenrollee per year—and that has led some insurers to offer Medicare Advantage plans with lower premiums and more benefits.
Historically, most Medicare Advantage plans have been managed plans, such as HMOs and preferred provider organizations (PPOs), meaning that the plan provides no coverage, or less coverage, if the patient goes outside the plan's network of doctors and hospitals.
But now increased government reimbursement have made Medicare Advantage plans more lucrative for insurers. In turn, many insurers are offering private fee-for-service Medicare Advantage plans, which provide traditional benefits without the usual restrictions on access to doctors and hospitals. Today, private fee-for-service plans account for about half of the recent growth in Medicare Advantage planenrollment, according to Avalere Health LLC, a health-care advisory firm that analyzes Medicare data.
Some insurers are also offering these plans at an increasingly lower cost. In the past, the greater degree of choice private fee-for-service plans offer has made them moreexpensive than HMOs or PPOs. But now the generous government reimbursements allows insurers to market some private fee-for-service plans at prices near the price of managed-care plans.
Consider Humana, the largest provider of PFFS plans. In Sarasota, Florida, Humana charges a monthly premium of $64 for its private fee-for-service plan, compared with $0 to $39 for its PPO plan. In Raleigh, North Carolina, it getseven better: Humana charges
the same
monthly premium for its private fee-for-service and PPO plans—$10 to $71. Both options include coverage for prescription drugs, comprehensive medical care andeven fitness club membership. The difference in the plans? Thoseenrolled in the private fee-for-service plan pay a $180 co-pay foreach day spent in the hospital, while thoseenrolled in most PPO options spend a $165 co-pay (plus a $100 deductible).
Keep in mind that those premiums are in addition to the $88.50-per-month Medicare Part B premium for physician and outpatient services; Medicare Advantage planenrollees still must pay that. But Medicare Advantage plans add other benefits, such as additional days in the hospital and prescription drug benefits.
Where can you find a private fee-for-service Medicare Advantage plans? In 2007, Humana sells them in 35 states, and WellPoint sells them in 15 states. But WellPoint plans to offer them in all 50 states. Another company, WellCare Health Plans, also plans toexpand its offerings.
See www.medicare.gov. You can also download there Medicare 2008 & You
See Center for Retirement Research at Boston College,
Fidelity Investment study – see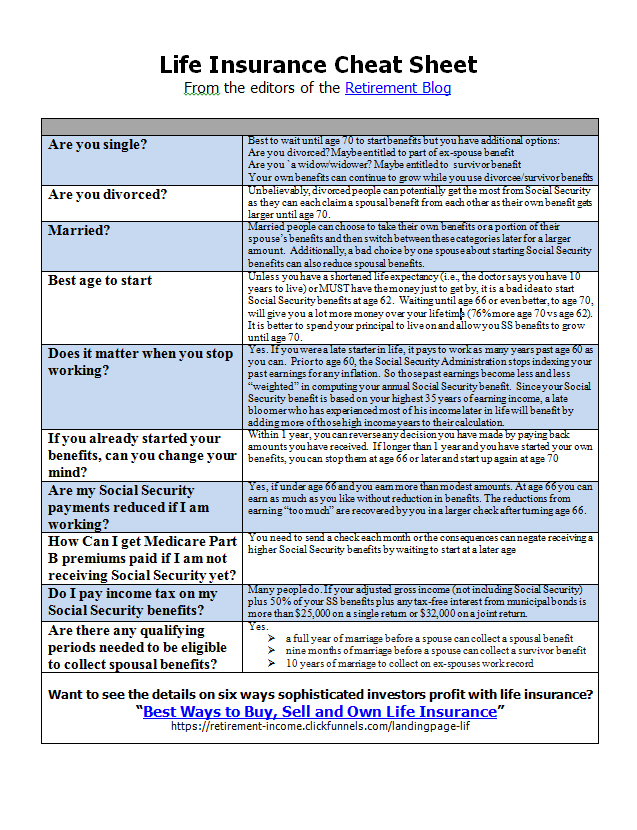 Everything You Don't Know About How to Use Life Insurance to Make Money
Five ways that wealthy people use life insurance to retain and create wealth
How to convert an existing life insurance policy into more money than the insurance company valuation
Why you never want to be the owner of a policy that insures you
A huge and common mistake when selecting a life insurance beneficiary
They don't talk about these "insider" strategies on CNBC or in Money magazine. Get the free guide to open up a new horizon of financial awareness.