Who can you trust? That's a major concern for retired investors.
You don't want someone who simply 'has a job' in the financial services industry who sells products and services. You want a professional retirement advisor who has made the commitment to competency and high standards to serve their clients at the highest levels. Certified Retirement Financial Advisor graduates have made that commitment to stay educated and knowledgeable about the solutions to the financial challenges of retirement. And if the Certified Retirement Financial Advisor graduate does not have the expertise in an area important to your circumstance, he can access his network of other professionals in the community to assist him in specialty areas, including:
. CPAs for tax consultations
. Attorneys for legal issues or document drafting
. Property and Casualty Insurance agents to insure you have adequately covered your risks
. Life, health, disability and long-term care specialists
Why choose a financial advisor who is NOT a Certified retirement Financial Advisor graduate?
What is a Certified Retirement Financial Advisor?
A Certified Retirement Financial Advisor is a financial professional who has completed a program of study on the financial challenges faced by retirees. The program is designed for experienced financial professionals who learn solutions to those challenges. Before enrolling in the Certified retirement Financial Advisor program, many graduates already hold credentials such as Certified Public Accountant (CPA), Certified Financial Planner (CFP®), and Chartered Financial Consultant (ChFC). Upon course completion, graduates pass a closed book exam, agree and sign the Society of Certified Retirement Financial Advisors Code of Ethics, and are then permitted to use the Certified Retirement Financial Advisor designation. In addition to any other continuing education credits that graduates must obtain for any other licenses or certifications they hold, to retain their Certified Retirement Financial Advisor credential, they must annually complete 15 hours of study specific to retiree financial issues.
Different graduates may have different focus of expertise,.  While one may be a specialist in health insurance coverage for retirees, another may be a specialist in retirement financial asset management.

What is the Society of Certified Retirement Financial Advisors?
The Society was formed to set standards, maintain the educational curriculum, provide opportunities and programs for continuing education and monitor the quality of the Certified retirement Financial Advisor program. The Board of Standards comprises individuals from the financial services industry with 10 or more years serving retirees.
Certified Retirement Financial Advisor study includes the following topics. The list of topics is continually expanding as additional issues become important to retirees, tax laws change, or the economic environment changes, requiring a need for additional education.
Topics
. Asset Harvesting to Last a Lifetime
. Asset Allocation Appropriate for Retirees
. Taxation of Social Security
. Deductibility of Medical and LTC Premiums
. Tax Deferred vs. Tax Free
. Protection of Principal and Guarantees
. Advanced Directives and Trusts
. IRA and Retirement Plan Distribution Planning
. Health and Finances—Long-Term Care
. Estate Planning and Asset Preservation
. How to Construct Fixed Income Ladders for Consistent Income
. How to Construct and Protect Retiree Investment Portfolios
The Society of Certified Retirement Financial Advisors has established a Code of Ethics for graduates. The Code embodies five fundamental principles of ethical conduct. Graduates promise:
1. To conduct their business according to high standards of honesty and fairness and to render that service to their clients so that any "prudent man" would agree that their conduct and business practices are beyond reproach.
2. To provide competent and 'client centric' service. If products or services do not fit the prospect or client, they will identify that fact as soon as possible and withdraw.
3. Seek to make a comprehensive review of your financial circumstances and make appropriate referrals to other professionals for services beyond their expertise. In other words, seek to protect your financial well-being, whether or not it is within their specific area of expertise.
4. To provide prompt handling of your financial affairs and immediately address client concerns, dissatisfaction, or complaints.
5. To advertise honestly, to use appropriate sales materials and presentations
The typical graduate will use a variety of tools to provide solutions including retirement planning software, a deferred or immediate annuity calculator, monte carlo simulations and retirement income estimation projections.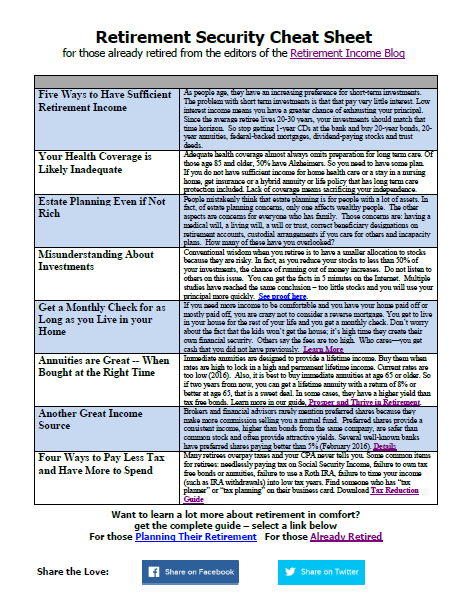 How to Prosper and Thrive In Retirement
For those already retired seeking to improve their finances
The 4 most important issues for any retiree and a quick plan to address each
The overlooked annuitization of assets to make your money go farther and reduce risk
An easy way to save money on health coverage
You don't need to be rich to plan your estate like this
A few simple lessons can reduce stress and bring more joy in your retirement year. Stop worrying and learn the simple
actions to take.