Financial advisors charge in two basic ways—they earn transaction commissions on the products you buy or you pay them directly for their time or project.  Many people prefer fee only financial advisors because they believe the advisor has greater objectivity as he is not getting compensated for selling a particular product.  While fee only financial advisors are common when it comes to investing (properly registered investment advisors), they are scarce in the insurance industry but each year, more commission-free insurance products hit the market and more fee only financial advisors use them.
The fees you pay may be based on different services. For example, you may pay hourly fees like you would with an attorney, retirement planning fees (a project fee for a retirement plan, and asset management fees (e.g. 1% of the portfolio value being managed by the fee only financial advisor). Neither advisors nor affiliates may receive commissions, rebates, awards, finder's fees, bonuses or other forms of compensation from others as a result of a client's implementation of the individual's planning recommendations. The fee-only model of compensation supposedly reduces the potential for conflicts of interest between the advisor and the client in that the advisor is not beholden to insurance companies, particular investments, and other financial companies.
Since the advisor does not gain from any transaction, the fee only financial advisor has no incentive to tell you to buy when the market is weak, have you move money from a money market fund if that is the most suitable depository at a given time or push one investment or insurance product over the other.  The fee only financial advisor working on an investment management fee does have an incentive to tell you to 'hold' during bear markets.  If you pull your money out of the portfolio, he stops earning his 1% asset management fee.
Not all investors have access to a fee only financial advisor as they tend to work with wealthier clients.  Operating on a fee-paying basis may make the advice too expensive to obtain for the broader market otherwise catered for by commission-based advisers. If a client must pay a flat fee of $1000 to his adviser as a lump sum, this is less manageable for all but the wealthy, rather than the more manageable option of paying through regular charging and commissions.  However, it is quite conceivable that an investor pays far more in commissions than they would dealing with a fee only financial advisor because the investors typically is unaware of the commission paid as they are often buried in the product (most notably, insurance products).

In fact, among some investors, there is a common misconception is that financial advisors provide their services for free. Many investors don't understand the hidden costs they pay when an advisor recommends a packaged product (mutual fund, annuity, direct investment). Consider this: making a $50,000 investment in a fund with 5% load would translate into the equivalent of more than 14 hours of portfolio planning at $175 per hour! If you were to hire an advisor for 14 hours at that rate, you could expect him or her to accomplish a great deal of work that would produce a more balanced portfolio, returning a potentially higher rate than the loaded mutual fund. The fee-only type of compensation provides investors with the opportunity to get more service out of the money they spend on professional advice and stock-picking expertise.
Note that major brokerage firms offer fee only financial advisor.  However, this advice may not be quite as independent as dealing with an advisor who has their own Registered Investment Advisory firm and is not affiliated with any firm.  This independence allows the greatest degree of objectivity.
It is currently difficult to find a fee only insurance advisor who can help you select annuities or long term care insurance.  For these products, most professionals charge commissions on the product sale or you "do it yourself" with the assistance of a long term care calculator and annuity calculator.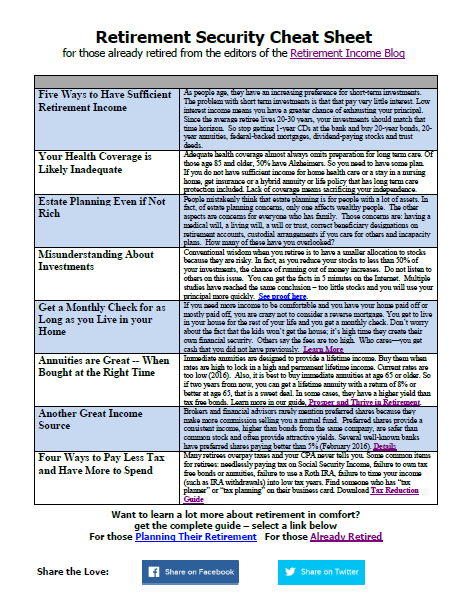 How to Prosper and Thrive In Retirement
For those already retired seeking to improve their finances
The 4 most important issues for any retiree and a quick plan to address each
The overlooked annuitization of assets to make your money go farther and reduce risk
An easy way to save money on health coverage
You don't need to be rich to plan your estate like this
A few simple lessons can reduce stress and bring more joy in your retirement year. Stop worrying and learn the simple
actions to take.