Surprisingly, there is no such thing as a "certified retirement advisor" in the US.  Because there are several designations, it may be hard to keep them straight so let's do a little sorting out to help you find a retirement advisor.  Most all of these individuals do some sort of financial planning and work with retirees (some may only deal with business owners so ask). Typically, they may offer a financial plan and have financial planning tools as retirement income calculators, immediate annuity calculators and other forecasting software.
Registered Investment Advisors
Licensed either by their State or Securities and Exchange Commission. Rather than charging commissions, these advisors charge fees for their time or for money management services. In most cases, they are required to pass the series 7 exam and file detailed information about their background (form ADV).  These people do not have any particular expertise and are simply licensed to give advice for a fee.
ChFC®—Chartered Financial Consultant
Insurance professionals that have completed an eight-course program of study and passed an exam. The ChFC program focuses on the comprehensive financial planning process as an organized way to collect and analyze information on a client's total financial situation, to identify and establish specific financial goals, and to formulate, implement, and monitor a comprehensive plan to achieve those goals. The ChFC program provides financial planners and others in the financial services industry with in-depth knowledge of the skills needed to perform comprehensive financial planning for their clients. Students also must meet specified experience requirements, maintain ethical standards, and agree to comply with both The American College's Code of Ethics and Procedures and applicable continuing education requirements. Those graduates who also complete the College's Chartered Advisor for Senior Living are also trained in retiree matters
CFP®—Certified Financial Planner ™
Have completed 5 courses and passed a comprehensive exam. These individuals have met CFP Board's education, examination and experience requirements, have agreed to adhere to high standards of ethical conduct and who complete CFP Board's biennial certification requirements, including continuing education, to use the certification marks CFP®, CERTIFIED FINANCIAL PLANNER™ and . The CFP® board is not a governmental organization. These certificants have completed coursework and exam designed to test their practical application, not just theoretical knowledge, of personal financial issues. The training is rigorous but these individuals have no particuar expertise in financial issues of retirees.

CRFA™—Certified Retirement Financial Advisor ™
Graduates are generally experienced financial planners who desired to get a focused education in financial issues of special concern to retirees. This is the only designation focused on financial issues facing retirees. CRFA™ graduates complete a four-day program, pass a closed-book final exam and must obtain 15 hours of continuing education annually. Topics studied: 1) how to structure retiree portfolios for increased income, less risk and reduced taxes 2) how retirees make financial decisions and skills for presenting to retirees 3) estate and long term health planning 4) tax issues specifically affecting retirees 5) asset protection.
CSA—Certified Senior Advisor
This is not a credential focused on financial issues but a much broader array of senior issues. Attendees may be financial professionals as well as nurses, caregivers, gerontologists, elder law attorneys, etc and others serving seniors. Topics studied include: TRENDS IN AGING, PRINCIPLES OF AGING, SOCIAL ASPECTS OF AGING, ALZHEIMER'S AND DEMENTIA, CHRONIC ILLNESS IN SENIORS, FINANCIAL PLANNING, ESTATE PLANNING, SOCIAL SECURITY, END-OF-LIFE PLANNING, SENIOR SPIRITUALITY, MEDICAID PLANNING, TAX PLANNING, SENIOR HOUSING, LONG-TERM CARE, RESOURCES FOR SENIORS, MARKETING TO SENIORS. CSA holders attend a 3-day class and pass an exam and complete annual continuing education.
Sorry we could not help you locate a "certifed retirement advisor" but hopefully, the explanations above help.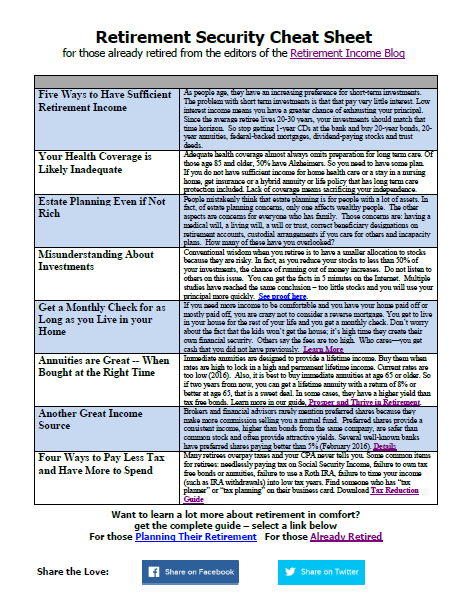 How to Prosper and Thrive In Retirement
For those already retired seeking to improve their finances
The 4 most important issues for any retiree and a quick plan to address each
The overlooked annuitization of assets to make your money go farther and reduce risk
An easy way to save money on health coverage
You don't need to be rich to plan your estate like this
A few simple lessons can reduce stress and bring more joy in your retirement year. Stop worrying and learn the simple
actions to take.