Retirement income and IRA withdrawals sometimes receive different tax treatment in different states. These differences in state tax laws present opportunities for you to manage your tax bill and cash flow more efficiently.
Here are a few of the differences among state IRA tax laws below. When considering a move to another state, contact a CPA in that state and ask about all of the taxes that affect you as a retiree and find out how they are handled:
general income tax
sales tax
property tax
distributions from retirement accounts
tax on social security income
property tax
personal property tax
inheritance tax
States Where All IRA Income Is Tax-Free
In Florida, Texas, Nevada, and other states (a total of nine states) where there are no state income taxes, residents can keep a greater share of their IRA distributions, which are counted as income. Therefore, if you are thinking about relocating to the Sunshine State from a state such as New York, which assesses income taxes on IRA withdrawals and other retirement income, consider holding off on tapping your IRA until you move.   That way, you can avoid any state income IRA taxes on the distributions in New York.
States Where IRA Withdrawals Are Tax-Free
Certain states ( New Jersey, for example) don't allow taxpayers to deduct IRA contributions from their taxable income on their state tax return.   But later on when those contributions come out of the IRA, residents of these states typically don't have to worry about paying IRA taxes on the withdrawals.
Other states have different rules.  Oklahoma for example will not tax the first $10,000 (per person) that comes out of an IRA or pension. Wyoming does not tax such withdrawals at all. New Hampshire is another state which does not tax such retirement income.
States That Exclude Some Retirement Income from Taxes
Several states allow residents of a certain age (typically age 65 or older) to exclude a portion of their retirement income from state income taxes. But state tax laws may differ on whether IRA distributions can be counted as retirement income. A resident of Kentucky, for example, can include IRA withdrawals within the $40,200 of annual retirement income that is exempt from state income tax. And in New York, up to $20,000 of qualified private pensions for those 59½ and older is exempt. While in another state, only part of the IRA money may be exempt from state income taxes, even though other forms of retirement income are.
Some states have rules that are not straight forward such as Georgia:
Taxpayers who are 62 or older or totally disabled regardless of their age, may be eligible for a retirement-income preferential treatment on their Georgia state income tax. Retirement income includes income from pensions and annuities, interest income, dividend income, net income from rental property, capital-gains income and income from royalties. For married couples filing joint returns with both members receiving retirement income, the maximum exemption from state income tax for the year may be up to twice the individual exclusion amount. Retirement income exceeding the maximum adjustable amount is taxed at the normal rate. The retirement-income exclusion for 2012 is $35,000 if ages 62 to 64, or younger and permanently disabled. If 65 or older, the amount is $65,000.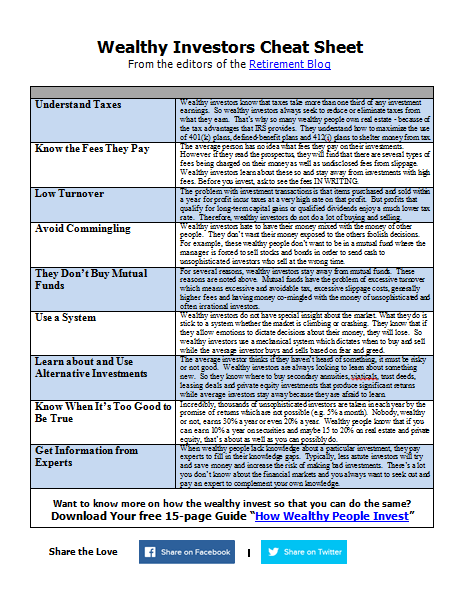 How Wealthy People Invest
To get wealthy, invest like the wealthy
Why the wealthy steer clear of mutual funds
How the rich systematically make money in the market
Key metrics that differentiate good and bad investments
A comparison of ETFs and separately managed accounts you have never seen
Stop making the same investing mistakes as everyone else who listens to CNBC and reads Money Magazine. Do what the rich do! Free guide explains how they think and make investment choices.