The extraordinary performance of the stock market during the nineties, combined with increasing contributions to retirement plans has led to a growing number individuals with very large IRAs, 401k plans or other qualified accounts. In many households, these accounts may represent the majority of their estate. When these accounts exceed the Unified Exemption for Estate taxes, which for year 2008 is $2 million, extra planning may be necessary to protect your estate from unnecessary tax erosion.  Estate taxes can run as high as 45 percent on amounts above the exemption and they are on top of any income taxes that may be due. So its possible your IRA taxes could run over 70%, all told.
Utilizing the Unified Tax Credit properly
Let's demonstrate the IRA tax:
You have an IRA worth $2.5 million and it represents your entire estate. If you die this year, you could leave it to your spouse and it would escape both estate taxes and immediate income taxes. Your spouse could roll it over into his or her own IRA (only a spouse can do a rollover of an inherited IRA). There is no problem until your spouse dies.  Since the unified exemption is individual, when your spouse dies (let's assume it happens six months from now, for simplification purposes), their heir now gets the IRA, but only the first $2 million is protected from estate taxes, that means that IRA taxes are due on $500,000. At a 45-percent estate tax rate, $225,000 [i] is due in estate taxes (essentially and IRA tax). Unfortunately, since this is the only asset, some of the IRA will need to be liquidated to pay that $225,000. But this money withdrawn from the IRA to pay the estate tax will be subject to income tax on the withdrawal. Your heirs will need to withdraw more than $225,000 from the IRA (not including possible state taxes and state inheritance taxes which will up the ante) to pay all of the IRA taxes due.  Net return to the ultimate heir is a lot less and the IRA taxes all told run 70%+. [ii]
This IRA tax could have been avoided or minimized:
Instead of leaving the entire IRA to your spouse, you could list your spouse as primary beneficiary and an irrevocable trust (sometimes known as a bypass trust) as the contingent beneficiary. Upon your death, your spouse would then disclaim the amount of the exemption ($2 million in 2008 and rising over the next few years) and that amount would revert to the trust. This disclaimer must be done within nine months of your death, the sooner the better. Your spouse would still be able to have an income and access to the principal of the trust (provided you have made those provisions or given the trustee authority to do so).  When your spouse passes, your unified exemption would be preserved and theirs would come into play and the entire $2.5 million would bypass estate taxes. Now, your heirs pay the same IRA taxes that you would have paid--income tax on withdrawals.
www.turbotax.com/calculators/index.html
calculations made using turbotax.com calculators. The $800,000 figure was reached after including the estate taxes on $1 million, and adding in the cost of federal income taxes on both the estate tax due and the additional withdrawals necessary to pay all income taxes.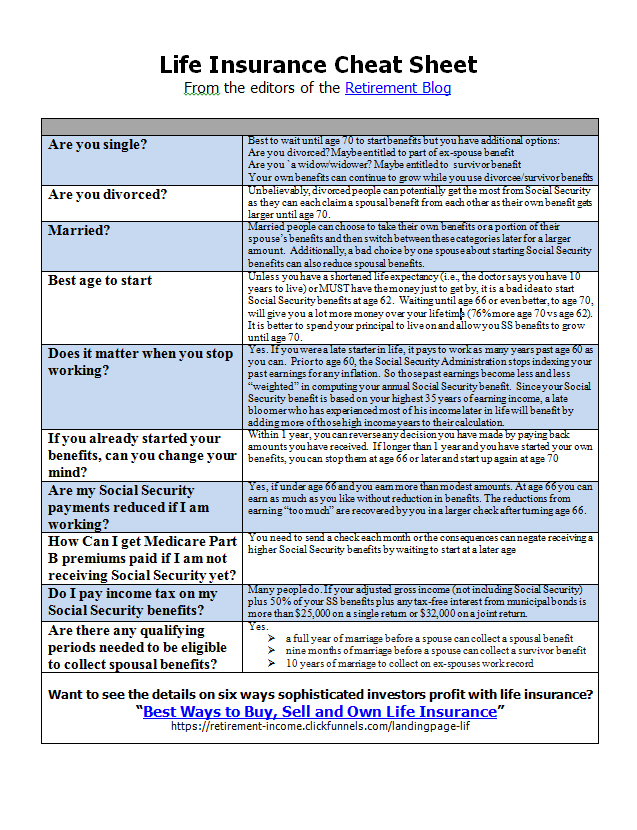 Everything You Don't Know About How to Use Life Insurance to Make Money
Five ways that wealthy people use life insurance to retain and create wealth
How to convert an existing life insurance policy into more money than the insurance company valuation
Why you never want to be the owner of a policy that insures you
A huge and common mistake when selecting a life insurance beneficiary
They don't talk about these "insider" strategies on CNBC or in Money magazine. Get the free guide to open up a new horizon of financial awareness.