Even with the bloom off the rose, investors still have interest in using real estate in IRAs.  The interest and use of real estate in IRAs peaked with prices.  Even as the real estate market cratered, real estate professionals with sagging commission income pushed IRA real estate (often mistyped or incorrectly searched as IRS real estate) on investors dissatisfied with stock market returns. But IRA real estate is a bad idea for IRA savings. Here are five reaons why real estate is a bad idea for tax sheltered retirement investing.
You lose the depreciation deduction.  One of the nice things about owning apartments or rental homes is that the cash flow is partially sheltered from income tax by the depreciation deduction.  Since an IRA does not pay current tax, IRA real estate loses the deduction.  Why would someone knowingly lose a tax deduction?  Because they are likely sold on the idea of real estate in IRAs by a zealous real estate sales person.  Or, they may only have liquidity in their IRA and no cash outside their IRA.  If you don't have the cash outside the IRA, then pass on an IRA real estate purchase.
You lose financial leverage.  When you purchase real estate outside of an IRA, you can typically put 20% down and borrow the rest.  So when the property appreciates 20%, you have doubled your investment--a 100% return on your equity.  But an IRA real estate purchase cannot be done with any mortgages as IRAs cannot have debt.  So you must make the purchase for all cash.  Now, when the property appreciates 20%, you have a 20% return on your money, not 100%.  Therefore, you lose the leverage of "other people's money" when you consummate an IRA real estate purchase.
You turn the best capital gains asset into ordinary income.  Because of the leverage explained above, you can have very large capital gains on real estate.  Not only do you lose the large capital gain potential because of losing leverage, you have turned  a capital gains taxed at reduced rates (15% to 25% on real estate), into ordinary income (rates as high as 35%). There is not such things as capital gains on IRA real estate because everything withdrawn from an IRA is taxed as ordinary income.
If the rental property in your IRA needs a new roof, you must use IRA funds to replace the roof.  You cannot use your own funds as then you as an individual are deemed to be in business with your IRA and this is a prohibited transaction which could cause your IRA to become taxable.  So you need to always have plenty of cash in your IRA for repairs, insurance payments and property taxes.  This means you need to keep funds liquid in 1a 3% money market and sacrifice the potentially higher returns of other investments. Need yet another reason?
Your IRA fees are likely free at your brokerage firm or bank.  To hold real estate in IRAs, you need a specialized IRA custodian willing to do this and the fees range from 40 to 150 basis points annually--i.e. hundreds of extra dollars in costs.
And just in case you still want IRA real estate, if you should make a bad deal, your loss will not deductible inside an IRA as it would be as a non-IRA transaction.  If you line up 10 people that tell you placing real estate in IRAs is a good deal, you will find 10 people that earn commission by selling real estate.  If you want real estate in your IRA, then buy shares of real estate investment trusts or other real estate securities.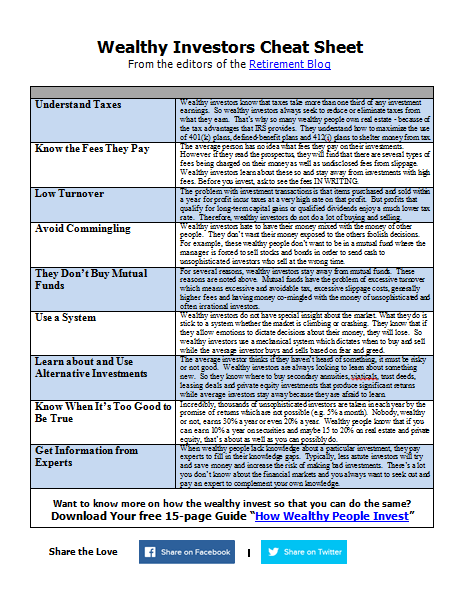 How Wealthy People Invest
To get wealthy, invest like the wealthy
Why the wealthy steer clear of mutual funds
How the rich systematically make money in the market
Key metrics that differentiate good and bad investments
A comparison of ETFs and separately managed accounts you have never seen
Stop making the same investing mistakes as everyone else who listens to CNBC and reads Money Magazine. Do what the rich do! Free guide explains how they think and make investment choices.