Deferred annuities can play a big role in securing the financial future of retirees. Here, we consider how annuities help both individual retirees and their families.
Through factors like tax-deferred growth and competitive returns, deferred annuities offer several benefits, including security through various guarantees. However, they also offer an important benefit, which is, insurance for retired investors against financial instability. Investors can also choose to invest as much as possible and leave it to attain growth at the rate of interest promised. Last but not the least, are the various choices that let you decide how and when you would wish to withdraw the accumulation from your deferred annuities.
Here are a few benefits of the deferred annuities that go a long way in ensuring financial stability.
By offering a steady income, deferred annuities (once tapped for income) are a great choice for retirees who wish to live independently. There are also options for you to choose fixed term annuities, so you receive this additional income only during that period, or life-time payouts if you so wish.  In the case of a life time payout, the senior receives income for life, an income they cannot outlive. So deferred annuities permit an income stream similar to a second social security check.
Deferred annuities offer features that are tailor-made for senior investors, such as the systematic and flexible withdrawal options. Thus, you can decide to create a pension-like option that suits you the most. There is no forced method of taking money from deferred annuities as the options and timing are flexible to meet the retiree's desires
With deferred annuities you also get a principal guarantee, so you can rest assured that your principal is safe. You hear about banks that fail but when was the last time you heard about an insurance company fail?  This author is unaware of anyone that has failed to have a deferred annuity fail.
You could also opt for a unique feature included in most deferred annuities called the nursing home waiver. If you do fall sick, this feature will relieve you of paying surrender charges during the accumulation period, as you may require to surrender the annuity to pay your medical bills.  Another common feature of deferred annuities is the terminal illness waiver (waiver of surrender charges) if the annuitant is diagnosed with a terminal illness.
If you have not looked into deferred annuities as a retirees, have a discussion wit your financial adviser.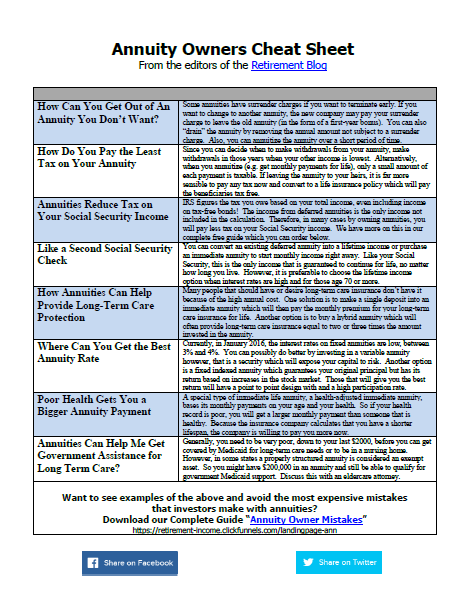 Most Annuity Owners Make This Mistake
To get wealthy, invest like the wealthy
Why the wealthy steer clear of mutual funds
How the rich systematically make money in the market
Key metrics that differentiate good and bad investments
A comparison of ETFs and separately managed accounts you have never seen
Stop making the same investing mistakes as everyone else who listens to CNBC and reads Money Magazine. Do what the rich do! Free guide explains how they think and make investment choices.