Over the past several years, the life insurance industry has increased annuity income options for guaranteed income streams, such as superior withdrawal plans and annuitization options which can be altered after they begin. Yet perhaps the most enticing characteristic for the risk-averse owners of variable annuities is the guaranteed minimum income benefit (GMIB) rider. This kind of rider allows owners of variable annuities or even variable life policies to receive a guaranteed steady stream of income, regardless of how the underlying sub-accounts perform.
Before the advent of the GMIB rider, variable annuity investors who opted to annuitize for annuity income would not know how much they would receive for income at the start of the contract. Not until the owner opted to annuitize (start payments) would the annuity company provide and guarantee for annuity income. These guarantees were entirely dependent upon the current value of a policy or contract, which naturally was determined by the growth (or perhaps lack thereof) in the sub-accounts. Therefore, buyers whose sub-accounts had done well might expect to receive more annuity income, while those with variable annuity contracts or perhaps policies had seen less beneficial results would obviously get less annuity income.
Now, it is possible to know the minimal you will receive regardless of your sub-account performance.  If your selected sub-accounts do well, your account value expands and you can always get more than the guaranteed annuity income. If your selections don;t perform well, you have the GMIB rider to guarantee the level of annuity income.  For details and the recommendation on a variable annuity with a GMIB riders, contact an experienced financial adviser and ask if they can show you 6 such contracts. Note that this rider which guarantees a minimum annuity income has a cost and this is different from annuity company to company.
Variable annuities long term opportunities. Such investments are susceptible to commissions and surrender fees and your prospectus should be read carefully ahead of investing.  Withdrawals prior to age 59½ are at the mercy of 10% penalty. Earning withdrawals are taxed as regular income. GMIB riders incur additional expenses. Additionally, GMIB riders will have limitations such as minimum required holding periods (e.g. you must own the annuity for 10 years until the guarantee applies). Guarantees  are subject to the claims-paying capability of the underlying insurance company.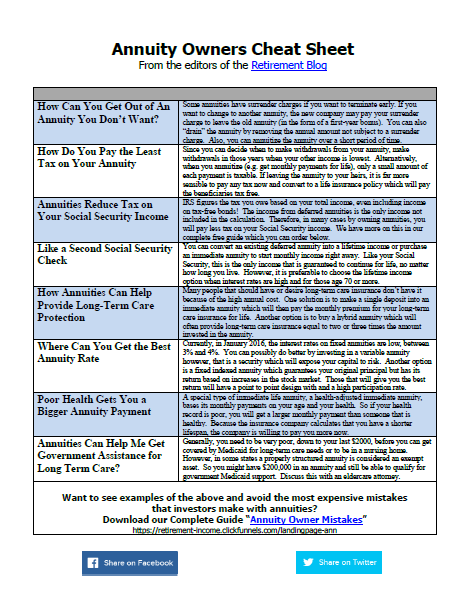 Most Annuity Owners Make This Mistake
To get wealthy, invest like the wealthy
Why the wealthy steer clear of mutual funds
How the rich systematically make money in the market
Key metrics that differentiate good and bad investments
A comparison of ETFs and separately managed accounts you have never seen
Stop making the same investing mistakes as everyone else who listens to CNBC and reads Money Magazine. Do what the rich do! Free guide explains how they think and make investment choices.