Once you have variable annuities (VAs) explained, you may find that this option deserves a place in your portfolio. VAs give you the option to select from sub-accounts, similar to mutual funds. The rate of return offered by a variable annuity depends on sub-account -- stock, bond, or funds you choose and how those investment sectors perform. The company does not assure any returns on the investment (although newer contracts do have such riders). Furthermore, you could risk losing as well as VAs are classified as securities and regulated by the Securities and Exchange Commission.
There are a wide variety of features offered by different variable annuity companies. You need to keep the following aspects in mind before making the investment choice and having these feature of annuities explained will be helpful.
Liquidity and Early Withdrawals features of annuities explained
Deferred variable annuities are long-term investments. If you need to liquidate your investment, you could end up with a loss. A lot of variable annuities impose surrender charges if distributions are made within a specified period of time, which can range from six to eight years. Besides, withdrawals made prior to the investor becoming 59½-years-old are normally levied an IRS 10% tax penalty.
Income and Surrender Charges on annuities explained
Nearly all variable annuities levy an asset-based sales charge or perhaps a surrender charge (there are no-load annuities that do not have surrender charges). The amount charged is reduced and are eventually done aside with if you hold the contract until the end of the term. For instance, your surrender charge could be as high as 7% within the first year and reduce by 1% annually until it becomes zero.
Charges and Expenses of variable annuities explained
Apart from surrender charges, many variable annuities charge a number of fees and assign expenses for instance:
• Mortality and expense risk charges. The particular insurance company levy's these charges to cover the expense related to guaranteed death benefits, annuity payout options that provide life-long income, and guaranteed caps on administrative charges.
• Administrative fees that pay for record-keeping and related administrative expenses.
• Underlying fund costs that relate to the investment sub-accounts; and
• Charges for specific features or riders. These types of could include stepped-up death benefits, a guaranteed minimum income withdrawal, and long-term health insurance.
The annual costs can add up to 2% or more from the value of the annuity. As every single benefit of variable annuities explained is charged independently, you need to be sure you want the options offered before opting for the actual investment.  It's all disclosed in the prospectus, which unfortunately, few people read.
Taxes on variable annuities explained
Though earnings which are retained in variable annuities are tax-deferred, the income and gains withdrawn is going to be assessed with your income and taxed accordingly. These kinds of earnings are not considered capital gains for purposes of figuring out taxes due but rather as ordinary income.
Other features of variable annuities explained
Bonus Breaks - A lot of variable annuities provide bonus breaks that add a specified portion to the invested amount. Your credits usually range from 1% to 5% for every premium payment made. However, reward credits come at a cost. As a way to fund them, insurance companies normally evy high mortality and expense fees and impose long surrender charge periods.
Guaranteed riders--these riders, which come at an extra costs can guarantee, as an example, that your annuity will earn a set minimum rate of return (e.g. 6%) as long as you hold it for 10 years and then take income
Now that you have had variable annuities explained, you may want to talk to a financial advisor about the specifics.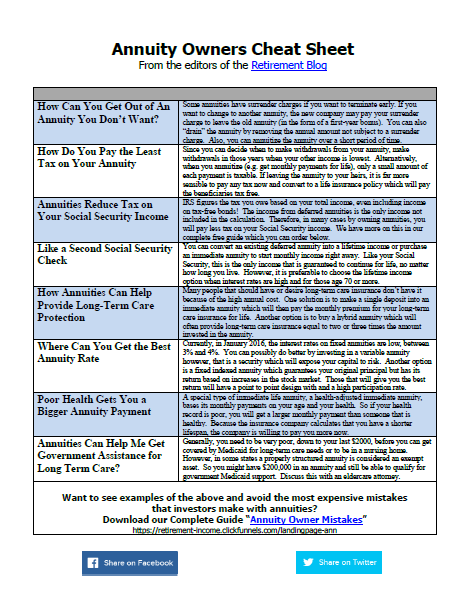 Most Annuity Owners Make This Mistake
To get wealthy, invest like the wealthy
Why the wealthy steer clear of mutual funds
How the rich systematically make money in the market
Key metrics that differentiate good and bad investments
A comparison of ETFs and separately managed accounts you have never seen
Stop making the same investing mistakes as everyone else who listens to CNBC and reads Money Magazine. Do what the rich do! Free guide explains how they think and make investment choices.