What are Medicaid Annuities?
There's actually no such thing as a Medicaid annuity although you may here annuity agents use that phrase.  Annuities may however help some people shelter assets so that they can get State Medicaid program benefits.  The reader is encouraged to see an elder care attorney in your local area to know the laws that are enforced in your state. Medicaid rules differ from state to state so the following dialogue is a general discussion regarding federal rules.  Note also that these rules change with frequency so you must speak to a specialist for the most up-to-date information.
How and What are Annuities used in Medicaid Planning?
Some retirees have concerns about paying for a decline in health in later years. One strategy is to exhaust one's assets and then be entitled to Medicaid support. Understandably, many people are not eager to exhaust his or her assets and thus, you can get great benefit by having Medicaid annuities which help you shelter your assets. So what are annuities that help with Medicaid qualification?  For purposes of qualifying for Medicaid and determining the financial resources you have, annuities are generally an exempt or a non-countable asset and may be retained by the person that receives Medicaid benefits. Therefore, one can qualify for State health programs but still own a substantial annuity and not be 'broke." But that annuity ought to meet the following criteria:
1.  It must be an immediate annuity or deferred annuity that is now being annuitized (i.e. making permanent payments)
2.  The assured payments must be for the lifetime of the owner or a pre-arranged span of time shorter than the owner's life expectancy
As the state Medicaid authority will certainly not force the person opting for State health programs to liquidate the annuity (while they would with cash or any other countable assets), the annuity payments a person receives will be taken by the Medicaid authority in order to offset the state's outlay of  care taking the ill person. So if the State takes the annuity payments, how does the annuity holder come out ahead? Once you've learned a  little more on what are annuities, you'll quickly see how you can come out advantageously.
Let's take the hypothetical case to illustrate what are annuities and how they function in a specific case.  Mrs. Johnson, age 80, buys an immediate annuity. Her investment will be $100,000 and she has no other assets. Her income from the annuity will be $1,000 per month. (In addition, she gets Social Security benefits of $1,000 per month). Her income of $2,000 is beneath her state's income cap (some States won't provide Medicaid support to people with income above specific limits, called the income cap). She has very modest monetary requirements and is able to survive on the income she has. However, should Mrs. Johnson need to go to a nursing home, she'll qualify for Medicaid because she is 'penniless' as the annuity is not counted as being an available asset.  Assuming she took the annuity for a 10 year term certain, should she dies before the end of 10 years, her beneficiaries will continue to get payments to finish out the 10 years.  Thus, some money has been preserved for her heirs, even though the State will take each annuity payment during her life to offset their expenses for supporting her on Medicaid.
So we observe that once we have immediate annuities (in helping to explain what are annuities) being a health care planning tool, they become a viable consideration. Nonetheless, because annuities are not treated the same from State to State, before making a strategy like Mrs. Johnson, consult a nearby elder care specialist.
I hope we have answered your question of what are annuities pertaining to Medicaid planning.  Please read other articles on this blog to learn what are annuities as there are different types that are best used indifferent circumstances.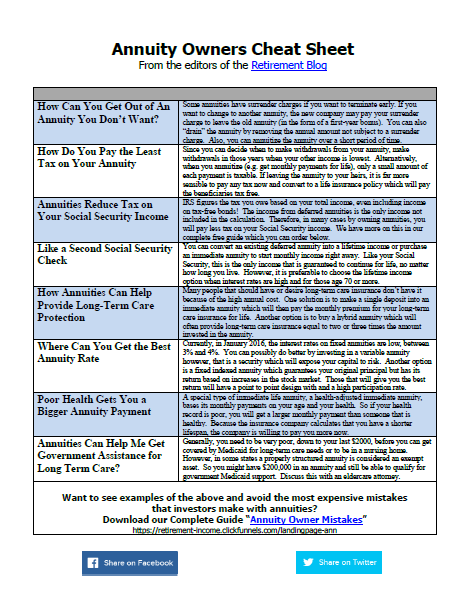 Most Annuity Owners Make This Mistake
To get wealthy, invest like the wealthy
Why the wealthy steer clear of mutual funds
How the rich systematically make money in the market
Key metrics that differentiate good and bad investments
A comparison of ETFs and separately managed accounts you have never seen
Stop making the same investing mistakes as everyone else who listens to CNBC and reads Money Magazine. Do what the rich do! Free guide explains how they think and make investment choices.