People invest in variable annuities for many reasons including the tax-deferral of earnings, the ability to name beneficiaries and avoid probate, the growth potential of the managed sub-accounts and potentially the death benefit.
Then whenever they are ready to withdraw an income from their annuity, they have the opportunity to select lifetime income payments. However, with a variable annuity you do not know what that income will be when you open the account since the future value can vary depending on the investment's performance. Sometimes though, investors overlook an important option that may help them plan for a predictable income.
|
The Guaranteed Minimum Payment (GMP) option assures that you will receive no less than a specific amount of income each month, no matter what the markets do. And if the investments go up, your future monthly income goes up too.
How the GMP is determined varies among annuity companies. One example is to base it on the greater of:
• The value of your purchase compounded at 6% a year, or
• The highest account balance reached on any contract anniversary date
Another version of the GMP promises that future payouts will never be less than a certain percentage, say 80%, of your first payment. For instance if your first check is for $1,000, future distributions will be no less than $800, regardless of what happens to the markets and the value of your sub accounts.
The trade-off for this GMP rider is the extra cost.  These costs can range from .1 to .5% of your annuity value ($100 to $500 annually on a $100,000 variable annuity).  So you must read the prospectus to see what you pay for this benefit.  And ask the retirement consultant you use to compare different companies for you or based on what comparison did he decide on recommending a particular annuity (If it becomes obvious he has not done any comparisons, go elsewhere. Better yet, ask him what he thought of Professor Moshe Milevsky's paper on this issue and if he is unfamiliar, you're dealing with a salesperson, not a professional).
recommended:  http://econpapers.repec.org/article/eeeinsuma/v_3A38_3Ay_3A2006_3Ai_3A1_3Ap_3A21-38.htm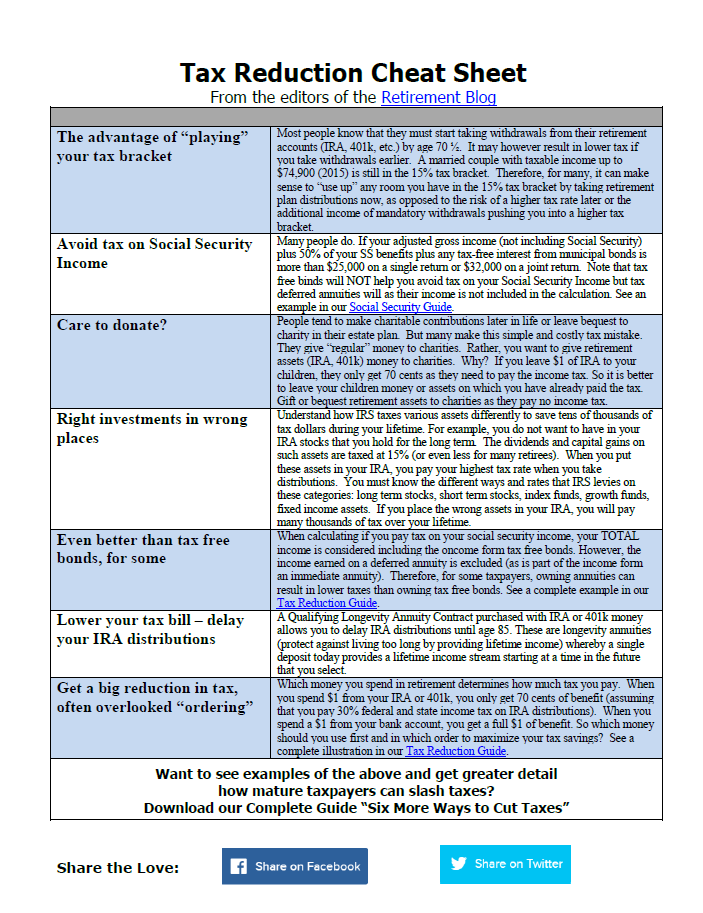 You Pay More Taxes Than Necessary
And we guarantee your CPA has never told you The problem with paying taxes is that most people overpay. So if you are concerned about having enough in retirement, you must stop overpaying taxes. I know you think your CPA takes care of this for you. WRONG. I AM a CPA (retired) and I can tell you that 90% of CPAs do nothing more than enter your information into the little boxes on the tax return but NEVER tell you how to pay less next year. Why? Many of them simply do not know what we can show you. In ten minutes.
Get Your Copy Now - 6 Ways to Cut Retirement Taxes