Most people think about charitable bequests as part of their will or trust to be consummated when they die.  However, you will miss some senior tax breaks if you wait until death.   If you attend to these charitable giving issues while alive, there are some big tax breaks available and a decent income for life.
Charities are happy to pay you money if you help them. It's called a charitable gift annuity and here's how it works. You make a single contribution and based on the amount of that contribution, your age and current interest rates, you receive a set income for life.  Think of this like making any other retirement income investment.  You invest and get a lifetime income.
Don't shop around with charities for the highest rate of return, though, because most large U.S. charities offer yields set annually by the American Council on Gift Annuities in Dallas. This benign collusion among charities, which began casually about 70 years ago, was finally legalized by Congress.
A gift annuity's yield varies according to your age and the date you make your gift (see table below effective 1/1/09). Since a portion of your income will be considered a return of principal, part of your annual income will be tax-free. How much depends on your age. Additionally, you get a tax deduction for your gift as shown on the above table.
Age                  Payout Rate Deduction as % of gift
65                         5.7                34.2
70                         6.1                38.4
75                         6.7                43.4
80                         7.6                48.3
85                         8.9                51.9
90 and over         10.5
If you have charitable intentions but want to retain income from your donation, most any charity will show you how to set up a charitable gift annuity. Your donation does not need to be cash—you could donate appreciated securities or land that currently pays you nothing and also save on capital gains tax.
Financial Advisors who can help seniors get tax breaks: ProspectMatch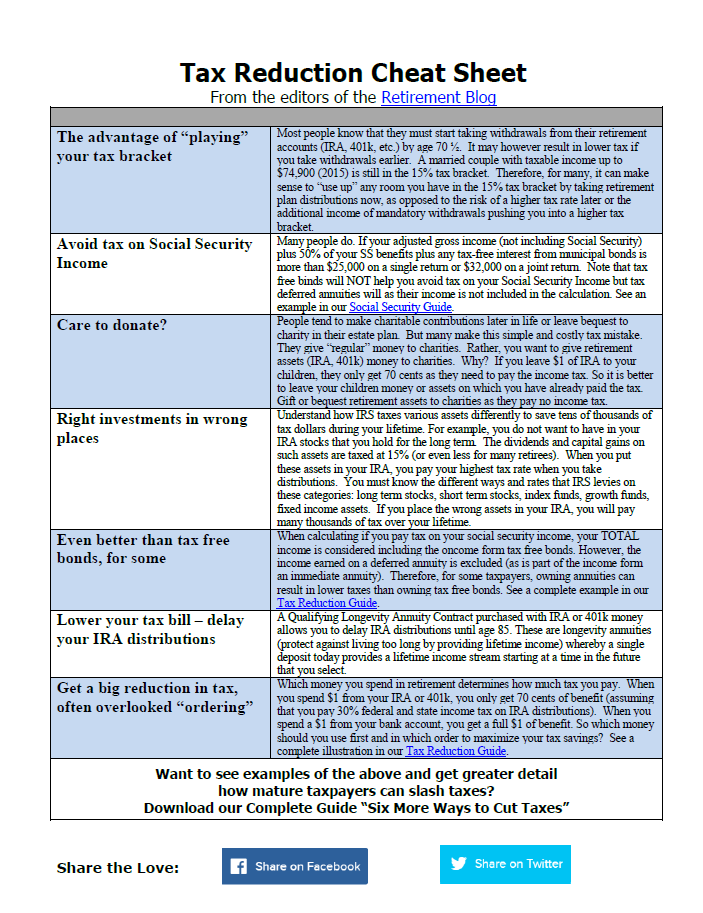 You Pay More Taxes Than Necessary
And we guarantee your CPA has never told you The problem with paying taxes is that most people overpay. So if you are concerned about having enough in retirement, you must stop overpaying taxes. I know you think your CPA takes care of this for you. WRONG. I AM a CPA (retired) and I can tell you that 90% of CPAs do nothing more than enter your information into the little boxes on the tax return but NEVER tell you how to pay less next year. Why? Many of them simply do not know what we can show you. In ten minutes.
Get Your Copy Now - 6 Ways to Cut Retirement Taxes