advice that's easy to understand without having an MBA

advice grounded in proven principals that have allowed others to retire rich
Of course, after reading these books, many choose to get a local retirement consultant to guide them as any book can only provide general advice that is not necessarily specific to your situation or may not be the optimal formula for you to retire rich.

Retire Sooner, Retire Richer


by Frank Netti www.franknetti.com

Many pre-retirees and new retirees feel vulnerable during market declines and are becoming concerned their retirement accounts may not be able to sustain their lifestyle. They wonder, "will there be something left for my spouse or children?" Will I be able to retire rich and comfortably? This book is meant to give you the self-discipline that you need to sustain your income, avoid IRA distribution penalties, delegate responsibility, and co-manage money for many years to come.

---
Retire Rich with Your Self-Directed IRA: What Your Broker & Banker Don't Want You to Know About Managing Your Own Retirement Inv.

by Nora Peterson

If you've ever lost money in the stock market while relying on a retirement consultant, this book is for you. Retire Rich with Your Self-Directed IRA describes an alternative to letting others manage your retirement investments, the self-directed IRA. This book explains in 345 pages how to use an IRA, usually a Roth IRA, to build wealth through your own control. It covers setting up an IRA, the kinds of funds to invest, and how to move funds from a standard IRA to a self-directed IRA. It also describes how to manage your investments while allowing an administrator to handle the day-to-day paperwork, the laws of which to be aware, and how to avoid pitfalls in very specific advice.

---
How to Retire Happy, Wild, and Free: Retirement Wisdom That You Won't Get from Your Financial Advisor (

or Retirement Consultant)

by Ernie J. Zelinski
There is a wealth of good, solid, useful, insightful information contained inside, and that would be the point of reading it in the first place. The readers truly gets insights and actionable steps to retire rich. For retiree readers, and it can serve as a great "only" retirement book for those who are looking for that. I can't imagine anyone feeling they don't get their money's worth from reading the book. I just don't think the elements of this retirement insight and advice gets any better any place else. I truly believe that Zelinski is the reigning guru on retirement, and I have since I first found and read, "The Art of Retirement." If Zelinski didn't exist, I think we would have to have invent him. But he's saved us the trouble with his combination of fantastic books on retirement.

---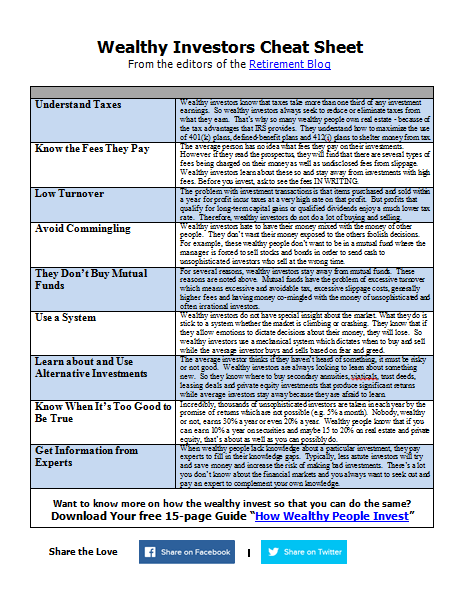 How Wealthy People Invest
To get wealthy, invest like the wealthy
Why the wealthy steer clear of mutual funds
How the rich systematically make money in the market
Key metrics that differentiate good and bad investments
A comparison of ETFs and separately managed accounts you have never seen
Stop making the same investing mistakes as everyone else who listens to CNBC and reads Money Magazine. Do what the rich do! Free guide explains how they think and make investment choices.