How to know when to start Social Security Security Benefits
Here's what the Social Security Administration tells you:
"At Social Security, we're often asked, 'What is the best age to begin receiving retirement benefits?' The answer is that there is no one 'best age' for everybody and, ultimately, it's your option."
This is not the best advice.  It could matter when you start payments in making the most of your benefits .
That info, that it does not really matter when you begin social security benefits, is indeed true under the following narrow circumstances:
a) If your individual discount rate for your investments is 5% yearly and
b) you live exactly to your estimated life expectancy and then die.
If the above two presumptions are true, it does not matter when you begin SS benefits, all other elements being equivalent, as the worth of the funds as measured in today's value, is the same. Nonetheless, these two previous assumptions may not apply to you.
There is a method to make a much more informed selection and we'll explain it to you.
In case you are healthier than average and feel you'll live longer than the average person, then it pays to wait longer to begin social security benefits (the opposite is true in case you are in ill heath). Once you consider this issue of longevity, bear in mind that numerous Americans at age 62 are severely overweight, don't workout, have poor diets and have hypertension. In the event you still play tennis three times weekly and are the proper weight for your size, then you're likely going to outlive "average." Ask your doctor about this.
In addition, if your discount rate is higher (e.g. you feel you can earn say eight percent yearly on your cash simply because you're a more active investor), then it pays to begin taking Social Security benefits sooner and put the money to work in your investment portfolio (the opposite is accurate if you feel you are able to only earn say 2% on your funds).
Let's think about this example:
You were born in 1949 and just turned age 62 in 2011. Your full retirement age is 66 (social security income table). Let's imagine you are projected to receive $1,000 monthly in SS benefits at age 66, (depending on your earnings background). Nonetheless, you might begin your SS income now at age 62 and obtain $750 monthly (twenty five percent reduction from your full retirement age amount of $1,000). So do you wait and get $1,000 per month at age 66 or take $750 now at age 62? Or even better, do you wait around to start social security benefits to age 70 and get $1320 per month?
Assuming that your individual 'discount rate' for funds is hypothetically 5 percent (the amount you feel you are able to earn on your money) and that you view yourself as having average life expectancy, you would come out about the same regardless of when you begin payments. (This calculation can be carried out utilizing any financial calculator or spreadsheet with a present value function and the above assumptions.)
Present Value of One's Social Security benefits:
Starting Age     Present Value of Payments
62                         $124,794
66                         $125,905
70                        $123,124
Thus, the amounts are practically identical.
However, let's consider a healthy individual with "good family genes." At age 62, average life expectancy is 23.5 years, or age 85.5.  But let's assume you feel you'll live five years longer than average (Do keep in mind that the average additional life expectancy of 23.5 years is AVERAGE meaning that 50% of the people live long and 50% don't make it this long).  Let's also assume that you are not a good investor and tend to place your funds in bank CDs which only earn you 2%.  Now the figures look like this:
Starting Age    Present Value of Benefits
62                        $195,718
66                        $223,476
70                       $248,184
For these assumptions, we see that it's worth $50,000 more to wait to age 70 collect SS benefits.  Of course, there are other factors which come into play such as if
you still have earned income at age 62 and how much,
the pattern of your income through your retirement years (e.g. are you getting deferred compensation until age 65, which impacts your tax bracket making it more beneficial to put off you SS benefit commencement date)
the amount of your SS benefits which are subject to tax and that is influenced by the amount of your other income
In the future posts, we will address other concerns like increasing Social Security benefits for those who are married and those who are widows or widowers.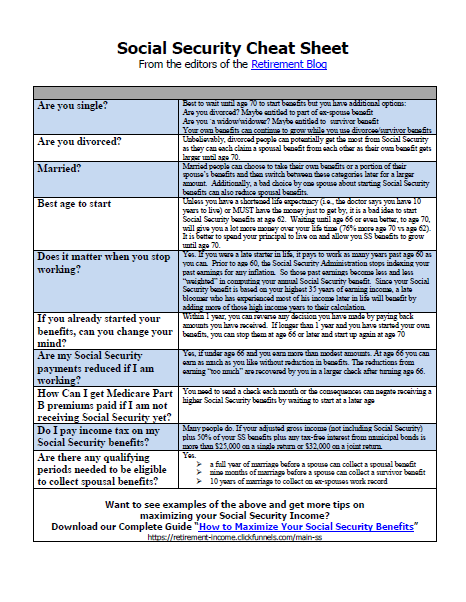 Maximize Your Social Security Income
Get the one-page social security Cheat Sheet
You may think that the folks at the Social Security office will tell you how to get the biggest monthly check. In fact, the federal rules PREVENT them from advising you. There are millions of people who have given up more than $50,000 just by making a simple yet incorrect method of taking their Social Security benefits. Don't let that be you! Get your free copy now.