Because of a prior rule on limitations in social security benefits based on age of starting benefits, some people still think there are limits on how much you can earn and still collect all of the social security retirement income to which you are entitled.   That is still true for people who opt to take social security before full retirement age. However, those working after full retirement can have unlimited amounts of earned income and still collect their full social security retirement benefit. Here's the rule and then let's look at an example.
Rule:  
If you are under full retirement age when you start getting your Social Security retirement payments, $1 in social security benefits will be deducted for each $2 you earn above $12,960 (for 2007). In the calendar year you attain full social security retirement age, $1 in benefits will be deducted for each $3 you earn above $34,440 (for 2007) up to the month of full retirement age attainment.
Hypothetical example:
Mrs. Smith, age 62 in March of 2007, decides to retire from employment and start her reduced social security retirement benefits at the rate of $12,000 annually ($1,000 per month). She also decides to start a business. By age 63, her business is earning a net profit of $20,000 annually. She will need to give up $3,520 of her annual social security retirement income for this reason: During those months before you reach full retirement age (age 66 for someone born in 1945 like Mrs. Smith), your social security benefits are reduced $1 for each $2 you earn over $12,960 (for 2007).
Mrs. Smith keeps working at her business and by 2011, the year she reached full retirement age, her business is earning $40,000 annually. For January and February of 2011, she must give up $309 of social security ($1 for every $3 her business earns over $34,440 in the year she reaches full social security retirement age) and once March 2011 arrives and she becomes 66, she can earn unlimited amounts from her business and will never give up any social security income.
For the test above, earnings include bonuses, commissions and vacation pay, but don't include pensions, annuities, investment income, interest, veterans or other government or military retirement benefits.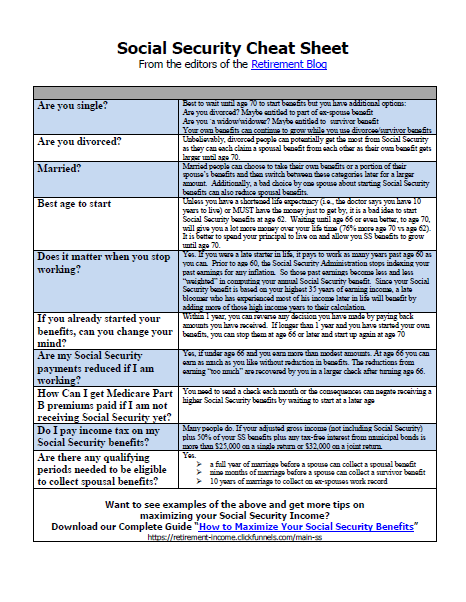 Maximize Your Social Security Income
Get the one-page social security Cheat Sheet
You may think that the folks at the Social Security office will tell you how to get the biggest monthly check. In fact, the federal rules PREVENT them from advising you. There are millions of people who have given up more than $50,000 just by making a simple yet incorrect method of taking their Social Security benefits. Don't let that be you! Get your free copy now.