You expect the folks at the Social Security office to give you the best advice.  But they don't. Did you know that there are 12 ways to claim your Social Security benefit and only ONE of those ways will give you the biggest check?
Avoid the Social Security Office
You may have heard that when people go to the Social Security office to claim their benefits, they get incompetent, incorrect and incomplete information.   The Government Accountability Office just completed a study of the advice that the folks at the Social Security office provide. Here's what they found:
SSA claims specialists did not discuss the advantages to waiting to claim benefits at a later age in eight of 26 in-person interviews, even though this is required.
In 10 observed interviews, claims specialists at the Social Security office offered the opportunity for people to claim up to 6 months of retroactive benefits as a lump sum. While a lump sum may be attractive to retirees, only one of the 10 claims specialists revealed that the retroactive benefit would reduce future payments.
Most people, as well as the "specialists" at Social Security, are totally in the dark that there are 12 ways to file for Social Security and you will not get good advice from the Social Security Administration. Make the wrong choice and you get a smaller monthly check, for life!
If you have not yet claimed Social Security or have done so in the last 12 months (you can still change your selection), here are 10 top sources to get the information you need. These are sources that will help you get the largest possible check so you don't need to rely on misinformation for the Social Security office.
Here are your top 10 sources that will help you determine how to file for your largest Social Security benefit:
[sociallocker id="17383"]
Consult an Expert
If you want to be told what to do by an expert, there are some sites that list advisors who are knowledgeable. Do not assume that your existing financial advisor knows the intricacies of SS. Most do not. Those who want to offer this expertise to their clients have taken specialized training.

These advisors have been through the training provided by the National Social Security Association, a for-profit company which trains advisors to be knowledgeable about SS choices.

These advisors have been through the training from the Corporation for Social Security Claiming Strategies, a for-profit training company.
http://www.designationcheck.com/advisor-search
These advisors have completed the Retirement Income Certified Planner course given by the American College, a non-profit college primarily serving insurance professionals.
https://consumer.socialsecuritytiming.com/Home/AdvisorSearch
These are advisors who use Social Security Timing software for calculating the optimal SS choice.
Online Services
These services provide a plan on how to maximize your SS benefit either online, over the phone or combination of both.
http://www.socialsecuritychoices.com/
Do-It-Yourself Software
https://maximizemysocialsecurity.com/households
http://www.socialsecuritysolutions.com/getyoursolution.php (also has an option to get help from an advisor)
Some of the online software is free to use but please be cautious. My advice is to use the free tools and then pay for one of the online analyses (less than $50) or consult with a trained advisor. If you have 2 or 3 sources giving you the same advice, there's comfort in that.
[/sociallocker]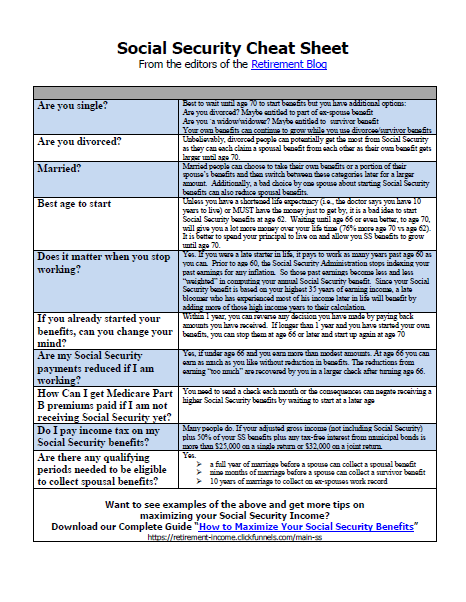 Maximize Your Social Security Income
Get the one-page social security Cheat Sheet
You may think that the folks at the Social Security office will tell you how to get the biggest monthly check. In fact, the federal rules PREVENT them from advising you. There are millions of people who have given up more than $50,000 just by making a simple yet incorrect method of taking their Social Security benefits. Don't let that be you! Get your free copy now.