Contributors to Social Security will notice a change in the payments they make to their SS accounts this year as the contributions made from them has resumed to the previous levels in place before the holiday or stimulus from 2012. What the stimulus did give individuals a temporary personal deferral by placing the bill due (plus interest) on top of the national debt. Many may not have realized that they would still be paying long term, but they were and the point is you pay for Social Security one way or the other. It's your money going to fund this program and if you couple this with the problems created by the theft and fraudulent use of your SS number, you understand why the social security card insecurities should be dealt with by card owners. It's a huge matter when a SS card is lost if it falls into the wrong hands you face personal and financial insecurity. It's always possible to be a victim of social security card fraud.
What Happens When You Lose Your SS Card
Many SS card holders lose their social security cards. They could either lose the number through a security breach or physically lose the card. Either way, they lose valuable information about their identity. If their social security number or card ends up being used fraudulently, there will surely be a migraine headache or worse, a credit or personal crisis.
Once an identity thief gets your SS card and uses it for ill begotten financial gain such as opening a credit card account using your name or just your SS number, your credit history, credit report, and credit score could be ruined. If you're not even aware that an identity thief has already done this, your financial credibility will surely suffer.  Maybe you used to have a credit score of 800 before your SS card was lost. But when you applied for a new loan, you found out that your credit score is now in the 500s.  When you investigate you find out this is because an identity thief was successful in using your information to steal from you.
You could prevent SS card fraud by having your accounts monitored, freezing your credit, and even personally keeping a close eye on your credit report. These practices will help you gain control of the situation and keep it from getting worse. SS card and number fraud protection actually starts when once you acquire your SS number and receive your card.
The following are some of the basic things that you could do to protect yourself from social security fraud:
1)    Keep your SS card in a secure place
It isn't surprising for many cardholders to carry around their social security cards in their wallets or purses. When you ask them why, it's because they don't want to lose sight of it or have anyone chance upon it at home. These are valid reasons but if you accidentally drop your wallet, or leave it unknowingly at someone's house or office, it just might fall into the hands of the wrong people. It would even be more traumatic if someone actually snatches or steals your purse or wallet from you and you have all your cards in there. You should just keep your SS card at home or in a place that only you could access, together with the rest of your other important documents.
2)    Be strict in giving away your SS information
There will always be people who would want to access your life by acquiring your social security information. Contests, free trials, quizzes—name it and identity thieves will use it to steal from you. Always question why they would want that detail and as much as possible, decline giving it, together with your other important information.
3)    Never let anyone keep your SS card or SS number "safe"  for you
It's your responsibility to keep your social security card safe. Even if it's the closest person you have, your card is better off safely hidden in your documents safe.
How to Report a Social Security Card Fraud
When the life-changing incident of losing your SS card happens to you, you should take steps to report and recover your lost SS card to limit the damages done using your number. This is the best solution to straighten the situation out.  According to the Social Security Administration, you should
"Call the Fraud Hotline number at   1-800-269-0271 (TTY   1-866-501-2101) between 10
a.m. to 4 p.m., Monday through Friday; Fax us at:  410-597-0118 (standard long distance                rates may apply);" or
"Write to:  Social Security OIG Hotline, P.O. Box 17785, Baltimore, Maryland 21235-7785."
The Social Security's Office of Inspector General takes reports of fraud very seriously.  Without sufficient identifying information, the OIG will be unable to act on your allegation.  Therefore, be sure to include as much of the following information as you can when you call:
●    Name, address, telephone number, and Social Security number of the person suspected of fraud.  Also include the individual's date and place of birth, father's name, and mother's birth name, if known;
●    A complete description of the potential fraud incident; and
●    Your name, address, and telephone number."
Social security card fraud can happen to anyone. You should be vigilant in protecting your SS card at all times so that you'll be safe from overly opportunistic identity thieves.
Amy Johnson is an active blogger who is fond of sharing interesting finance related articles to encourage people to manage and protect their finances. Follow her and know how regular identity theft monitoring can help you stay protected and how identity theft insurance can help.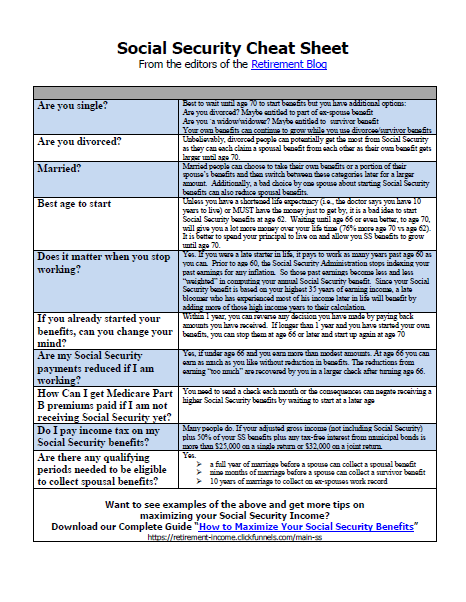 Maximize Your Social Security Income
Get the one-page social security Cheat Sheet
You may think that the folks at the Social Security office will tell you how to get the biggest monthly check. In fact, the federal rules PREVENT them from advising you. There are millions of people who have given up more than $50,000 just by making a simple yet incorrect method of taking their Social Security benefits. Don't let that be you! Get your free copy now.