Many people under the age of 40 live under the assumption that the funds within Social Security will surely be long gone by the time they retire. While this is a popular sentiment shared by the public and the media, the truth is that Social Security funds will almost certainly be available to everyone at some level for generations to come.
Will there be changes to the current benefit structure? Indeed there will, particularly for those looking down the road 20 or 30 years from now. The thing to remember is, without Social Security, many seniors would be left without any income at all. This would create economic chaos in America, which is something that no politician wants to be a part of. Seniors comprise a large segment of the voting community, and very few politicians will risk losing their votes by cutting back benefits.
The key is to securing Social Security benefits now and in the future is to prepare accordingly. Here are some quick tips to help you plan for the future...
1. Know the facts: Many people believe Social Security is useless, that we'll never see any of that money we've been funding for years, but that's incorrect. Regardless of our country's current state of affairs, even if Congress fails to repair the structure, the amount of income the Social Security system pulls from payroll taxes will be enough to fund a minimum of 75% of Social Security benefits. Although 75% surely won't cover the entire population, you have to take into consideration the amount of people who never claim their Social Security benefits, thus opening spots for those who do. If you seek what you are due, you will see your earned benefits.
2. Know how much you are entitled to: As recently as 2011, Social Security office mailed out detailed statements to everyone who was employed with a record of their total earnings, as well as an estimate of how much each person should expect to see in retirement. This "service" has since been revised and you must now use the Social Security website to access this information. It is important for everyone within 10 years of retirement to review their Social Security earnings and correct any reporting errors with their income. The longer you wait, the more difficult it becomes to correct inaccuracies.
3. Know when to expect your benefits: The earliest age for retirement is currently 62, but you can delay benefits up to age 70 and earn interest on the unused money. So if you have the means to wait until later you will ultimately receive the maximum amount from the program. If you hope to retire early, then create a plan that gets you through age 70 without tapping Social Security. Aiming for this goal will force you to plan for a life without Social Security, while rewarding you with more income if the system stays intact as planned.
At the end of the day, Social Security is a community program that we are forced to participate in. That being said, it also provides us all with a base level of income in our retirement years. The best way to maximize your return from it is to stay informed and take advantage of every opportunity to increase your lifetime benefits.
Jim Blair is a Social Security consultant who helps retirees optimize their retirement benefits. Learn more about applying his proven strategies to your retirement plan at http://socialsecurityretirementguide.com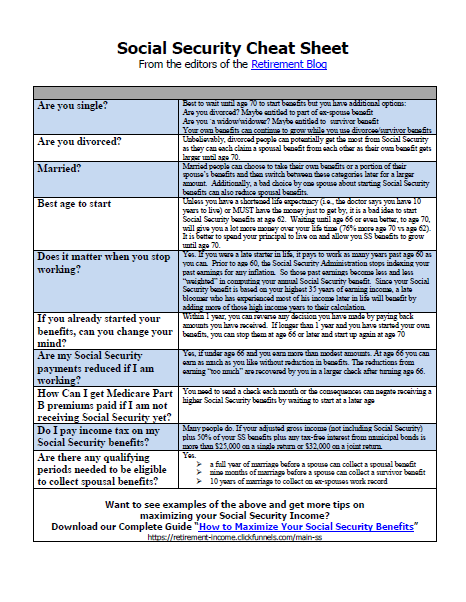 Maximize Your Social Security Income
Get the one-page social security Cheat Sheet
You may think that the folks at the Social Security office will tell you how to get the biggest monthly check. In fact, the federal rules PREVENT them from advising you. There are millions of people who have given up more than $50,000 just by making a simple yet incorrect method of taking their Social Security benefits. Don't let that be you! Get your free copy now.