Have you lost track of an old pension plan? Do you think you might be owed some money? You're not alone. But you can find that cash.
Traditional pension plans, also called defined benefit plans, promise to pay a specific monthly amount to participants when they retire. (Profit-sharing and 401(k) plans are not considered traditional pension plans.) When a company's pension plan closes, it's transferred to Pension Benefit Guaranty Corporation (PBGC), the federal government's pension insurer.
But the PBGC is sometimes unable to locate persons who participated in a plan it takes over, and thus may not be able unable to give them the benefits they may be owed. As a result, as of the most recent data release in July 2010, the PBGC held just under $200 million in unclaimed benefits. The chart bellows shows the PBGC monthly maximums for pension plans terminating in 2013.

Could you be owed money? It depends. Most pension plans currently vest after five years of employment, but that wasn't always the case. Before 1974, it was 10 or 15 years. But because the rules that were in place when you left a job determine your vesting, if you worked at a company for a considerable amount of time, you may want to see if you're owed some money.
If you are, you could receive an annuity from a private insurance company, purchased by their former company; funds deposited in a financial institution by your former company; benefits from PBGC (if your former company transferred the missing person's funds to PBGC), or nothing.
If you're the beneficiary of someone who participated in a traditional pension plan, you may be eligible for benefits, although they'd likely be lower than what the participant would have received.
Check the PBGC list of unclaimed benefits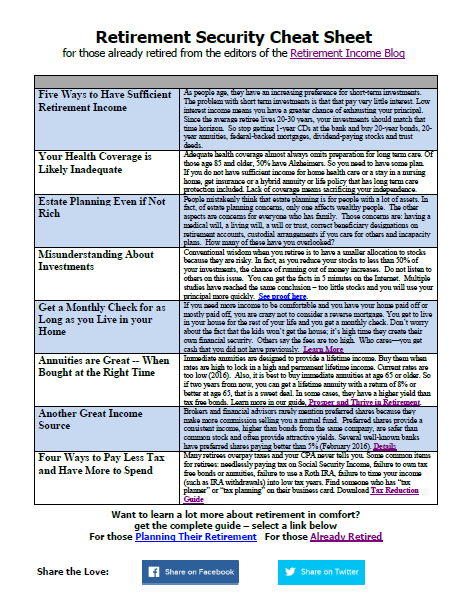 How to Prosper and Thrive In Retirement
For those already retired seeking to improve their finances
The 4 most important issues for any retiree and a quick plan to address each
The overlooked annuitization of assets to make your money go farther and reduce risk
An easy way to save money on health coverage
You don't need to be rich to plan your estate like this
A few simple lessons can reduce stress and bring more joy in your retirement year. Stop worrying and learn the simple
actions to take.