A 457 retirement plan is a non-qualified (i.e. does not need to meet the restrictions set up by IRS under section 401) deferred compensation plan for government employees and tax-exempt organizations. The plan designed to comply with the rules of Internal Revenue Code section 457 is referred to as a Section 457 retirement plan. Employees are allowed to defer compensation on a pre-tax basis through payroll deductions that further allows them to defer federal and sometimes state taxes until the assets are withdrawn. In effect, a 457 retirement is quite similar to a 401k plan used by for-profit employers.
Participants in the Section 457 retirement plan can defer income up to 100% of the employee's compensation limited to an annual amount set by IRS--$15,500 for 2008 plus a $5,000 catch-up contribution for people age 50+.
The types of entities that can establish a 457 retirement plan are states, subdivisions of states, instrumentalities or political subdivisions of states, or any entity other than a governmental unit that is exempt from federal income taxes. Governmental units that are exempt from federal income taxes include the following types of organizations:
charitable organizations
religious organizations
educational organizations
private hospitals
private foundations
labor unions
trade associations
fraternal orders
farmers cooperatives

Note that these tax exempt entities may also have a 401k plan for their employees and the employees may contribute to both plans up to the $15,500 maximum for each. There are no contributions by the employer with 457 retirement plans as there are with 401k plans. Additionally, your account in a 457 retirement plan can be rolled over just like a 401k, into an IRA or other qualifying tax sheltered plans. Unlike a 401k, if you retire or leave an employer before age 59 1/2, there is no 10% penalty for accessing your 457 retirement plan balance. Typically, employers that provide a 457 retirement plan will also provide assistant from retirement consultants to help understand the intricacies.
Below is a chart showing the differences and similarities between a 457 retirement plan and 401k plan. If you are eligible to participate in a 457 retirement plan, the decision to contribute would be part of the considerations of your whole retirement income plan.
Post provided by Javelin Marketing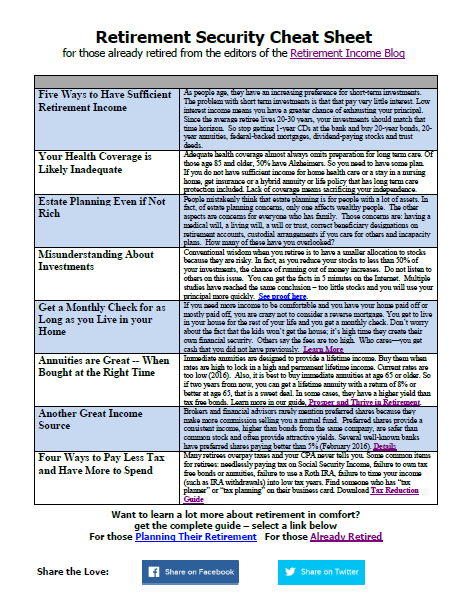 How to Prosper and Thrive In Retirement
For those already retired seeking to improve their finances
The 4 most important issues for any retiree and a quick plan to address each
The overlooked annuitization of assets to make your money go farther and reduce risk
An easy way to save money on health coverage
You don't need to be rich to plan your estate like this
A few simple lessons can reduce stress and bring more joy in your retirement year. Stop worrying and learn the simple
actions to take.